Celebrity Zoo: Commentary on
The Surreal Life, Season 3
Starring: Brigitte Nielsen; Flavor Flav; Ryan Starr; Dave Coulier; Jordan Knight; and Charo

Episode 1: Who in This House Has a Real Name?
Episode 2: The Love That Dare Not Speak Its Name; And If It Could, You Wouldn't Be Able to Understand It
Episode 3: And the Band Played Ball of Confusion
Episode 4: Quiet, Please...There's a Shih Tzu on Stage
Episode 5: Surf's Up, But Flav is Down
Episode 6: Discordant Recording Session
Episode 7: Discordant Recording Session - The Denouement
Episodes 8-10: The Final Episodes


Episode 3: 9/19/04
Coolia's Notes
This episode was actually halfway entertaining. As has become Surreal Life tradition, the housemates were forced to put on a show. They were divided into pairs and ordered to rehearse songs. Charo and Ryan began practicing "Born to Be Wild," but Charo declared she didn't like the song and proceeded to write her own nonsensical song, while Ryan stared into space, perhaps wondering if she shouldn't have made the deal with Satan to try to get the whole fame and fortune thing. Dave and Brigitte lamented that they were paired up even though they are the only two non-musicians in the house. Jordan and Flavor Flav tackled "Play that Funky Music White Boy" with enthusiam.
After practicing for a while, the housemates got to choose some talented middle school kids as band members. The selection process was done gym-class-style, causing Nerdia and I to feel great sympathy for the chubby accordion-playing girl who was the last picked. Fortunately, Flav made her feel valued, and she later declared "I love Flavor Flav" with nearly the same passion that Brigitte had used when making that declaration last week.
Brigitte continued to behave like she is one step away from pulling an Anne-Heche- or Margot-Kidder-esque bout of craziness. Although she is in good shape, especially for her age, she insists on wearing unflattering clothes. She spent this episode in a high-cut one-piece swimsuit that exposed her ass and pouches of fat on her hips and thighs. The children had difficulty concentrating on their music with her walking around in the swimsuit. She then inexplicably left rehearsal to go take a nap.
Charo seemed almost autistic in this episode - unable to connect with Ryan or the kids, strumming her flamenco guitar to herself. Flavor Flav was a real stand out, charming and encouraging the kids and winning the battle of the bands. He even managed to coax a smile out of sullen Jordan. Who knows - Flav may emerge as this season's revelation, a la Tammy Faye.
Nerdia's Notes
Okay, this episode was marginally better than the previous ones for two reasons.
Firstly, because Coolia made me crack up at the suggestion that Charo looks like a shih tzu.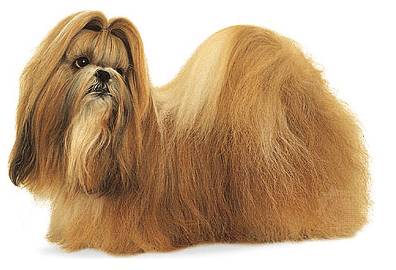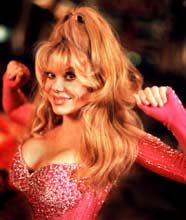 And secondly, because Flavor Flav pulled a rankings upset this week by showing, quite heart-warmingly, that former drug-addled, incoherent rappers who make out with crazy women in swimming pools have great appeal to nerdy kids from Los Angeles public schools. To be serious for a moment, accordion girl (Rosa) was experiencing a moment of Janis Ian's Seventeen ("and those whose names were never called/in choosing sides for basketball"), and Flav swooped in and encouraged her to groove with that thing ala Jack Black in School of Rock. Flav was all about having fun and he made those kids lunch! Brigitte called him "a deep-hearted guy." The scary thing is Brigitte sees this and Ryan doesn't. Which makes me think I'm absolutely crazy.

Ape Culture Weekly Ranking (from least to most annoying)
9/19/04
Coolia and Nerdia had unprecedented identical rankings this week:
1. Flavor Flav
Coolia: We've seen Flav with big clock necklaces for years, but this clock made me laugh out loud because it was digital.
Nerdia: The digital clock was funny and Flav whole-heartedly engaged the kids, especially stepping up to the plate to transform one of my peeps: nerdy, picked-last accordion girl.
2. Dave
Coolia: Lackluster but inocuous
Nerdia: He tried to engage the kids and was forced to endure Brigitte for a day.
3. Jordan
Coolia: Hardly noticeable - hence he moves up in the rankings. Sometimes silence is best.
Nerdia: Inoffensive this time, probably due to merciful editing.
4. Ryan
Coolia: Wooden, unable to rock out even when dealt a Steppenwolf song, and she continues to struggle to roll an R in order to say Charo's name properly despite the fact that Charo doesn't care and doesn't want to talk to her anyway.
Nerdia: Sour and humorless
5. Charo
Coolia: Borderline autistic - unable to connect with other mentally ill housemates or children.
Nerdia: Unprofessionally and un-sportingly negative about learning a bad rock song. One kid actually complained about Charo and her inability to pass on any musical knowledge to them.
6.Brigitte
Coolia: When the mothers signed the permission slips for this field trip, did they know their kids would be seeing Brigitte's ass?
Nerdia: Has tendency to engage in selfish napping. Inappropriate swimwear around minors, around me too for that matter.

Should young children be exposed to Brigitte Nielson's ass?

Read Ape Culture's commentary on Surreal Life Season 1
Read Ape Culture's commentary on Surreal Life Season 2
Ape Culture and all associated pages are
ŠApe Culture 1998-2007 and evermore.