Celebrity Zoo: Celebrity Fit Club,
Season 3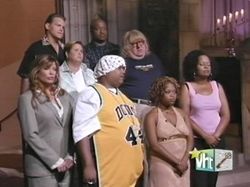 Sad fat celebrities
Starring: Tempestt Bledsoe, Jeff Conaway, Countess Vaughn, Bruce Vilanch, Kelly LeBrock, Young M.C., Chastity Bono, and Bizarre

Week One: Off to a Waddling Start (1/1/03)
Week Two: Grease Burns (1/8/06)
Week Three: Volkslauf: It isn't a German Beer (1/15/06)
Week Four: Bellies Round Like Zorbs (1/22/06)
Week Five: Surf's Up, and so is Countess' weight (1/29/06)
Week Six: You Never Forget How to Ride a Tricycle (2/12/06)
Week Seven: Grease Stains (2/19/06)
Week Five
Nerdia:
Day 56: This week's challenge was surf board racing. Chastity and Gunnar did the actual surfing and the others did some kind of pulling maneuver I was never able to figure out. Kelly did most of the work for her team. Tempestt again acted annoyed and didn't put out much energy. But why were Chastity and Gunnar chosen to do the actual surfing? Do they have special celeb-kid-surfing-aptitudes the others don't have, being raised in the ghettos of 8-mile or Australia? Can't M.C. swim?
For the first time, Harvey was gone, apparently off training new marines. This left a lifeguard to do the yelling and intimidating. This makes me question Harvey's commitment to these fat celebs.
This week they played for Beach Cruiser bikes. Coolia thought this was lame, but I thought this was the first decent prize of the show.
We visit Chastity's house and meet her girlfriend Jennifer Elia. Chastity's house is strangely bereft of chain-mail lamps and white-stone coffee tables. What else would Cher give her for Christmas?
Jennifer seems uber-trendy (Cher would probably approve) but supportive. They exchange too many "babies" and "sweeties," however. All good and essential things to say…just don't display. If Sonny & Cher had done that, their ratings would have tanked. I think as punishment, they should be forced to sing "I Got You Babe" to each other in bobcat vests. Then Chastity could pay a royalty to herself.
Chastity is tortured with days of early morning exercises. She wears a "Bush Cheated" shirt one morning. One day she does Ninjutsu, which she likes; the next day she does Capoeira – a subversive Brazilian martial art made to look like dancing. The last day, little girls try to drill her with jump roping. The show's pop-up blurbs give us the fun fact that this burns a whopping 1000 calories per hour. Great, but who can jump rope for an hour? Chastity can't. She keeps tripping on the rope and cursing like a sailor in front of the kids. I'm sure she picked this up at home. Coolia notes that Chastity needs a good sports bra. She should visit The Wizard of Bras in Monrovia, California, like we do for all our bra needs.
At the weigh-in, Chastity finds out she has lost seven lbs – and has broken the 200-pound barrier at 199.
Next we see that Countess is again letting her team down for another weigh-in. Their team will surely lose if she keeps this up. At 132, she has gained two pounds. You could say, this show is making her fatter. She says she's pissed, but I can see that she's not pissed enough to stop eating in between shows. Dr. Smith is now forced to reset her diet goals for the whole show to twelve pounds. Does this mean the skin-magazine spread deal is now off?
At a Santa Monica spa, Dr. Pop continues to meet with Countess and regurgitate more useless counseling such as "you are loveable" and "sweetheart, we believe in you." She never probes and Countess seems to be getting more depressed about her collapsing marriage.
During the challenge, Chastity jokingly accuses Gunnar of meditating too much. He turns out to be a kind of poor braggart of a loser. He says he wants his team to be more united, more of a family. He weighs in at 164, losing 6 pounds. He says his grandfathers were great mentors to him. Dr P prods him to diss his mother some more and he reaffirms that she had no mother gene, says she doesn't know him due to having no parenting skillz. He's whining too much about his mother. I feel we need the other twin's take.
With Tempestt we can see copious amounts of attitude in her eyes, glaring, rolling, the whole shebang. Last week, she was a guest on The View along with Chastity and she played the race card – rationalizing that every show needs an angry black woman. What-evah! She loses 1 pound this week and blames her period. She pretends to be relieved. She also claims she's doing her "level best." Harvey asks "don't you think I can see thru that?" And she responds "Ooh that's just so motivating."
Bizzare, unbeknownst to us, remotivated after last week's standoff with Harvey and insisted on a goal of 7 pounds. He lost 6 and is down to 301 pounds. He visits the Northside Sleep Center where he finds out he has sleep apnea, a disorder discussed in Dr. Smith's diet book. According to the show, 10 million Americans suffer from sleep apnea and 38,000 die a year from it. Bizarre gets a CPAP machine for free.
Kelly again reminds us how being fat was refreshing for her, how she had always felt like a piece of meat. Why all the sexpot dresses, I ask, and Coolia responds: "If you don't want men to look at you, then put those things away." She loses only 1 pound this week but Harvey calls her a trooper anyway.
M.C. meets his friend Tone Loc at Dinah's in Los Angeles of all places! We've been there! Famous for its fried chicken, M.C. is tempted, while Tone eats ribs, chicken and four plates of greasy food. M.C. eats a salad and leaves the chicken and peanuts on the side. After all that struggle, M.C. only loses 2 pounds. We hear that the big loser on a prior show was Phil Margera who lost 41 lbs.
Bruce breaks the 300 barrier after losing 4 pounds. He now weighs 296. He says he hasn't been under 300 pounds for over 20 years.
Ant and Chastity have a funny exchange as they are all leaving for the giant scales:
Ant: (snotty-like): Don't go ahead of me.
Chastity: I'm sorry.
Ant: (teasing): I'm kidding!
The scale totals: Kelly's Bellies lost 14 for a total of 59 pounds. Ebony Flame has lost only 11 pounds this week for a total of 62.
Writing this all out makes me hungry for Chastity's half-sister's restaurant Christie's in Long Beach.

Nerdia's Rankings (1/29/06):
Dr. Smith – cos I like his book.
Chastity – cos she had a good attitude when woken up for surprise exercising...unlike Willie Aames last year.
Bruce – cos he made a glorious triumph this week!
M.C. – cos he's steadily motivated.
Bizarre – cos he's got a cute laugh.
Kelly – cos she should stay fat if it's so much easier for her.
Countess – cos I'm tired of the excuses.
Gunnar – cos you just want to beat him up.
Tempestt – cos she's a complete snot.
Coolia's Rankings (1/29/06):
Chastity - for keeping her chins up during those early morning workouts and for getting results
Bruce - for breaking the 300 barrier
M. C. - I give credit to anyone who can resist the pull of Dinah's Fried Chicken
Bizarre - he's back on the wagon
Countess - I feel sorry for her but she really isn't in the right mental state to succeed
Kelly - I'm beginning to hate her not for being beautiful but for complaining about how hard it is to be beautiful while dressing in curve-accentuating clothes
Tempestt - she must have learned how to have a bad attitude from Bill Cosby
Gunnar - he makes my flesh crawl

Dr. Smith's Take Control Diet
Over the last week I read Dr. Smith's diet book The Take Control Diet billed as a "Plan for Thinking People" which sounds a little smug, but in a sense, he's right. If you refuse to think rationally about losing weight and insist on short-cut, fad diets that make no scientific sense, then you're a dumbass and you'll never succeed. This is a good diet book in a sea of crazy-bad ones.
In the beginning of the book, Dr. Smith stresses the importance of harnessing your thoughts, gaining a tough mental edge to stay motivated. Get used to the idea that dieting isn't easy. He states that the weight-loss industry is "built on weakness, insecurities, and failures." Aim for losing 2 lbs per week and find yourself plenty of support. If you eat out of stress, you must first find a way to relax. If you have an eating addiction, you'll need to first deal with that psychology. Smith covers the facts, the causes, the risks, the gimmicks (including Atkins), the extreme measures (surgery), and foods you should eat with some sample diet examples, and a large section on exercise benefits, types, and how many calories different activities burn – all arranged in a very organized manner. He also includes a good, concise appendix including target weights, energy dense (fill-you-up) foods, fiber contents, and glucose contents.

How do you feel about the celebrity fat epidemic? Please refrain from dropping any Jeff Conaway sympathy in our forum. Many thanks.
Ape Culture and all associated pages are
ŠApe Culture 1998-2007 and evermore.