Celebrity Zoo: Celebrity Fit Club,
Season 3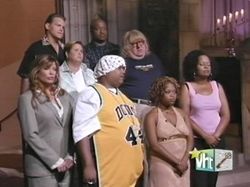 Sad fat celebrities
Starring: Tempestt Bledsoe, Jeff Conaway, Countess Vaughn, Bruce Vilanch, Kelly LeBrock, Young M.C., Chastity Bono, and Bizarre

Week One: Off to a Waddling Start (1/1/03)
Week Two: Grease Burns (1/8/06)
Week Three: Volkslauf: It isn't a German Beer (1/15/06)
Week Four: Bellies Round Like Zorbs (1/22/06)
Week Five: Surf's Up, and so is Countess' weight (1/29/06)
Week Six: You Never Forget How to Ride a Tricycle (2/12/06)
Week Seven: Grease Stains (2/19/06)
Week Two
Nerdia:
Sixteen days later…the fat celebs are back, fussing and a-feuding as they walk-in. Jeff Conaway shouts down Kelly LeBrock, shows off his man-boobs, and acts like a loaded imbecile. The rest of the cast and crew appear exasperated. They have to "restart the reality" two or three times. Then Jeff throws his shoes across the room, goes back on the scale/stage to collect them and continues to rant in his socks, mostly about his hard childhood, including his gory suicide attempt at three years of age. The utterly annoying psychologist, Dr. Papadopoulos, (who cocks her head helplessly and looks too melodramatically distraught for someone who is trained to see this type of thing day-to-day), and the one-note drill instructor, Harvey Walden, try to intervene with Jeff but only Ant and Chastity can shut him up: Ant by playing the soothing host, Chastity by confronting Jeff with his substance abuse. Clearly this chick knows the abusers lingo. At one point, Coolia asked if this is an episode of Celebrity Fit Club or Intervention.
The previous day at the kayaking challenge (which Chastity's team, Ebony Fame – named for a team of black & gay members – won), Jeff could barely talk or walk. This coupled with the fact that Bizarre missed his flight that morning, served to cripple Jeff's own team, named Greased Lightning (which just makes you think the other three team-mates were probably unwilling prisoners at his Name-The-Team meeting). Jeff claimed he only took two Benedryl; but no one else on the show or in our little audience found that excuse credible. Little about Jeff Conaway seems very credible as a matter of fact and his scene stealing theatrics are dragging the show down.
The first light moment occurs as Chastity is called up to weigh in and she laughs a laugh that relieves the discomfort the group feels. Chastity's mad leadership skillz are starting to come through. We find she has previously invited her team-mates for some water aerobics in her pool. She says she wants everyone to do well and feel like a team. I scan the footage furiously for a Cher-inspired wall sconce or incense burner. Even a chain-mail lamp shade. But you can barely make out house walls with all the fast camera work in the pool. Instead, we see way too much jiggling, underwater Vilanch ass.
I am getting frustrated that not many of the exercise or diet tips are making airtime, unlike the many eons of Jeff drama. We only find out in a fleeting onscreen footnote that most of the show members are trying out a vegan (meatless) Fat Smash Diet soon-to-be-published by the show's diet counselor, Dr. Ian Smith.
To their credit, everyone on the show makes their weight target except for Jeff Conaway. Chastity loses 8 lbs, Young M.C.loses a whopping 14 lbs., Kelly loses 7, Bizarre (who gets a sober grocery shopping lesson because he doesn't know the difference between a fruit and a vegetable) loses 9 lbs with the loving support of his mother who diets and works out with him, Countess loses her target of 4 lbs. and is given the added incentive of a sexy photo shoot if she hits her final target. Bruce (who quips that he took two Ben & Jerry's before he came) loses 8 lbs, and Tempestt loses her target 5 lbs.
It's beginning to disturb me that the Countess is so preoccupied with sex appeal. Her every move is a saunter and she flirts with the camera too much. I have the feeling that no amount of body alteration will make her feel sexy enough.
Chastity team wins the weeks challenge losing a total of 34 lbs and Greased Lightning loses a total of 21 lbs. However, Chastity team had the benefit of two determined players, Chastity and Young M.C. And so far even Countess and Bruce are "pulling their weight." Jeff's team was undone this week by no big losers and one big loser.

Coolia's Rankings for 1/8/06:
1. Chastity - It took nerve to speak up and confront Jeff and she did it sympathetically.
2. Bruce - his droll, self-deprecating humor is welcome relief from the Jeff Drama.
3. Young MC - he's likable and he's trying hard, although his huge weight loss makes me a bit worried about eating disorder, given that he mentioned his previous fitness regime was unhealthy, from the day when he actually was a young MC.
4. Tempestt - in the middle just because she's not actively annoying.
5. Countess - I wish her fitness goals were about more than just wanting to get thin enough to strip in a magazine.
6. Bizarre - he needs to make more of an effort and make sure he doesn't miss his flight.
7. Kelly - she's something of a harpie.
8. Jeff - his disintergration doesn't entertain me, and it doesn't inform me. it just depresses me.

Nerdia's Rankings for 1/8/06:
1. Chastity – showed strong leadership potential in this episode, was inviting but not too pushy; took the right attitude with Trainwreck Jeff; and we all agreed she seemed like a pretty cool chick overall with her everyman demeanor.
2. Young M.C. – I like your self-improvement spirit, sir.
3. Bruce - he turned it around this week with his actual weight loss and his Ben & Jerrys joke.
5. Tempestt – she so far has two modes, quite or irritated. Truth be told, all her best comments were edited out and can be seen on VH1 outtakes where she expresses a lot of concern for Trainweck Jeff.
6. Countess – her obsession with sex appeal is draining.
7. Bizarre – what do you mean you don't know the difference between a fruit and a vegetable? How can you be such a mass consumer of something you've never taken the time to think about in even a rudimentary way? It boggles my mind.
7. Kelly – her harping on Jeff never helps a bad situation get better.
8. Trainwreck Jeff – you shouldn't be on this show. You're skid row material.
9. Dr. Papadopoulos – what exactly would you say you do here? Diet guru Dr. Ian asks more probing psychological questions than you do.

Read some diet tips from Dr. Ian Smith
Read more Celebrity Zoo reviews
How do you feel about the celebrity fat epidemic? Please refrain from dropping any Jeff Conaway sympathy in our forum. Many thanks.
Ape Culture and all associated pages are
ŠApe Culture 1998-2007 and evermore.