SO I MARRIED A TRANSVESTITE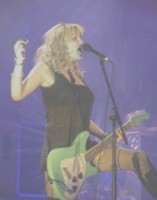 You get completely wasted on those free casino cocktails and end up marrying a friend, Falling James Moreland, lead singer of the band The Leaving Trains. Falling James likes to wear women's clothes and he's never going to be a big star. You get that marriage annulled within a year and get serious with your band. You play your first gig, opening for L7, and release a single: "Retard Girl." Billy Corgan catches your fancy and you date him for a while until you meet Kurt Cobain. You fall for Kurt immediately but he's not interested in a relationship. You harass him just as you harrassed Julian and Rozz before him, showing up at gigs and sending him a heart-shaped box that will later be immortalized in a Nirvana song. Finally, you lure Kurt to your house with this promise.
Deconstruction of Valley of the Dolls
Back to the Beginning of the Story
Ape Culture and all associated pages are
ŠApe Culture 1998-2007 and evermore.



Click here to learn about
the Ape editors' book
Check out the Ape Blog for the latest Ape Culture News and Reviews