I'VE GOT THE MUSIC IN ME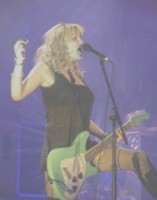 It's true, you and Kurt did play music together. A demo will later surface featuring Kurt singing some of the songs on your critically acclaimed album Live Through This and it will cause people to think that Kurt was the man behind the curtain of Hole. But I don't believe that for a second--that album rocks and it's feral vitality and gut-wrenching honesty are pure YOU. Anyway, at this point, your relationship with Kurt was based on something more primal than even music.
Back to the Beginning of the Story
Ape Culture and all associated pages are
ŠApe Culture 1998-2007 and evermore.



Click here to learn about
the Ape editors' book
Check out the Ape Blog for the latest Ape Culture News and Reviews