STRAIGHT TO HELL AND STRAIGHT TO VIDEO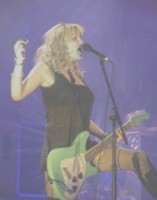 Alex Cox doesnt think you're seasoned enough to tackle the role of Nancy, so he casts you in a supporting role as, well, a groupie. You're in a few different scenes and have a substantial enough role to get invited to talk about the film at the New York Film Festival along with Alex and the stars Gary Oldman and Chloe Webb. You're sure your film career is going to take off when Alex casts you as the lead in his next movie, Straight to Hell. The movie tanks, but you get a few good reviews. After raising some cash and getting into shape by stripping in Alaska, you head back to LA, where you strip some more and form a new band- Hole. Life in LA is one big party and one night you take a wild roadtrip to Vegas.
Get a job as a showgirl in the Siegfried and Roy show
Back to the Beginning of the Story
Ape Culture and all associated pages are
ŠApe Culture 1998-2007 and evermore.



Click here to learn about
the Ape editors' book
Check out the Ape Blog for the latest Ape Culture News and Reviews