HIT ME BABY ONE MORE TIME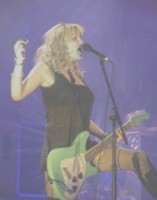 You drop a dollar into and pull the handle. Three pots of gold line up on the screen and bells and whistles go off. You've won $1 million in a progressive jackpot! You go into hiding for the next few years, taking dance and voice lessons and undergoing a bevy of plastic surgery procedures, more than even Cher. When you emerge in 1999, you've changed your name and nobody recognizes you as the riot grrl you used to be. MTV crowns you, Britney Spears, the queen of Total Request Live.
THE END

Back to the Beginning of the Story
Ape Culture and all associated pages are
ŠApe Culture 1998-2007 and evermore.



Click here to learn about
the Ape editors' book
Check out the Ape Blog for the latest Ape Culture News and Reviews