LOVE CHILD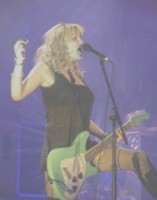 Love Michelle, you are born in San Francisco on July 9, 1965, the offspring of the troubled union of Hank Harrison, a member of the Grateful Dead entourage, and Linda Carroll, a flower power drop-out with a trust fund. The only reason you weren't aborted is because Linda thought you might be Bob Dylan's child. You're in therapy at age 2 and diagnosed autistic when you decide to stop talking for a year. Your dad treats you with much cruelty, doing things like...

Giving you acid when you're four years old
Forcing you to compete in little girl beauty pageants
Taking you on tour with the Dead
Back to the Beginning of the Story
Ape Culture and all associated pages are
ŠApe Culture 1998-2007 and evermore.



Click here to learn about
the Ape editors' book
Check out the Ape Blog for the latest Ape Culture News and Reviews