THE ONLY STAR THAT COMES OUT OF A COURTNEY LOVE SHOW IS COURTNEY LOVE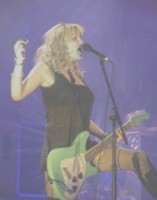 Leave it to you to pick a twisted role model like Neely O'Hara. But there are certain parallels. You have the same determination to make it, and you've had your troubles with the dolls. Is Kurt Cobain your Lyon Burke? Is Michael Stipe your Ted Casablanca? For a while, you seduce Rozz with dolls, but you can't get him to leave his girlfriend. Your inner Neely drives you to devise a plan for a band: "Form by end of January 1985, gig February-March, record by April, Wembley-October 1985." You form Sugar Baby Doll with Kat Bjelland (of the future Babes in Toyland) and Jennifer Finch (of the future L7). You get kicked out of your own band once again and head to LA, where you strip and try acting. You land a role as a punk rock extra on an episode of Quincy, M.D. before auditioning for your dream role: Nancy Spungen in Sid and Nancy. Do you get the part?
Back to the Beginning of the Story
Ape Culture and all associated pages are
ŠApe Culture 1998-2007 and evermore.



Click here to learn about
the Ape editors' book
Check out the Ape Blog for the latest Ape Culture News and Reviews