BEING CHLOE WEBB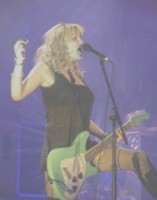 You land your dream role in Sid and Nancy and throw all your co-dependent, hysterical energy into making your depiction of Nancy ultra-vivid. Critics are impressed, but they're more impressed with Gary Oldman as Sid. The movie becomes a cult classic and Gary goes on to a solid career in indie movies, with the occasional foray into the mainstream, such as his evil Russian terrorist in Air Force One. You keep working, but never really make it. The highlight of your post-Nancy acting career is your role as Danny DeVito's love interest in Twins. What's it like to kiss Danny? Only you and Rhea Perlman know for sure.

THE END

Back to the Beginning of the Story
Ape Culture and all associated pages are
ŠApe Culture 1998-2007 and evermore.



Click here to learn about
the Ape editors' book
Check out the Ape Blog for the latest Ape Culture News and Reviews