Celebrity Zoo: Commentary on The Surreal Life, Season 2
Starring: Ron Jeremy, Trishelle Canatella, Rob Van Winkle, Tammy Faye Messner, Traci Bingham, Erik Estrada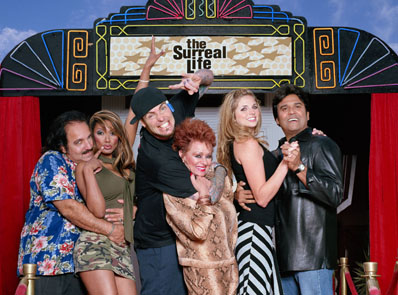 Episode 1: Hop on the Surreal Life Trolley
Episode 2: Tuna Melts and Meltdowns with Gary Coleman
Episode 3: Let's Put on a Show!
Episode 4: Preaching and Porno
Episode 5: Strip Volleyball
Episode 6: Talk Show Trauma and Farewell Food Fight
Can this cast top last year's lovable menagerie? Ape Culture will judge by convening a focus group to review and provide commentary on The Surreal Life (airing Sundays on the WB).
Episode 5: Strip Volleyball


The Show opens with a shot of Ron sitting up on the bed, shirtless.
Coolia: Ron's got man boobs
Ron Jeremy complains about how women are always complaining about looking bad in the morning, even though most men Ron has polled claim women look the cutest when the wake up.
Nerdia: I'm finding it hard to wrap my head around this concept.
Group groan as Rob raps, "I paved the way for Eminem."
Distinguished Surreal Life Season 1 Vet Vince Neil calls and invites the group to Palm Springs. Everyone is excited for the trip. Ron even packs up his pet turtle. Tammy Faye lugs a heavy suitcase, presumably filled with makeup, to the celebrity van. On route, Ron picks his nose, then entertains the group on the Surreal Bus trip by writing surprisingly tasteful limericks. The group stops at a roadside restaurant called The Farmhouse for lunch and everyone is greeted by fans. One presents Rob with Madonna's "Sex" book and Rob discusses his relationship with Madonna.
Coolia: Who carries the "Sex" book with them to The Farmhouse restaurant?
Nerdia: Maybe the person lived nearby and ran home to get it when she saw Rob.
Group laugh at Erik's mocking of Traci's melodramatic discomfort getting out of the van with comment "Owww...my thighs!"
Vince Neil greets the group. When asked if he has kept in touch with his Surreal Life friends, he says, yes. One of the Freshman Surreal Lifers asks "even Corey?" "No, not Corey."
The Palm Springs resort is revealed to be a nudist colony. Tammy runs out in tears
Nerdia: They've put Tammy through a lot already.
Britt: And she's been a fuckin' trooper.
Cast members comment on the small penis size of most of the nudists. Ron compares it to "a ton of dynamite with a two inch fuse." Traci and Trishelle do a lot of squealing inside, while Tammy cries outside the resort, uttering the lines we've heard on previews for weeks, "I swore I'd never cry on TV again, well, you made me cry." The group goes outside to comfort her and she sobs "I'm not a prude!"
Coolia: God made us that way. I don't know why she's freaking out.
Nerdia: She's cried every week so far.
The cast comforts Tammy, then goes back inside as Tammy checks into a clothing-mandatory resort across the street. Rob declares, "What a mixed bag of nuts this is gonna be."
Nerdia: No pun intended. Nudists are never good looking.
Group laugh when Ron expresses that the nudity is no big deal and Traci snaps back, "Of course it's fine for you, you're Ron Jeremy." The nudist hotel staff explains to the Surreal Lifers that whenever they stroll around nude, they need to always carry around a towel.
Nerdia: I remember this very important towel rule from the David Sedaris short story "Naked" about a nudist resort he visited in the book by the same name. Maybe this should be required reading for the Surreal Lifers. That's a fact of nudist colony living I can never get behind, the reason for the towel.
Celebrities go outside to play volleyball with the nudists.
Coolia: I still think Vince's woman looks like a she-male.
Nerdia: They're randy - Vince and his wife. I think Vince is trying to re-establish his image as a bad boy after coming across so much like a Teddy Bear last season.
Group clamors for the obligatory weekly tooth gleam effect to be applied to grinning Erik's face, and the WB doesn't disappoint. Celebs are made to play volleyball against the nudists, and if they lose they will have to eat dinner in the nude (as opposed to eating sushi off a nude model).
Nerdia: Look - Ron's even good at volleyball.
Celebs get automatic points for taking off their clothes, so most of the men take their shirts off.
Coolia: Vince's new back tattoo is horrifying. He looks like Tony the tiger. Rob won't even take his shirt off. What's up with that?
Nerdia: Underneath all his affected crudeness, Rob's comments about the nudist being disgusting kind of paints him as a prude, like Tammy Faye. Trishelle is funny, calling the nudists "nudies."
Celebs lose game and go to dinner. Ron declares that he doesn't want to be the only one to get totally naked. Rob refers to his penis as "purple headed yogurt slinger." Trishelle gets naked and Ron follows suit, but Traci won't take it off.
Britt: She's welching again. She welched the first night too when she said she would get naked if she lost the pool game.
Coolia: I think her reticence is all about her fear of the big bad fiancée.
Nerdia: She's full of it. I doubt she's really even in to him.
Tammy is picked up to go to a karaoke bar with the rest of the celebs. Celebs get drunk. Erik dirty dances with a chubby local.
Coolia: Traci always carefully enunciates her words, except when she's drunk.
Erik sings "Celebration," giving Coolia and Nerdia fond memories of the 1982 Cardinals World Series theme song. Gleam effect is applied to his smile again.
Coolia: They should really limit the gleam to one per episode.
Traci and Trishelle sing "Ice Ice Baby." Rob tries to hide under the table. Group laughter over glass breaking effect when Traci sings off-key. Rob says he won't do karaoke in front of 30 million people.
Nerdia: Is it really 30 million?
Coolia: That's probably the audience number they quoted to him to get him on the show.
Christopher: It's probably more like 7 or 8. Rob shouldn't have to sing "Ice Ice Baby" any more than Gary Coleman should have to say "What you talking about, Willis?"
Nerdia: The Surreal Life really knows how to push their buttons.
Rob gives in to peer pressure and sings. The crowd goes wild.
Christopher & Britt: Good for him!
Nerdia: He's karaoking himself.
Cooliahat's so postmodern.
Nerdia: It's a bonding moment for the celebrities.
Even Tammy Faye is singing along. Girls close their number by yelling, "We love you, Rob."
Coolia: And Trishelle REALLY loves you, Rob. She wants to have your babies.
Trishelle takes her drink with her into the van, as the celebs head back to the hotel.
Britt: You know you have a problem when...
Celeb hijinks continue. Rob and Erik throw something from behind their backs to appear to be taking a shit.
Nerdia: Juvenile boys.
Rob, Trishelle, and Traci head for the hot tub where nudity is mandatory. Traci removes her bottom but not her top. Traci cuddles with Ron and declares, "You forget that Ron is this big..hairy...porn...THING."
Coolia: Ron has a special gift - to be endearing, despite being a big hairy porn thing.
Traci flees the hot tub to go call her boyfriend and ask permission to unleash her boobs. She never returns. Ron helps drunk Trishelle out of the hot tub as horny nudists are waiting to pounce on her from all sides. Trishelle yells at him for copping a feel.
Coolia: Poor Ron. He just tries to help and gets no love.
Nerdia: Where's Tammy Faye when Trishelle needs her to escape horny nudists in the hot-tub of sin?

Ape Culture Weekly Ranking (from least to most annoying)
2/15/04 - Episode 5
Nerdia

Rob - for choosing not to blow up
Ron - good at volleyball, proving he's really a renaissance man
Erik - for being the first to sing at the karaoke bar
Tammy - why cry when you can simply storm out?
Trishelle - I'm sick of her alcoholic routine
Traci - for being a lying, welching tease

Coolia

Vince - just for being there!
Ron - for thoughtful, well-reasoned nudity
Rob - for being a good sport at the karaoke bar
Trishelle - for brave, ground-breaking nudity
Erik - still boring, but he did get up and sing
Tammy - too conservative about the nudity; God made our bodies, why not be comfortable with them?
Traci - for being a cock-tease

Britt

Rob - he sang "Ice Ice Baby" like a champ
Tammy
Trishelle
Ron - he's just Ron
Erik
Traci

Christopher

Rob - a good sport
Tammy - for standing up for herself
Ron - kept his promise to get naked
Trishelle - gets points for taking her top off at dinner
Erik - bland
Traci - she reneged on her promise (again)

Chad's Angry Rankings

Ron - the only gent living the good life
Rob - His karaoke was such a feel good moment. Set the pace for the rest of the night... which only included Ron and Trishelle.
Trishelle - Drunken nakedness... good. Bitchy don't touch me... bad. I've lost my infatuation.
Traci - This fiancée split personality thing is wearing thin. She'd be dead last if Tammy and Erik showed any signs of life (CLEAR! ... Bzzzz).
Erik - Gets credit for helping Rob save face. Outside of that, he might as well keep 'em inside his wife's purse.
Tammy Faye - Oh, give me a break.

Coolia's Notes
I've been looking forward to this Vince Neil episode since the initial teaser from Episode 1, as I am a Motley Crue fan and admirer of Vince's contribution to The Surreal Life Season 1. However, I was disappointed that (1) he is still with that scary lookin' chick; (2) he now has a grotesque tiger-striped tattoo all over his back; and (3) he didn't have much to do in this episode besides luring the celebs into the nudist colony. Ron defied expectations by not whipping out his penis at the first opportunity but instead using discretion. He also took good care of his drunken harem - Trishelle and Traci - despite the fact that they continually tease and abuse him. I think you all (and Erik) are being too hard on Trishelle over her drunkenness. She's only 23. She's going through a party phase in her life. Yes, she does overdo it, but I don't think she crosses the line into sad/pathetic/liver-eroding drunk at this point. Rob managed to get over himself in the karaoke bar and give a great, fun rendition of his signature song. Tammy falls down in my rankings for absenting herself from the nudist colony on religious grounds. On one hand, I respect her for staying true to her principles, and I agree she has already been tested nearly as much as Job (will she get boils in next week's episode or will all her cattle be killed?). But on the other hand, I think she is over-reacting and being close-minded. It's just a bunch of fat, ugly people sitting around naked. It's not a big sex orgy. Being comfortable with one's body would seem to me to be a good thing that God would be in favor of. In fact, a quick net search points out many websites dedicated to Christian nudists. I guess while Tammy was reading her bible at the hotel across the road, she didn't come upon this passage from the aforementioned Job: "And said, Naked came I out of my mother's womb, and naked shall I return thither: the LORD gave, and the LORD hath taken away; blessed be the name of the LORD." (Job 1:21 King James Version). The world giveth fame, and the world taketh fame away. Blessed be The Surreal Life!

Nerdia's Notes
Rob Van Winkle scored high for me this episode for pure image-acceptance growth. He seems to be coming around to the concept all that you were = all that you are = all that you will be. And this acceptance doesn't have to be such a calamity, Joe. Will this lesson learned last or will he turn back into a hot head soon enough? In contrast, Ron Jeremy is so even tempered and in-the-moment. He's got a very world-view perspective about many things. All things but directing children's plays, as it turns out. But maybe that was a sore subject with him - breaking world sex records but not having any real rug-rats to show for it. According to his documentary, he's out for something deeper. But for the most part, Ron still proves to be well-rounded and sociable and considerate in all things but having porno-BBQs under Tammy Faye's bedroom window. I also liked that Ron decided not to be Ron Jeremy, The Porn Star, on parade. Fully open about nudity, he nevertheless set a rule not to be the first and only one to bare it all. Erik redeemed himself a bit on this episode by being the first and only guy to karaoke like a silly man, smile charmingly at and dance with strange looking fans. Tammy, on the other hand, seems to be hanging on by the curls of her over-manicured nails in this episode. I feel bad for her but also feel, in times of being tested, she should show more fortitude. After all, facing a herd of nudists is not exactly on par with a having to live through a thieving, perverted husband and the fall of the PTL. Trishelle showed guts...drunkenly as usual and uselessly in this case. What is brave nudity good for anyway? If I'm ever in danger of being eaten by a scary dragon and need a damsel willing to get buck naked in order to get the dragon's attention away from myself...I guess then she would come in handy. I agree with Britt, her getting nude was more about being drunk than brave. At the bottom of the rankings again is Traci. Traci is weak, rationalizing and immature, obviously conflicted about marrying Mr. Rich Dull-dude. Traci needs to figure out what she wants in this surreal life and come back to us when she's ready to get real. Traci and Trishelle want attention the best way they can get it: by playing the sex card. But they are both incapable of being the party-girls they are both mimicking. They are both, therefore, all talk; which, on the one hand, is annoying as hell if you're a horny guy who's feeling jerked around by all the mixed messages. On the other hand, if you're a girl watching them, it's just plain sad. Over the last few decades single girls of this world feel more and more pressure to act ultra party-hardy and yet ultimately virginal, that it's no wonder why so many are so incapable of either "playing through" or drawing a line. You want to be a desirable girl but the good girl/bad girl lines keep moving farther in opposite directions each day - it causes this very bi-polar effect we are now witnessing from Traci and Trishelle: look at my naked boobs, let me fondle your cock, but don't cop a feel, man!. I'm sure all the girls and boys on the show (and not on the show) are very confused right about now about what to do and how to behave around each other, proving it's not always a Surreal Life. Sometimes its a very sad and confusing Real Life.

Which cast member is aggravating your soul? Who would you like to see kicked off and who would you replace them with? Please share.

Read Ape Culture's commentary on Surreal Life Season 1
Ape Culture and all associated pages are
©Ape Culture 1998-2007 and evermore.



Click here to learn about
the Ape editors' book
Check out the Ape Blog for the latest Ape Culture News and Reviews