Boy, the Way Glenn Miller Plays…
Songs that Made the Hit Parade:
Ape Culture's Guide to Classic TV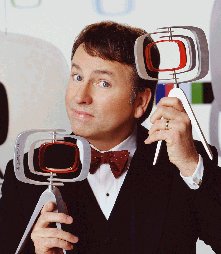 Host John Ritter


A Proliferation of Accolades: The 1st Annual TV Land Awards: A Celebration of Classic TV

It seems like all the networks are trying to launch their own award shows these days. And this is after a few years of us average Joes and Janes have been logging complaints about the over-abundance of award shows. Mostly, award shows are boring and long. The best, most inspiring parts, the acceptance speeches, are always cut off or cut down for the sake of unimaginative musical numbers. I guess the outfits are fun to look at but we do have movie premieres for that. I guess we have to give our out-of-work celebrities something to do…but this is getting out of hand. The Independent Film Channel awards, TV Land awards…what's next: Animal Planet Awards? In that case my dog, Helga Sophia Ladd deserves the award for the cutest bitch viewer of Funniest Pet Videos or whatever that show is called. Animal pratfalls. You know I love 'em!
All that said, the TV Land awards proved to be a nice change, as award shows go. These stars of yesterday have overcome their fightin' and their feudin' and have nothing but hugs and kisses for each other these days. Maybe they've realized life is short (as was fame and glory) and what remains for them is one big love-fest reunion show of the wacky 70s. The 70s. You know I love 'em! I also love classic TV. For years, I've wanted to write an Ape Culture requiem for The Carol Burnett Show, The Dick Van Dyke Show, The Mary Tyler Moore Show, James Brooks...
That is why this is the only award show for which I actually got online and voted. After logging in thousands of hours of classic TV reruns, I felt I should be something of a connoisseur by now. Unfortunately my many hours have gone deep rather than wide. I've watched almost every episode of Taxi, Dick Van Dyke and Mary Tyler Moore, but find it hard to sit through I Love Lucy and Bewitched. And I've never been able to watch more than ten minutes of The Andy Griffith Show or Leave it to Beaver. I loved The Brady Bunch and Gilligan's Island when I was nine but these days even retro kitsch gets old after the 6th viewing of the episode where Mrs. Brady rams the family station wagon into that insurance claim hustler at the shopping mall.
Toe Tappin' Theme Songs

The TV Land awards started with a big production of TV theme songs we know and love, the most memorable being: Gloria and Meathead singing "Those Were the Days" from All in the Family; Cyndi Grecco singing the Laverne & Shirley theme song "Making Our Dreams Come True", Greg and Marsha Brady singing The Brady Bunch theme and best of all, Ja'net DuBois (next door neighbor and Janet Jackson foster mother Willona Woods on Good Times) singing the best theme song of all time: "Movin On Up" from The Jeffersons.
Pouring Irreverence on Masters

One refreshing aspect of this awards show was immediately apparent - it was full of irreverent Gen X humor, with categories like 'Superest Superhero' and with winners being called out not from stodgy envelopes but from under the foil wrap of fake TV dinners. The TV Land awards! Who cares about awards from such a retro, low budget station with its crazy, very unserious award categories? Who would show up to such a shindig? Well…that would be EVERYONE who was ANYONE in 60s and 70s television. The audience was packed with classic TV celebrities, decked out to the nines and ready to accept some trophies. It was two hours of "Hey…there's Peter Brady! There's Shirley Jones! Look, Gavin MacLeod!" Solid what-do-they-look-like-now fun.
The first award given was for 'Working Stiff'. Laverne and Shirley won and accepted in honor of everyone who ever worked for minimum wage. Next, All in the Family won the 'Innovator' award for setting the standard for adult sitcoms. All in the Family seems to be not only before its time, but before our time even today. Bravely showcasing political comedy, this show managed that very precarious balance between hammy, sweet characters and their foibles and serious political debate between opposing viewpoints. What amazes me today, watching reruns of the show, is how adept the writers were at addressing current events. And yet the shows don't feel dated - the issues being handled in a broad enough manner that the content still feels relevant today. Sally Struthers (Gloria) and Rob Reiner (Meathead) accepted the TV Land award, but not without your typical Rob Reiner political rant, taking the award platform hostage. I actually agree with his anti-war position (I even protested last week for the first time…Grandpa would be proud), and yet his style of sermonizing at every opportunity often feels oppressive. The TV Land award speeches were much more political than you'd expect. First Rob Reiner's tiny tirade railing against war (all under the guise of what Meathead would say), later Lee Majors countered when he accepted an award for 'Superest Superhero' for his portrayal of the Six Million Dollar Man (he was bionic, remember). A very old looking Lee thanked the armed forces, "our real superheroes" he said. Which reminds me, Farah Fawcett…where is she these days?
One major award, in my estimation, went to the ubiquitous 'Second Banana'. Here is where I was torn over the nominees. Don Knotts won. I love Don Knotts, don't get me wrong. He's given us a lifetime of goofy comedy characters (The Incredible Mr. Limpet, The Ghost and Mr. Chicken, his Mr. Furley on Three's Company and don't forget The Apple Dumpling Gang and The Apple Dumpling Gang Rides Again). Mr. Knotts deserved an award for Barney Fife on The Andy Griffith Show…some solid Second Banana-ing there, no doubt. But for a long time I've been wanting to see Harvey Korman get the recognition he so rightly deserves. I've long been miffed about the fact that Tim Conway overshadows Harvey Korman on every reunion of The Carol Burnett Show. Conway even shared the nomination with Harvey Korman in this 'Second Banana' category. They are not quite equals in the comedy chops department, however. Tim Conway, although hilarious in his own right, has essentially a smaller bag of tricks. Basically, a bag of baboonery. How many times can he fall up the stairs or mug with absurd idiocy? His Mr. Tudball is the exception that proves the rule: a truly different and defined character. Many of the rest of Conway's characters are just too similar. They pack a big punch but are basically annoying dolts. Korman, on the other hand, has long been under appreciated for his comedic deftness. His range of emotions and characters span from debonair snob to rural twit to everyday Joe to impersonations of classic movie characters from Little Foxes to Gone with the Wind where he does a very funny Clark Gable. His characters range from upper-class British thespian to the low-brow Ed in the Eunice sketches. Every characterization is flawless. Classic Carol Burnett episodes, of course, include the Conway/Korman crack-up bloopers, but Korman's stealth art of comedy can be seen in almost every Carol Burnett Show sketch. He didn't over use the same ole same ole bag of mugs. Tim Conway makes me laugh, no doubt, but Korman was simply more versatile. And he appeared in Mel Brooks movies to boot (see High Anxiety, Blazing Saddles).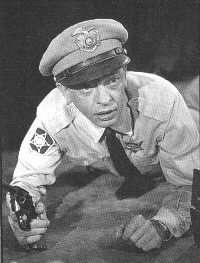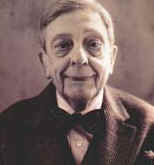 Don Knotts then... and now.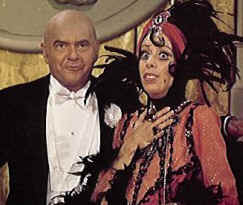 Harvey and Carol as Max and Norma Desmond from Sunset Blvd.

Another award I dare to contest: 'The Favorite Guest Performance by a Musician on a TV Show'. Davy Jones won for his appearance on The Brady Bunch. Davy Jones! Now isn't that stretching the term musician? I guess this is akin to the hoopla that would ensue if Justin Timberlake appeared on Buffy The Vampire Slayer. But Davy Jones appeared as a musician on his own show every week? Hadn't the thrill worn off by then? I know this episode very well (Xers, don't we all?). Marcia is all batty-eyed over the prospect of going to the prom with the teen heartthrob of Brady and Monkeeworld. Davy looked too much like a little boy. I just couldn't relate, even then. Now if it had been Bob Dylan or Jerry Garcia…imagine Marcia going to the prom with Bob Dylan. Now that would be classic TV.
Don Adams (Maxwell Smart) made an appearance with Agent 99; the three sons from the show My Three Sons are also on hand. I always hated this show. It aired ad nauseum on all my after-school reruns line-ups. You just couldn't avoid it. I hated the theme song, I hated syrupy sweet story lines, the kids who would never get real, grouchy Uncle Charlie and that thing I hate about many early 60s shows: parents who never make mistakes and robotic kids who never get out of hand for longer than it takes to correct them with a stern lecture from Dad.
'The Favorite dual role character' was an interesting award in that it was missing a nomination for the most famous dual role characterizations of all: Patty Duke playing the biological marvel of herself and identical cousin of herself. Mysterious omission there. Barbara Eden won for playing Jeannie and her more cryptic sister on I Dream of Jeannie, another show I never liked because Jeannie was always such a nincompoop, prostrating herself before Larry Hagman, who I knew to be an evil bastard from Dallas.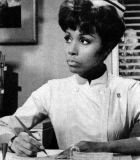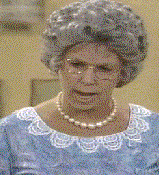 Diahann Carroll received a special award for her 'Breakout Role' in the TV show Julia. I never saw this show but it looks like a good one. TV Land should air it.
Vicki Lawrence as Mama (her character originating from the Eunice Higgins sketches of The Carol Burnett Show) appeared and was mildly funny, commenting that TV today was "nothing but filth and forensics." Her rant about reality shows and modern TV shows elicited only uncomfortable laughter from the audience. Were they afraid of pissing off the possible future employers Mama was so irreverently mocking? Or maybe they just didn't want to appear too square? I say, "Laugh out loud, classic TV thespians! You deserve it! Your shows are classic TV!"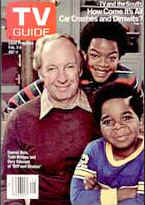 The award for 'Favorite Non Traditional Family' was presented by the Drummond family of Diff'rent Strokes (I loved this show as a kid) and there were some interesting nominees: The Munsters (honestly, a pretty traditional family, aside from them being monsters), The Partridge Family (nontraditional in its dadlessness), and The Golden Girls who won. Bea Arthur looked thin and frail. Next year she'll probably be back, winning for Maude. Drink some Ensure, Bea!
Next up was an absolutely hilarious spoof of the Michael Jackson documentary but with Arnold Jackson (Gary Coleman's Diff'rent Strokes character) instead. The spoof mocked much of the memorable interview, including plastic surgery comments, the tree climbing fiasco and the Las Vegas shopping spree, only in this version they had Arnold "spending wildly" ("over 12 dollars") in a 99 cent store. I laughed out loud.
Star Trek won a special award presented by Mira Sorvino, a self-proclaimed trekie.

The 'Hippest Fashion Plate Female' award was won by Agent 99 (over Rhoda! Can you believe it?) 'Hippest Male' went to Keith Partridge (over Sonny Crockett, Greg Brady, and Larry from Three's Company). David Cassidy was clearly basking in this moment, which was annoying. Something about David just rubs me the wrong way. Maybe it's that smile always plastered on face or his obvious seriousness about himself…even when he's trying to be all loose.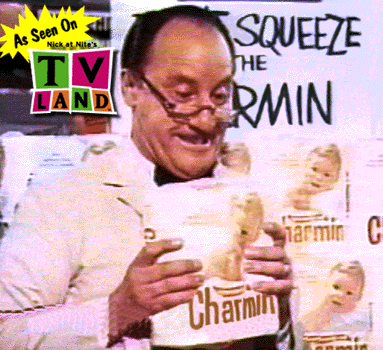 This was followed by a tribute to the retro-mercial with Mr. Whipple and "Please don't squeeze the Charmin" winning special attention.
Next was a very shameless tribute to a "future classic", American Dreams, Dick Clark's latest way to capitalize and glorify his American Bandstand show. By the way, who's producing this awards show anyway? This was the show's first misstep, other than the lame tribute to the fake designer on I Love Lucy, a poor excuse to drag Bruce Vilanch out on stage for no reason. With so many legitimate TV designers to love (Bob Mackie for The Carol Burnett Show - see picture to left - and The Sonny & Cher Comedy Hour), why did we have to sit through a mockumentary with the likes of Joan Rivers?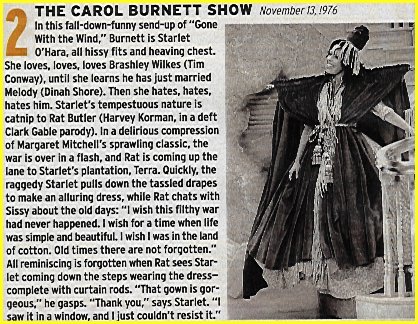 On the other hand, the very real 'Behind the Scenes' project added a touch of reverent seriousness to the show. TV Land is apparently documenting all aspects of the makings of classic TV shows with interviews of all the participants, from stagehands to actors to directors. The closing frames of The Mary Tyler Moore Show credits were explicated as an example. Mary explained who told her to throw up the hat and how that shot came together. Many kids just like me tuned in all the time to watch just those opening credits (the show was too adult for us at the time but we loved that hat thing!). It captures a kind of indescribable joy or joie de vie. What a life-affirming gesture!
Alf had a bit on the show. Why is Alf a celebrity again? Second-rate muppet.
The 'Most Amazing Cast Crossover' was won by Charlies Angels on The Love Boat. Cheryl Ladd and Gavin MacLeod accepted. Gavin thanked Mary Tyler Moore for his whole career. She can hardly be to blame for The Love Boat, though.
'Funniest Food Fight' went to I Love Lucy. No one showed up from the show. Another thing I don't like about I Love Lucy (aside from the silly plots, the spineless Lucy character and the claustrophobic set), their people don't even show up to silly award shows like this and award presenters are forced to say things like "we accept this award in the spirit it was given".


In Closing, a Tribute

Many awards we voted on earlier on the TV Land website were not aired on the show. Who knows what's up with that? Will they be given out next year or were they "presented earlier in the broadcast"?

The show ended with a very due tribute to The Dick Van Dyke Show. This show had already been honored by Nick at Nite, the precursor to TV Land, and Dick Van Dyke was once even honorary Chairman of the Board there in the 90s. But you can never love this show enough. Everyone from the show (still living) came up onstage and Dick sang the very lovely words to his theme song (who knew there were words? Click here to read lyrics) written by Morey Amsterdam. Rosemarie's still kicking and still wears that silly bow on her head (there's an aged vaudeville star for you).
The Dick Van Dyke Show deserves all the accolades it gets. Maybe TV Land will give it a better time slot now. Rob Reiner started the standing ovation (his father Carl Reiner was the show's creator – and the show is based on his life in Scarsdale, NY). In Carl's acceptance speech, he said "this is the weirdest show I've ever been involved in." Mary Tyler Moore was smiling but seemed a little distant, drawing away when Dick Van Dyke touched her arm (is it me or is she a little stiff?). Then strangely, she said she wished the members of the Mary Tyler Moore Show cast could be there to share the moment. Well, there's always next year, huh?
The TV Land Awards were a refreshing and surprising mix of professional and post-modern awards. The transitions, the blurbs and dance numbers were slick and benign enough to be on any other awards show, but really this is the one of the first awards show with the cheeky sensibilities of my generation. The show was irreverent and reverent at the same time, made by and probably for a generation of kids who grew up watching these reruns in the late 70s. All I can say is we finally got a piece of the pie.

Classic TV Sidebar: Classics to check out if you're a classic newbie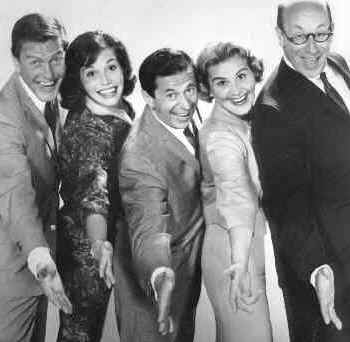 The Dick Van Dyke Show: What I like most about this show: it's unpredictable. Who knows where the plot will go. After modern template shows like Home Improvement, this one seems like a step forward even as a classic. For modern audiences first tuning in, it's nothing like what it seems. On first appearance, it looks like your typical working husband/subservient wife, black and white sitcom. It's really anything but. Garry Marshall comments that Laura Petrie stood up for herself and had forceful opinions. This was one of earliest shows to give the wife a voice of her own. And pants. And without making Robert Petrie into a hapless husband. This is a couple of true equals. The show also shows a woman (Sally Rogers played by Rose Marie) working in the company of men and doing a good job at it. Their jobs as writers on a TV show also give this show an element of meta-TV or TV commenting on itself. And, as Garry Marshall says, the humor still holds up. It's still funny today, with both physical broad elements and the clever smartness of Carl Reiner's early vision. And then there's Dick Van Dyke, charming and jovial… he handles the physical comedy with the grace of a dancer. Visit http://www.jumptheshark.com/d/dickvandyke.htm for more comments from Jump the Shark.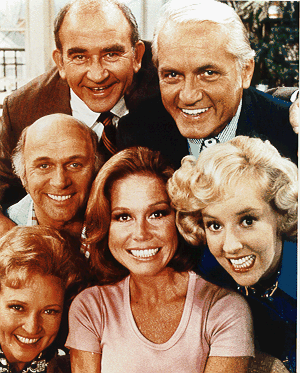 The Mary Tyler Moore Show: The Mary Tyler Moore Show characters had what Kelsey Grammar describes about Dick Van Dyke: real affability. Here you have a working single woman (a TV news producer) with a cool apartment (with that neat bookcase step), two cool best friends (Murray and Rhoda), and an ensemble of annoying, difficult co-workers (Lou Grant, Ted Baxter, Sue Ann Nivins) and nosey neighbors (Phyllis Lindstrom). Mary Richards was an iconic feminist, not by being a ball buster but by being a very timid innocent who hangs in there and overcomes fears and injustices one by one in the best way she can. She wins some; she loses some. She gives us realistic inspiration, not as superhero, but as a real conflicted person. James Brooks got his start writing for this show (along with Allan Burns) and the dialogue has his signature pathos and smart wit written all over it. Every episode is stellar and as legitimately human as a sitcom has ever been. Plus it has that ass-kicking theme song (just ask Joan Jett) and those rousing opening credits. Read an Ape Culture breakdown comparison of The Mary Tyler Moore Show with Murphy Brown.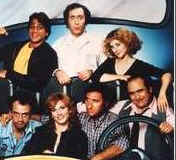 Taxi: Not only is James Brooks an amazing writer (The Mary Tyler Moore Show, Broadcast News, Terms of Endearment) but he's a very proficient director and producer as well, from landmark shows like The Simpsons, Rhoda, and Taxi (Marilu Henner claims Brooks runs a very organized and productive ship and creators of The Simpsons also credit him for setting that show off on the right foot) to new movie classics like As Good as It Gets. I've always been in awe of the way James Brooks can write and direct characters that are comprehensive, multi-faceted and remarkably realistic. His characters almost seamlessly evolve throughout his movies and shows and his meandering plots keep us hooked in efficiently conveyed human dramas. His work is primarily about relationships and he handles them better than anyone. This is what Taxi does well. It shows how a gang of people relate during and after work and how their struggles evolve around the workplace and over time. Great Emmy worthy performances and breakout careers were made here for Christopher Lloyd, Marilu Henner, Tony Danza, Carol Kane, Danny DeVito and of course, Andy Kaufman. This is the best of the working shows (Barney Miller aint too shabby either), the one to most realistically highlight the daily stress, capturing at times the delicate heartache of the working stiff.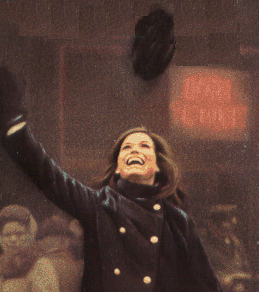 Find out where all your favorite TV folk live in our Fictitious TV Phone Book.

What's your favorite Classic TV show and why?
Ape Culture and all associated pages are
ŠApe Culture 1998-2007 and evermore.