A FROG'S STORY
The Frog Prince, The Horny Toad & Other Sexual Matters of the Pollywog

by Mary Elizabeth Ladd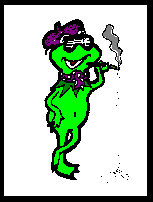 artist's interpretation of Kermit the Frog
Kermit the Frog is GAY. I just wanted to be the one to tell you first. I have to admit I get a bit of a kick out of forcibly outing the gangly little Muppet. I'm not here to lay a humanitarian tale on you except to say: Outing is Fun! And judging by the number of groups and periodicals devoted to the practice, it seems to be a growing pastime, fun like picking out words in a seek-and-find. PAR-ty!
First of all, it's not just his effeminacy (which usually always tips off the ever- resourceful press) that got me to ponder Kermit's bedroom persuasions, even though I realized this frog must have his libido of a different material not to manifest a shred of attraction to any of the hoarde of female Muppets. In fact, the more I began to manipulate the facts, the faster I came to see that not only has Kermit been pouring himself into his work for years, leading in essence a closet life, but he has succumbed to the unabashed dominatrix, Miss Piggy, for a wife.
By all accounts the marriage has been a sham from the beginning, Piggy's rumored affairs with Beaker prevailing. And when sources close to the family are hesitant to respond, don't we always sense a cover-up? And aren't cover-ups made to be uncovered??
If you're shocked, get over it. Loving celebrities is tough times. Maybe after reading this, you'll never be able to watch Kermit in his khaki trench coat again. Well, I'm sorry, but should an individual's elemental dignity and temple of secrecy hinder my festering desire to yank his little felt heart out?
I thought not.
But let me take this opportunity to say I love Muppets. I was raised on Sesame Street. I watched Sesame Street back when Snuffalupagus was just a figment of Big Bird's imagination. You can't find a five-year old today who knows what I'm talking about. And to this day, I'm so fond of all Muppetobelia that the first few bars of "The Rainbow Connection" still choke me up. The Muppets are clean, beyond reproach, even the musicians.
But let's review the facts, as we perceive them:

1. No Piggy/Frog P.D.A.
2. Absorption with work
3 . The Rainbow Connection
4 . He's very neat for a frog

DAMMIT, ISN'T IT OBVIOUS!?
If, in our society, we can say anything about anyone and no one has the power to contradict us, someone may say they saw me just yesterday in a compromising position with Fozzie Bear. Not only would I not be able to defend myself, but also my reputation as a discriminating lover would be irreparably ruined.
So tomorrow I may regret having made Kermit the fall frog. Speaking for myself, not being gay and not being a Muppet, I can't possibly understand the torture of so much pressure on one who has had such a remarkable career as Kermit, one of the most famous gay Muppet frogs of our time. And let's face it, we've all had stuffing and a hand up our ass from time to time.
And whether Kermit is gay or not, I'm having fun and this is certainly good copy. And if these outings have the after-smell of a cattle prod, so what! People are too slow to figure themselves out. I don't have all day.
So, ladies and gentlemen, we're pulling Kermit out.
Give the frog some room.
Feel free to either tell us how wacked we are or out other muppets or cartoon characters here.
Ape Culture and all associated pages are
ŠApe Culture 1998-2007 and evermore.