Pat Benatar & Neil Giraldo
with Berlin and The Motels
The Pacific Amphitheater
Orange County California
July 14, 2005
It's been a while since I've felt the urge to write a concert review. Not since the phenomenal Prince show I saw way back in March of 2004. And I've seen some good shows lately: Joe Cocker, The Killers, Tom Jones (whose show continues to get more charismatic and whose audiences seem to be getting bigger and more enthusiastic every time I see him – even Danny Bonaduce went to the Greek Theater in June to see Tom Jones). These were great shows but I still wasn't keen to review them. I have long worried that my concert reviews weren't very good – too self-absorbed, and mostly lacking in panache and technical jargon. What more could I say than "had a great time."
However, recently I've rediscovered Pat Benatar.
The first time I had even heard of Pat Benatar, it was 1982 and I was 12 years old in the car with my older brother (by seven years) who was driving me to school (I'd missed the bus). "Heartbreaker" was on our local rock radio station (K-SHE) and my brother asked me who she was. I shrugged "I dunno" unconcerned as I stared out the window. He took one hand off the wheel and slapped me in the back of the head. He said "That's Pat Benatar; don't forget it." This explains why I knew 70s Foreigner, Journey, Styx, and Pat Benatar songs long before their resurgence in the 80s with iconic videos like "Love is a Battlefield" and "Invincible."
My same brother recently visited me in LA and after dinner in Santa Monica, we stopped at Tower Records to look through the new releases. Pat Benatar was there with a new Greatest Hits package, something more complete than her previous Best Shots.
Maybe I was feeling that lingering smack upside my head those many moons ago because I bought the CD and played it in my car on the way to work every day. After months of relationship stress on all fronts, it felt like a lifesaver: Benatar singing like a love-warrior with those early accusatory point-of-views. She sang angry and bitter, rocking hard. I wore it out.
So when I heard she was coming to the Orange County Fair, I wanted to see these songs come to life. I was in the grips of a long, nagging illness at the time, practically coughing up a lung the day of the show; but I decided nothing but death would keep me from it. I dragged myself to the show and hoped I wouldn't pass out. This was simply music my soul needed to hear.
"Midnight angel won't you say you will."
My date, longtime friend and stalwart Benatar fan, drove us down to Orange County so I could convalesce on the way. We were late and missed all but the last song in The Motels set. However, I had already seen The Motels (literally….suddenly, last summer). Martha upgraded her wardrobe this time (from sweats) and wore some dressier black top. She smiled more.
Between sets we spoke with someone behind us who was a repeat visitor to the summer amphitheater shows and she informed us that the theater had been closed for many years due to uncontrollable behavior on the lawn. Now, she said, the theater was reopened only on the condition that lawn tickets never be sold again. I suddenly noticed how eerily empty the grassy area in the back appeared. What kind of bad behavior occurred, I wondered.
I had never been a big Berlin fan (I still haven't seen Top Gun) and I've never been interested in seeing retro 80s acts. Lived it. However, the Berlin show never felt like a retro 80s show at any time. Terri Nunn was great; she worked the crowd (her home town), invented new ways to keep the audience engaged, and gave good speech. The crowd loved Berlin. "No More Words" was sung en masse with glee by the crowd, and a new song, the erotic "Scream" was delivered with convincing sensuality by Nunn. Already scoping my iTunes for it.
Berlin had many fans in the amphitheater, but seats to the sides and behind us were empty pretty much until the end of their set. Suddenly, a young group of five Latino folks arrived to sit next to us. Unfortunately they stood out. White 80s acts always get a low turnout of people of color. For whatever reason, white music acts in general often lack any decent kind of ethnic mix in the crowd; unlike rap, soul and blues acts which attract a fair amount of people-without-color.
During the end of Berlin, the Latino group started pacing and dancing into our seat area, pushing me into people sitting next to me. First my friend moved up into the empty seats behinds us and soon after I followed. It felt like an awkward thing to do, but when strangers are crowding you into your neighbors, it's hard to concentrate on the show. Luckily, we had other seats to move up into. No harm no foul.
Pat Benatar came on stage and it was startling to see her. She looked remarkably subdued singing her old diatribes about bad love. The beauty of the records are the raging rock notes juxtaposed with high and lovely parts which give her performance both a feminine and hardy punch. She could switch personalities fluidly, creating songs that were pouty but tough. She stood for standing up for yourself, fiercely, angrily.
Benatar played a few songs I didn't know, two from Gravity's Rainbow, "Everybody Lay Down" to open the show and the tender "Everytime I Fall Back." She played "Go" from her most recent album Go and "True Love from her blues album True Love. She also sang, in pure Kate Bush style, "Wuthering Heights." The rest of the show was hit Benatar material.
We Live For Love: This is not one of my favorites. Why not play "Treat Me Right," "You Better Run," "Promises in the Dark," or "Little too Late," – all which are utterly useful as therapy when recovering from dishonest relationships. ("Treat Me Right" is a bonafide anthem for victims of yo-yo relationships and "Little Too Late" so final in the vein of "Don't Call That Man" advice books and yet so 80s-lite: "You can't connect, what did you expect." Maybe the band felt this song sounded too dated, but this would have been a good sing-a-long: "There is only so much, ONLY so much I can take" would have sounded lovely en masse.
Shadows of the Night: This is my favorite Benatar song, with its soaring opening before the anthemic music kicks in. This one, to break with her earlier hits, is life affirming. Benatar songs are also getting more complex, moving from early hits with stripped-down punk-pop 70s arrangements to songs busier with 80s instruments.
Sadly, Pat's mic was not working correctly and was switched out promptly before the next tune. If only we could have heard it full-tilt.
Hell is for Children: My friend and I agreed, this song's lyrics have always confused us and neither of us have especially liked the song. Is it trying to say Hell is especially for children alone? Or often children live a Hell on earth? Clearly this is her song about child abuse, but for effectiveness, "Ask Me" (by Amy Grant – which is haunting in its specifics) and "Bless the Beasts and the Children" (by The Carpenters – which is saccharine but at least we get it) do a better job evoking an emotional response to child abuse.
Invincible: Pat explained at length about how she had to perform this song on 9/11 and how its lyrics took on new meaning for her and the band. Unfortunately, this song can't be remade into a 9/11 anthem for us because it reminds us so powerfully of when teen movie theme songs ruled the earth. You can't reapply this one to 9/11, it feels artificial. And it falls so short of Sting's identical story about having to perform on 9/11 and finding new meaning in his song "Fragile" which is much more appropriate to the 9/11-ethos and has that powerfully simple refrain (which was shocking in its self-conscious surprise at the time) "how fragile we are/how fragile we are."
I wonder if too much song explication on stage was the cause, at the end of the day, for an altercation that began in front of us between the group of Latino young adults and two well-coiffed blondes in front of them. Up to this time, it had become evident to those around them that that Latino group were not familiar with Benatar songs and had consumed lots of food and beer. They were "carousing" – talking loud, laughing at their own bad jokes, and bumping into those around them. The well-coiffed blondes made the fatal error of asking the most drunk of the group, a 20-something woman, to "shush" and please not be so loud so they could listen to the show.
Now I have a hard time defending well-coiffed blondes. They have many times been my own particular nemeses at House of Blues concerts on Sunset Blvd. They prance in late and aggressively elbow their way up to the front, pushing back all the mousey brunettes like me who have been dutifully waiting for hours to ensure a good spot near the front of the stage. They come with airs of snotty entitlement and then, to add insult to injury, they get drunk and dance into everyone else, pushing back the innocents even further.
So I'm no friend of the well-coiffed blondes and I sympathetically, automatically align myself with any woman-of-color as a sister brunette. However, in this case – it was impossible to sympathize with my sister brunette because she reacted disturbingly inappropriately to the request, taking umbrage that seemed to bring up all her deep-seated hatred based on you-could-only-guess-what. Maybe she was held down by culture, men, her mother figure, a bad education, childhood fears, or race wars. Whatever it was, she spent the rest of the concert mercilessly harassing the well-coiffed blondes by loudly calling to the skies drunkenly "Shuuuushhhh! She wants us to be quiet everybody. She's trying to listen!" over and over, threatening to spill beer on their heads, and leaning over and singing loudly in their ears. The blondes stoically faced forward. Others in the crowd looked over from time to time to see what the fuss was about. For the rest of the show, the Latino woman did not relent and her compadres laughed along. She could not get over the perceived offence.
Hit Me with Your Best Shot: Pat claimed to hate singing this signature song and my friend confirmed that hearing it was a rare event in Benatar shows. Pat said she would sing the song but refused to utter a line she said she hated. She asked us to sing it:
"Before I put another notch in my lipstick case
You better make sure you put me in my place."
I've always assumed that line came with an obvious wink wink. You know…."yeah sure…put me in my place…good luck with that." Am I missing something? The whole song is filled with I dare you bravado. This is just more taunting of the same. I love the three guitar projects in the song and I fell the song contains an important message about perseverance for victims of love:
"Knock me down it's all in vain
I get right back on my feet again."
So why be hatin on it, Pat?
We Belong: This is from the high-style, renaissance age of Pat Benatar (lush like its sister-song "La Belle Age"). Giraldo spoke about how the opening notes came together. Possibly, Giraldo needs his own Storytellers show to fully explicate his songwriting. He talks a lot. These long speaches did nothing to help the ongoing feud happening between the girls in front of us and I had to try to concentrate hard on the show. I love this song for its underwater sound, its lovely surreality, the ethereal childlike backups. There's also an element of resolved unresolution about relationships in the song, description of something unanswerable, beyond words. I like this in love songs (like "How Bout Us" by Champaign and The Beatles' "Something").
Heartbreaker: Neil Geraldo talks up "We Belong" and "Love is a Battlefield" for their original, iconic openings, but this one has a swell one as well. This is early Pat Benatar and the record is simple and pulls a quick punch. Benatar accentuates the song with her falsetto sarcasm and her vocals are dripping with sweet bitterness. Neil goes insane on the bridge (in concerts these solos were elongated significantly and, I felt, appropriately as he is now getting double billing with his wife Pat; but my friend felt the solos could have been trimmed for more Patstuff). The live version just served to prove how superior the record is, from the direct fire attack of the lyrics to that great bouncing basketball end.

Encore:
Love is a Battlefield: This song was the favorite of my friend, due to its many evolutions and musical movements. Ironically, this was also the only song the Latino woman knew and she would punch her arm into the air at every "No one will tell us we're wrong." Sadly, this seemed to be the only Benatar message she was connecting to. Throughout the song she did plenty of rap-pointing and posturing over the head of the well-coiffed blonde.
After this, the blondes disappeared from their seats, along with no less than 10 others our tally of empty seats confirmed. The small Latino group of six now had twelve seats to choose from, but still insisted on bumping up against the hems of their remaining neighbors until the end of the show, almost as if they had a disturbing need to strike up some disturbance still.
All Fired Up: This song, although once a great disappointment when first heard on the airwaves, has grown on me. I think its flaws lie in its muddled rock sound (gone are the stripped, aggressive, pounding, angry arrangements) and the less-specific point of view of the lyrics. Earlier hits had a message directed at one villain of a lover, or dealt with one pivotal relationship moment. As happens with many aging rock writers, they get political, worldly, fuzzy. But fine-brewed encapsulated truths are often just that – encapsulated, simple moments of life that take on a life of their own, and naturally become symbolic of larger issues. "We Belong" tips the border of good-fuzzy. Although "All Fired Up" has powerful lines ("moving like a meteorite") but overall, it comes off more like rock posturing than the real, raw, hardcore, old-school stuff.
Beyond the bad mic at the beginning of the show, the band did seem to drown out the powerful voice of Pat from time to time. My friend had these qualms about the concert overall:
The sound mix: too little Pat, too much band, too much Neil Giraldo (mainly the solos). I liked the solos and Neil is one of my favorite guitarists, along with the unappreciated Lindsay Buckingham.

No showmanship: Pat was very restrained. You don't see her prowling around the stage like you think you remember her doing in old footage on TV. Giraldo is the one displaying most of the warmth toward the audience, interacting at the edge of the crowd with a little swagger. Maybe Pat is coasting on That Voice because she's not very playful in her shows. She's mostly serious. I would add that the band did not seem to be a very united act - as compared to the hodge-podge cast of Berlin even. Terri Nunn interacted with her band-mates, playfully taunting them with a pleasant camaraderie. Pat seemed ready to leave the stage as soon as possible, while Neil and the band kept hamming it up a few moments after the lights went up.


All belt, no nuance: My friend affirms that the records are usually better, more representative of the range in textures of Pat's style.
Overall, I was dispirited on a social level. The harassment of the well-coiffed blondes was unnecessary and disturbing. This Latino woman may have believed she was empowered to some degree by her retaliations, but she was simply a scary, loose cannon. A lit fuse. A social liability. Her friends' acquiescence to her showed immaturity and sadly proved to reinforce negative and useless stereotypes to everybody around. Subconsciously probably even to themselves. The whole thing made me feel deflated about female self-expression: We've come a long way baby. And yet we find we're still pretty much in the same damn place.
You have to wonder if these ridiculous incidents were why the venue had been closed down in the first place. It would seem no number of Breakfast Club airings on WGN will keep us from hating on others due to various visual stereotypes. I'm beginning to believe the worst of human nature is unsinkable. And for all the good intentions of pop music to sway hearts and minds, it just doesn't penetrate.
But on a personal level could I still be inspired?
What had Pat meant to me these last few weeks? After months of being repressed from expressing even displeasure in relationships, these songs were giving me permission to be angry and critical of family and lovers and friends. And to hear that this exercise is both feminine and simple. You can be loud (when you deserve to be loud), with an angry, sweet, fierce voice - all in one.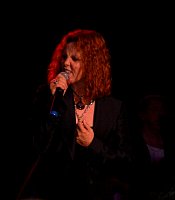 image from www.benatarfanclub.com
Kim Bieszczak
Read more of Ape Culture's concert reviews.
Post a comment about Pat Benatar.
Ape Culture and all associated pages are
ŠApe Culture 1998-2007 and evermore.