Prince
Staples Center
Los Angeles, CA
March 29, 2004
The Ape Culture editors attend a Prince concert at Staples Center in Los Angeles and present a chat-room style review.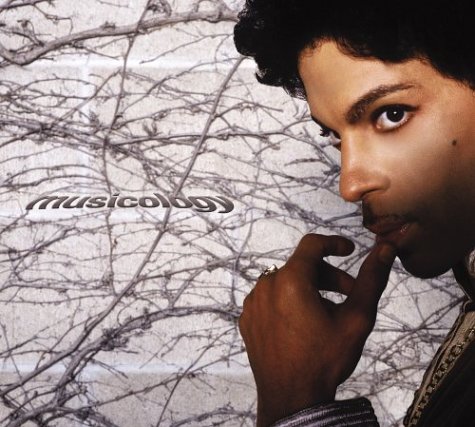 [Coolia] Dig, if you will...a picture, of you and I chatting a review of Prince.
[Nerdia] Let's go crazy.
[Coolia] Let's go review the setlist.
[Coolia] Musicology tour setlist LA 3/29/04
Musicology , Let's Go Crazy, I Would Die 4 U, Baby I'm A Star, When Doves Cry, Shhh, Nothing Compares 2 U, DMSR, A Love Bizarre/The Glamorous Life/I Feel For You Controversy, God, The Beautiful Ones, Insatiable, The ? Of U/The One/Fallin', Take Me With U, Sign O' The Times, Let's Work, U Got The Look, Soul Man, Life O' The Party, Kiss, Forever In My Life, Past Midnight, On The Couch, Little Red Corvette, Sometimes It Snows In April, 7, Purple Rain
[Nerdia] Although the CEO of my company doesn't think so...Baby I'm a Star!
[Coolia] There was definitely some excitement in the air as we arrived at Staples. This was the first big night of Prince's tour. He did a warm up show two days previously in Reno .
[Nerdia] I've never been to a show where I had to mill past hordes of well-dressed people to be ushered through a maze into the nice box seat area where I was then dumped down into below box seats. The box area dining is better than what the plebes get.
[Coolia] Yum...bleu cheese fries
[Nerdia] Before the show started, I spent 10 dollars on a soda, popcorn and the aformentioned bleu cheese fries.
[Nerdia] We can't forget the free CD we were all given. Have you listened to yours?
[Coolia] Yeah, that was cool. Whenever you pay $80 for a ticket, you should get something free. I haven't listened to it yet. Have you?
[Nerdia] Yeah...I really like "Life of the Party". I listened to that over and over...but "The Couch" was better live. "Musicology" is good too...he seems to be back to the good old ways, even his old name...but I was annoyed throughout the show with all his "What's my name?" prompts. It just brings to mind his whole "Artist Formerly Known as Prince" phase which I think should be quietly brushed under the rug...it was annoying and embarrassing.
[Coolia] Yes, and it's hard to yell out "the unpronounceable male female symbol formerly known as prince" in unison in an arena.
[Coolia] I was pleased there was no opening act. And I liked that the stage was in the round, with a cross-shaped walkway
[Nerdia] They lit the audience very creativel,y I thought. I've never been to a show in the round...but I liked how they lit it...the opening songs were full of energy and everyone was excited.
[Coolia] He started out with the title track of the new album, then a bunch of hits..."Let's Go Crazy", "I Would Die for You", "Baby I'm a Star", "When Doves Cry." The crowd was in a frenzy. However he didn't play full versions of most of these songs which disappointed me a little. I'm against medleys and Cliff Note style concerts.
[Nerdia] Yeah...medleys leave you wanting more. He is quite the Chaplinesque performer though. Every move he makes is choreographed...his way of walking is kind of a dance in itself. The whole show seemed very choreographed...when the musicians would join him on the stage and play in a circle around him...they were great...prince is bringing back the sax.
[Coolia] The band was awesome. Usually I get bored if an artist is offstage changing costumes or resting and the band is playing by themselves, but not this time. They were funky and fabulous.
[Coolia] Prince looked very good. He didn't seem to have aged.
[Nerdia] He is much sexier on stage than in videos. The best of Prince is in his live show...it's a mighty shame he doesn't want to be a live act. It's where he shines. This was one of the best live shows I've seen due to the artistry of the lighting, the song order and transitions, and the good use of a few props...the fact that he didn't gouge us for ticket prices and we got free stuff. The band was top notch, too. He didn't play the mythic three hours, but in the 2-something hours he did play, he gave us a really dramatic acoustic set with "Little Red Corvette", some rocking energy numbers, some funk and some more funk.
[Coolia] 2.5 hours is very respectable in my book, and he shouldn't play any less when he bills the tour as the last time he will play the hits...and he's got a lot of hits to get through. I thought it was an amazing show too. There were a few drawbacks for me - the aforementioned medleys, Prince's neglect of our side (he only played 1 song to us and only a couple songs to another side while spending the bulk of his time at the other sides. even when he played in the middle he refused to face us - and we were on one of the long sides of the arena). But I can chalk that up to the tour being new. He may need time to get more comfortable to roam around. There were a few songs left out I would have liked to hear such as "Diamonds and Pearls","Pop Life", "1999". What about you?
[Nerdia] Yeah, I would have liked to hear "Delirious" and "1999". I noticed that he liked the other side better as well, but I'm also noticing I spend a lot of my time watching the big screen...what did I do before big screens? And is watching a big screen all that different from watching the show from home?
[Coolia] Not really, but when Ticketbastard or your lack of funds prevent you from getting in the first 10 rows, the screen becomes your friend.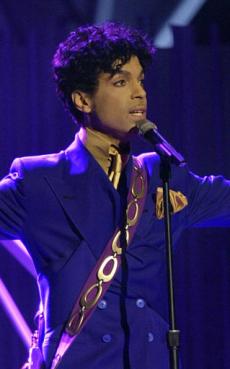 [Coolia] I heard Prince became a Jehovah's Witness and even did some door-to-door preaching, but I can't say I noticed he cleaned up the show. he didn't sing "Darling Nikki" but then I've heard he never sings that. Did you think he tamed the lyrics or sexiness?
[Nerdia] I was told over and over by coworkers that he would stop singing his overtly sexy songs...but "The Couch" talked about goin' down so...they were wrong as wrong is. His facial expressions were orgasmic as well. The only lyric I noticed him change was in "I Would Die 4 U" - "He's your messiah" vs "I'm your messiah."
[Coolia] "The Couch" was very sexy and also very playful. Prince really seemed to be having fun during the acoustic encore when he played that on stage all by his purple lonesomeness.
[Nerdia] Yes...he did smile more then...even doing his little verklempt moment. He knows how to work the crowd in both big and small numbers.
[Coolia] I didn't quite buy the verklempt moment, but I can imagine it must have been powerful to hear the thunderous ovations from the sold out crowd.
[Coolia] The final song was the one we were all waiting for - "Purple Rain". It felt like we were in church singing a hymn.
[Nerdia] And the sing-a-long was an eternity on that one. Everyone knew what to do.
[Coolia] I don't think anyone wanted the show to end.
[Nerdia] He kept promising us we'd do it one more time and then would do it five more times. His long necklace kept getting caught in his symbol-shaped purple guitar. He would try to flip it over before his ripping solos.
[Nerdia] We talked about there being no kids there...all older people. The kids today probably don't know him at all. He's like an 80s refugee.
[Coolia] Yeah, he had sort of disappeared, with his last several albums being so unintelligible and hit-free. Perhaps this tour will bring him back to prominence. He sure is selling out a lot of multiple shows at the same large venues.
[Nerdia] He's doing well.
[Nerdia] I'd definitely recommend the show. It's up there with Springsteen for live shows and live drama, but with more artistry. It was hard for me to understand the Prince "genius" label and the whole diversity thing after funk after funk album until I saw the live show. It helped me "get" Prince. I wouldn't say he has a brilliant voice but his show was smart, beautiful and full of passion.
[Coolia] I was never a huge Prince fan, although I always thought Purple Rain was a must-have album. I never thought he was sexy until I saw him live. I also never realized what a great musician he is - and what a great band he has. I'm really glad I went. I see a lot of shows so I don't know if I'd say it was one of the best I ever saw - but it was definitely great. maybe I would have totally loved it if I had known all the songs - but there were stretches in the middle where I didn't recognize anything. That's not Prince's fault - that's mine.
[Nerdia] I enjoyed even the stuff I didn't know...in fact, it would have been a perfect show had it not been for the guy behind us chatting on his cell phone during every slow song. What is up with that? He'd call friends and say, "Prince just played 'Little Red Corvette'!!" I wanted to start a brawl with him.
[Coolia] I don't get people like that. You are at a PRINCE concert, not watching MTV. I'm trying to figure out if shows are full of annoying people or if I just happen to sit by them at every show I attend - must be some kind of corrollary to Murphy's Law that covers this topic.
[Nerdia] It doesn't matter what price range of tickets you buy, they show up behind you or two dancing girls show up in front of you. People have no sense of consideration these days...which increases all kinds of fist fights at shows.
[Coolia] And Prince is a lover, not a fighter. On the way out, we had our only celeb sighting of the evening - Tim Allen, talking on his cell phone and waiting for his limo.
[Nerdia] We wondered if he was there because he was a fan or because it was a cool place to be seen. But then we weren't true fans going in ourselves. It's ironic to me that the true fans I know didn't want to go because they'd been burned too many times before by Prince's willful obscurity.
[Coolia] They were no longer willing to respond to his invitations with "I don't care where we go. I don't care what we do. I don't care, pretty baby, just take me with U." But I have a feeling this tour will bring them back to the fold.
Read more Ape Culture concert reviews
Have you seen Prince's Musicology Tour? Tell us what you thought.
Ape Culture and all associated pages are
ŠApe Culture 1998-2007 and evermore.