Fly Low, Go Fast, Turn Left and Other Tips I Learned at the Reno Air Races
I agreed to accompany my dad to the 40th annual Reno Air Races with pretty low expectations. I'd been to other air shows and enjoyed them a bit, but I wasn't an enthusiast like my dad, who had worked at McDonnell Douglas for 35 years. To me, the guaranteed sunburn and crick in my neck didn't seem worth the few thrills. I was, however, curious about the concept of air racing - how could planes race like cars or greyhounds? And I wanted to check out Reno - the biggest little city in the world.
The air races took place on September 11-14, 2003. I flew from LA to Reno on Friday night. I thought I saw Al Jarreau on my plane, but I couldn't be positive until I walked toward baggage claim and saw a poster advertising his performance at Harrah's that very weekend. Having just recently spotted Dionne Warwick shopping at CompUSA in Culver City on a Friday night, and now seeing Jarreau, I felt it was only a matter of time before I'd see the entire group of celebrities that assembled to record "We Are the World."
My dad met me at the airport. He had already been in Reno for the first two days of the four-day event. We went back to our hotel, the Golden Phoenix, in downtown Reno. I noticed the casino was pretty empty for a Friday night. The hotel was undergoing some remodeling, but was in ok condition. Like most of downtown Reno, it had kind of a depressed vibe. Leaving the hotel, I saw a few tourists and many more down-on-their-luck types wandering the mostly deserted streets. We went across the street to the El Dorado hotel to have dinner at Brew Brothers, a popular microbrewery. As it was nearly 10 PM, we were limited to the late night menu and ordered pizzas which were tasty. We then headed back to the hotel and crashed.
We got up early on Saturday to ensure we'd get a full day of race action (and so my dad could take advantage of the free breakfast included in his Checkered Flag Club ticket package). He snuck me into their secret clubhouse and I pinched a donut for myself. My dad has purchased a regular admission ticket for me, plus a pit pass. We walked around the pits and my dad explained to me the different classes of planes that were racing: biplanes, T-6s, formula ones, jets, sports, and unlimiteds. The unlimited class meant "anything goes" and these were the biggest, baddest planes that got the most attention from the spectators. A word about the spectators - as you might guess, they were mostly men and a lot of veterans. Many wore airplane t-shirts or caps with airplane pins on them. Some brought long suffering wives or girlfriends, and some came with their buddies. People were already drinking beer at 10 AM but nobody seemed rowdy, even as the day wore on.
I liked looking at the unlimited planes up close. There was the Voodoo, with its outrageous purple, yellow, and green color scheme.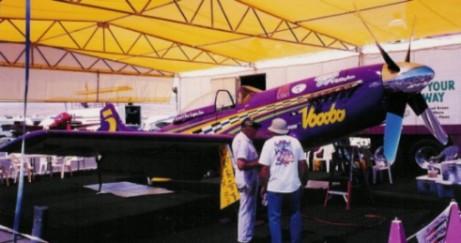 There was Rare Bear, a former winner and crowd favorite.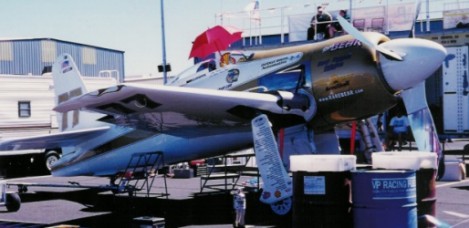 And then there was Dago Red, the plane that had won the championship the past four years and seemed to have the largest entourage of mechanics, merchandise peddlers and fans. One Dago Red mechanic had an amazing mullet (see photo at right). I couldn't help staring at it. I watched people purchasing t-shirts and caps emblazoned with the Dago Red name, wondering where they planned to wear that logo outside of air shows (probably not their hometown's Little Italy).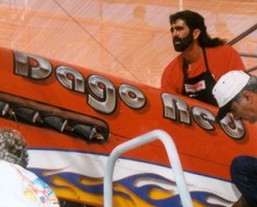 But air shows are not the place for political correctness, as a glance at any of the planes with scantily clad women painted on their side (see "Lickety Split" below with a blowup doll for a pilot) or an aircraft hanger advertising a company called "Balz Out Aviation" (owners Gary Boutz, Les Saltz and Al Grant came up with the company name by combining parts of each of their own names) demonstrated. This was a man's world - women are merely decorative (except for one notable female pilot to be discussed later).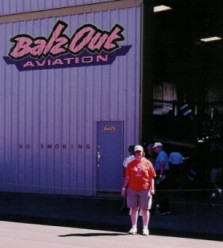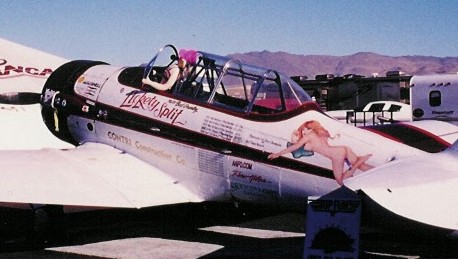 After touring the pits, we headed over to the grandstands to watch some races. The race action was pretty exciting, although there wasn't much passing and nobody hit the wall. Each class of planes had slightly different tracks to follow, ranging from 8.5 miles for the unlimited to 3.2 for formula ones and biplanes. The oval course was marked by pylons on the ground. If they failed to fly outside of the pylons, the pilots were penalized. The pilots observed a mantra: fly low, go fast, turn left. The roar of the planes flying in front of the grandstands as the races began stirred up a lot of excitement in the crowd. In between the races, there were acrobatic air acts, including a wing walker routine and a pilot who pretended to be drunk while swooping dangerously close to the ground. The highlight of the day for me had to be the car drop. The announcer told the crowd about a car that was illegally parked in a handicapped space and would have to be moved immediately or else it would be forcibly removed. About twenty minutes later, the announcer declared that since the driver hadn't materialized, they had no choice but to remove the car. We then saw a Chinook helicopter ascend with a car dangling on a wire beneath it. The helicopter hovered in the air for a minute before releasing the car which hurtled to the ground in the middle of the racecourse, raising a cloud of dust around it. The crowd went nuts for this. Nothing like senseless destruction to get people riled up!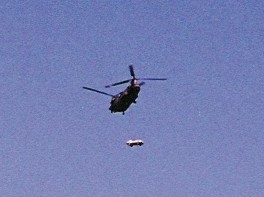 While my dad went back to the Checkered Flag Club for free lunch and a talk by an astronaut, I wandered the grounds looking at the merchandise for sale. I was amused to see a booth for Aircraft Records, a company offering CD recordings of aircraft noise. No, these weren't dance mixes featuring B-52 bomber samples, just recordings of the air races and various airplane sounds. I thought this sounded pretty dull but my dad assured me it was music to the ears of any airplane nut. Do they use these CDs to meditate or help them fall asleep? I'm still at a loss. There were a lot of booths selling patches, pins, and airplane t-shirts. I bought an air races cap to protect me from the unrelenting Nevada sun.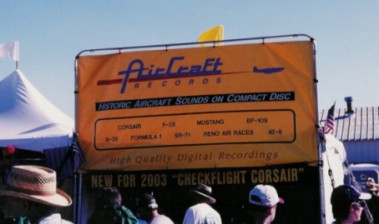 We watched more races in the afternoon. I cheered for the only female pilot in the bunch, Mary Dilda, who piloted both a jet named "Heartless" and a T-6 named "Two of Hearts." The USAF Thunderbirds thrilled the crowd with their precision acrobatics. There was an unusual race between stunt pilot Kirby Chambliss and Scott Hammack in the Air Force Reserve "Above and Beyond Jet Car". The jet car, a dragster powered by a jet engine, can achieve speeds up to 400 mph, and on this day, it was faster than a speeding plane. The races continued until sunset through various heats to determine who would fly in Sunday's finals.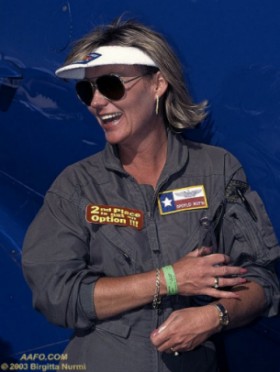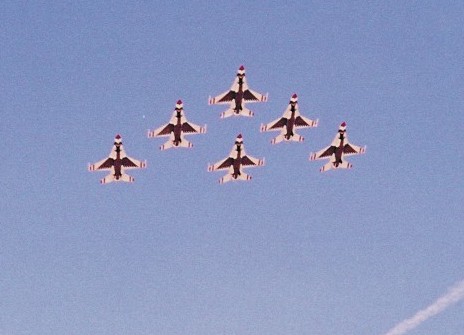 We left the races and went back to the hotel for a nap, then to Circus Circus for dinner at Art Gecko's, a very good Southwestern place. We watched a circus act and then headed back to our hotel. My dad went back to the room and I played a little video poker. I was surprised by how empty the casino was, considering it was a Saturday night and there was this major event in town. All the air race action and sun had tired me out, so I went to bed early.

My dad let me sleep in on Sunday. We went to mass and then back to the air races. The schedule for Sunday was basically the same, except the races were the bronze, silver, and gold finals for each class. I didn't have a pit pass for that day, so spent some time on my own either watching from the grandstands or touring the booths while my dad went back to the pit and to the Checkered Flag Club. We did walk around a display of military aircraft and restored historic planes together. The crowd cheered enthusiastically for the gold races. I was disappointed to see Mary Dilda come in second in the T-6 gold race, but excited to see her win the jet gold race. Everyone was anticipating the unlimited gold race, and there was a lot of fanfare leading up to it. The planes were ceremonially introduced. Dago Red held a commanding lead from the start. Rare Bear finished second, lagging by only 4 seconds although the race was never in doubt. Voodoo dropped out in the second lap due to technical difficulties. Dago Red won with an average speed of 487.938 mph, after setting a record during a qualifying heat on Friday at over 500 mph.
We skipped the award presentation ceremony and went back to the hotel to relax. We had dinner at a steakhouse in the El Dorado and reflected on our experiences. 210,000 people attended this year's Reno Air Races, and although I might have been the only one without an airplane pin on my cap, I still had a fun time. I returned to LA nursing a minor crick in my neck from staring at the sky for two days, but this time I felt it was worth it. If you're ever looking for a reason to visit Reno, consider checking out the races. It's definitely a subculture worth a pit stop.
Photos by Joseph Wiskirchen, except for photos of Mary Dilda, Dago Red, and Helicopter car drop "borrowed" from other sites.
Visit the official Reno Air Races site
Read more Ape Culture travel stories
Have you been to the Reno Air Races? Tell us about your experience.

Ape Culture and all associated pages are
ŠApe Culture 1998-2007 and evermore.