The Big Rewind Tour
Culture Club / Human League / Howard Jones
PNC Bank Arts Center
Holmdel, New Jersey
August 2, 1998
Like their senile president, the 80s refuse to die.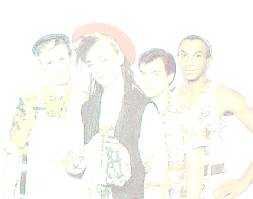 As we arrived for the Big Rewind concert, we thought we saw the undead--three goth twentysomethings-- in the parking lot. Siouxsie Sioux isn't on the bill, I wanted to tell them. I should have embraced them just for looking 80s, since few concert-goers made the effort to dig out their old pinstriped jeans and twist beads. I wore my Loverboy T-shirt and my friend Molly wore a rad Duran Duran baseball jersey with three-quarter length sleeves. A school bus shuttled us to the gates. We sat in the second-to-last row, in front of the "cool kids" who were so loud and drunk and making references to being back in junior high. The school bus did seem the appropriate mode of transportation for this concert, since we were in grade school when these bands peaked.
By the time we reached our seats, Howard Jones had already begun his set. Some folks were dancing, but most were mellow. "Did a little kid just dash across the stage?" Molly asked. I thought she was hallucinating. Perhaps the combination of Tang, Fun Dip, and Pop Rocks from our tailgating festivities had fried her brain. But then I saw the boy, too. It turned out to be HoJo's son and he walked around the stage, filming Dad and the band and joining in on the hits. Aww, isn't that sweet? HoJo sang a couple of new songs and all the hits, dispensing such sage advice as "Don't try to live your life in one day" and morale boosters like "Things can only get better." His hairline had receded and he was no longer bleaching it, but he still wore his remaining hair in short spikes to demonstrate that he hadn't quite moved on.
After Howard's set, we went to get some dinner. As we were eating our $3 hot dogs, a guy came over and offered to buy Molly's Duran Duran t-shirt. He said, "My friend over there is a huge Durannie and she'll give you $20 plus her shirt." We thought about it, but what would Simon LeBon say if we sold him out for a measley $20? However, we had to appreciate the junior high aspect of this guy talking to Molly for his friend, as in the tradition of "Do you like my friend Jennifer? Circle yes or no."
Human League played next, and they were my favorite of the evening. At first, we were put off by the cheesiness and robotic nature of the act. The two girls stood like pillars on the stage, looking vacant. Phil stood center-stage, also looking bored. The band played every sort of keyboard imaginable, including those keyboard-guitars that are, like, so 80s. They played "Mirror Man" and a few songs we didn't know. Gradually we warmed up to them, as they made several smooth costume changes. We forgave Phil for one suit that looked like a garment bag, when he slipped it off to reveal another suit beneath it. The girls reminded me of the ABBA chicks. Maybe it was their 80s eyeshadow. They played their hits: "(Keep Feeling) Fascination", "The Lebanon" (which Molly thought was "The Leprechaun" and I thought was "Malevolent"), "Human", and "Tell Me When." They wrapped up with their biggest hit "Don't You Want Me." Suddenly, I was back in my childhood room. There were pin-ups of Duran Duran and Wham! everywhere. I was reading "Star Hits" magazine and listening to my "Don't You Want Me" 45. I dreamed I was that waitress in the cocktail bar. That much is true.
Culture Club played all their hits, opening with "Church of the Poison Mind" and ending with "Karma Chameleon." Yet, somehow I felt like they were phoning it in. Maybe it was because, in contrast to the many costume changes of Human League, Boy George wore a black suit and the same dumb, floppy, pseudo-reggae, red and yellow hat for the entire set. He didn't even change for the encore. The Boy didn't interact much with the audience, and when he did he was condescending, like after they played a new song, he said, "Thanks so much. I know how hard it is for you to listen to new material."
The best part about the Culture Club set was their new back-up chick who had quite a set of lungs on her. She gave it her all, which is more than I can say for George. I was hoping for some sparks between George and his former lover, drummer John Moss, but no such luck. Twice George stood facing John, as if to stare him down, but John just kept on drumming. Molly and I wouldn't have even known to look for such queer chemistry back in the heydey. We're both amazed at ourselves because we didn't even realize The Boy was gay back then. We really didn't think about it. Even when I saw pictures of George with Marilyn, I didn't think anything of it. Yet, we didn't develop crushes on Boy George like we did on Simon LeBon and George Michael. Somehow, we must have known. Or maybe it was just impossible for anyone, gay or straight, to crush on a guy in ridiculuous makeup, with long braids, a skirt, and a bowler hat. No wonder George had a hard time.
The rest of the band members looked haggard. I think putting up with George for all these years has prematurely aged them. They didn't seem to be having too much fun up there. I did like the guitarist's orange parachute pants, however. Toward the end, George sang his solo hit, "The Crying Game" and droned through the chorus "Don't want no more." You know what? I don't want no more either.
I came away from the evening with the following conclusions. Howard Jones was doin' it for his family and fun. Human League were doin' it for the glamour. They simply had not evolved, like the people in the audience who still had feathered hair and you knew they didn't do it special for the show. Culture Club were doin' it for the cashola. But, after all, the 80s was all about money--"Greed is good," Reaganomics, etc. So I guess there's nothing wrong with that. George'll tumble for dollars.
Read more of Ape Culture's concert reviews
Post a comment about 80s bands, Culture Club, Human League or Howard Jones.
Ape Culture and all associated pages are
ŠApe Culture 1998-2007 and evermore.



Click here to learn about
the Ape editors' book
Check out the Ape Blog for the latest Ape Culture News and Reviews