EVERYTHING SHE WANTS IS EVERYTHING SHE SEES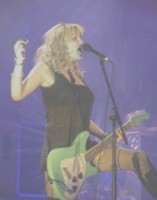 You lust for George, but he's as queer as a three dollar bill. Don't worry, the rest of us didn't pick up on it either. We saw him in the short shorts and the "CHOOSE LIFE" T-shirt, snapping his fingers and singing, "Jitterbug" and we never had a clue. Lucky for you, you've got some connected friends in the music scene who tip you off and you soon direct your sexual energies elsewhere.
Back to the Beginning of the Story
Ape Culture and all associated pages are
ŠApe Culture 1998-2007 and evermore.



Click here to learn about
the Ape editors' book
Check out the Ape Blog for the latest Ape Culture News and Reviews