WHOA, ROCKY. SAVE THE PUNCHING FOR LOLLAPALOOZA.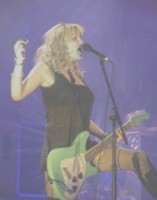 You were certainly full of rage in junior high, but you won't get in trouble for fist-fighting until the summer of 1995. You're on tour for Lollapalooza and you punch Kathleen Hanna of Bikini Kill, who you lovingly refer to as "Ratface." That's a ways away--first you have to get through reform school.
Back to the Beginning of the Story
Ape Culture and all associated pages are
ŠApe Culture 1998-2007 and evermore.



Click here to learn about
the Ape editors' book
Check out the Ape Blog for the latest Ape Culture News and Reviews