I USED TO LOVE HER, BUT I HAD TO KILL HER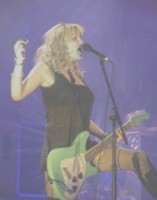 You're playing with Frances Bean backstage when Axl walks by. You want to poke fun at the fading metal icon, so you call him over and ask him to be the godfather of your child. Axl's not amused and responds to Kurt: "You shut your bitch up or I'm taking you to the pavement." You look at each other and laugh and Kurt tells you, "Shut up, bitch" and you laugh some more. Furious, Axl stalks away. You spend the rest of the night hiding from Guns N' Roses and their entourage. This moment commemorates the passing of the musical moment from Metal to Grunge. You and Kurt get to work on new albums. Nirvana tours Europe and you meet Kurt in Rome. You're too jet-lagged to have sex and he takes this rejection rather seriously--he overdoses. The doctors bring him back, but when he returns to Seattle, you have a big fight when you try to prevent him from buying drugs. He locks himself in the bathroom with a shotgun. You're at the end of your proverbial rope. Something has to be done about Kurt and his drug abuse.
Back to the Beginning of the Story
Ape Culture and all associated pages are
ŠApe Culture 1998-2007 and evermore.



Click here to learn about
the Ape editors' book
Check out the Ape Blog for the latest Ape Culture News and Reviews