HugsGram: Edgar's Latest Adventures
May 8, 2005
Hello Dear Fans,
Thank you all for your wonderful letters. Many of you have been wondering what I have been up to since my appearance as "Hugs" on Animal Planet's Who Gets The Dog?. Well, I have dictated this "HugsGram" to give you the scoop on 2005 thus far!
January - Premiere Party
Coolia and Nerdia invited friends over to watch my television debut. I donned a special outfit for the occasion - a Harley t-shirt and Doggles. I looked so good I could have gotten past the velvet rope at Skybar. Although there was a lack of suspense in the room as to the outcome of the show, given my obvious, larger-than-life presence, everyone enjoyed themselves and commented that the camera loved me. Guess what - I love the camera too! However, sometimes all the worshipping can exhaust me.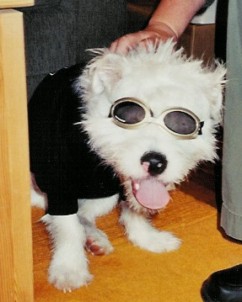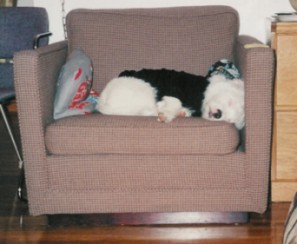 February - Foster Friends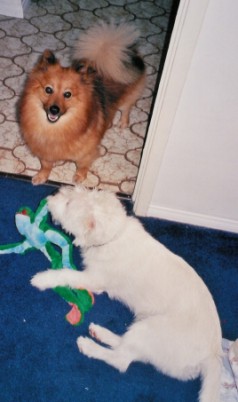 As I am a very social animal, Coolia and Nerdia decided to bring in a couple of 'temp" dogs to amuse me during the day while they were at work. They wanted to help the organization that rescued me, Perfect Pet Rescue, by fostering dogs.
My first companion was a pomeranian named Fitz. I had never seen a dog that looked like this one, except on Coolia's The Osbournes DVD. Fitz and I did not hit it off. He was more interested in being a lap dog than in rough-housing. I like to play, play, play. When Fitz started to snap at me, Coolia took him back to the rescue group. I am happy to report it did not take him long to find a forever home - undoubtedly, one where he can receive the pampering his luxurious coat requires and be lavished with attention.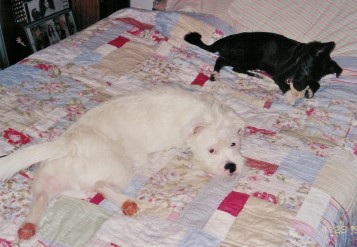 My second companion, Royal, was a delicate-seeming little black dog with a limp. An old injury to one of his back legs caused him to hop around. This did not prevent him from keeping up with my hectic schedule of tug of war, keep away, and running around in circles. Nerdia liked to refer to him as Royal Tennenbaum. Royal and I had a blast together. One Saturday, he was taken to the weekly adoption event and found a new friend who thought he was adorable and promised to take him with him everywhere he went. I was sad to see Royal go but delighted that he found such a great home.
March - Nuts for Mutts Dog Show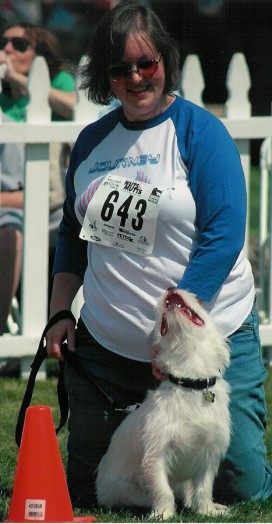 Coolia entered me into two categories at this annual dog show for mutts only - Best Terrier Mix and Best Smile. There were celebrity judges including Kim Basinger and Eric Roberts, and the proceeds from the show benefited the New Leash on Life animal rescue group. I found myself a bit overwhelmed by the Valley heat, the sheer multitude of attractive mutts, and the free treats. Events ran behind schedule so there was a lot of waiting around, but I enjoyed myself.
I made the finals in both of my events - meaning I was in the top 10 out of 30 dogs in each round. I was quite pleased with this achievement and my lovely purple ribbons. There was a lot of waiting before the finals, and I found myself quite tuckered out and unable to prance around the ring in the finals with the same aplomb I exhibited in the preliminaries. Even with Nerdia, Christopher, and Christine cheering me on from the stands, I could not manage a single smile in the "Best Smile" finale. Eric Roberts scrutinized me as if to say, "What are you doing here, and are you an albino?"
I failed to win, place, or show in either category, but I am determined to practice my strut and come back next year with more energy.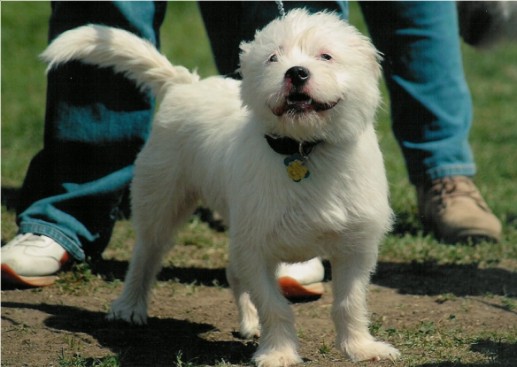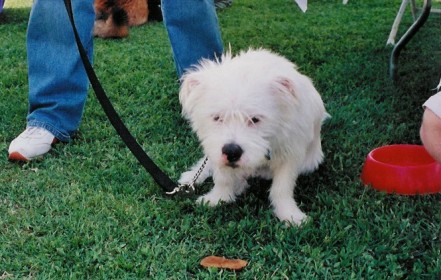 First round exuberance, followed by final round exhaustion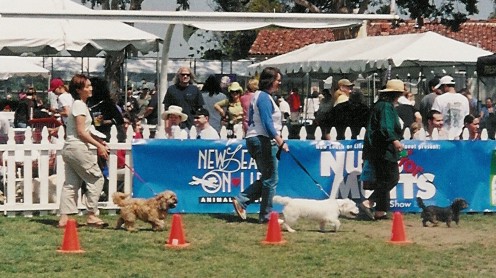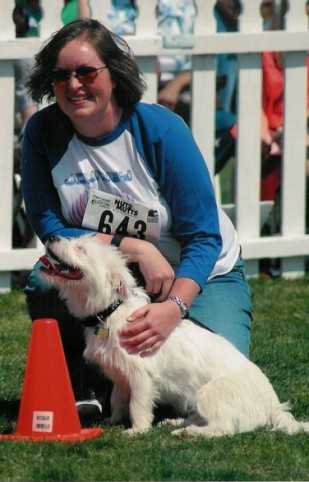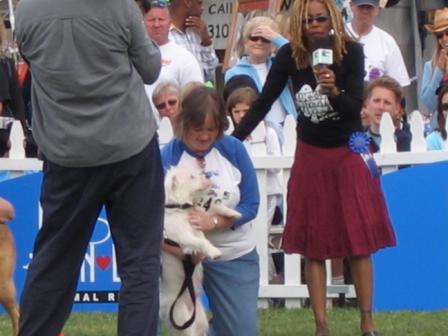 Come on, Debra Wilson of Mad TV fame, how could I not win "Best Smile"?
March - First Camping Trip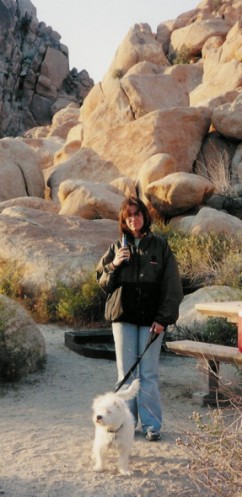 I barely had time to recover from the dog show before Coolia, Nerdia, and Christine took me to Joshua Tree National Park for my first camping trip. I am afraid my delicate, urban self was ill-prepared for the wilderness. I did fine during the long car trip to the park and did not throw up once. As we set up camp in Indian Cove, I began to wonder when we would be going back indoors. I was disappointed to see that a tent was the most shelter we'd have, as the temperature dropped to the 50s at night. Christine made a roaring fire and I curled up in a blanket and warmed myself by it as the ladies enjoyed tofu dogs and s'mores.
After we retired to the tent, the wind really kicked up and the tent whipped against the poles, conjuring up images from The Blair Witch Project. I was quite scared, but I did not cry. I was worried coyotes might snatch me, so I stayed close to Coolia and Nerdia. The morning could not come soon enough, and we discovered that the reason the tent had blown around so much was that one of the fiberglass tent poles had snapped in the high winds.
The trip did improve as I got to enjoy a hike and some rock climbing. The wildflowers were quite lovely. However, I was never so grateful to see my house and my comfy dog bed as I was when we returned from this two-day expedition.
April - First Birthday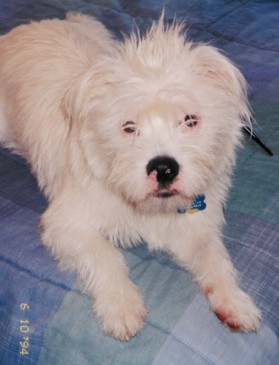 On April 22, Jack Nicholson turned 68 and I turned one. Just as Jack has accumulated more girth, I have doubled in size since I appeared on the TV show and now weigh 30 pounds. Coolia and Nerdia marked this momentous occasion by taking me to the Westminster dog park and to the Three Dog Bakery at The Grove. I also got to take my first elevator ride in the parking structure at The Grove and I am happy to report I did not pee. After all, I am one now and can handle just about anything. I sampled a pupcake and a terrier twist.
Well, fans, I hope you enjoyed this newsletter. I will strive to keep you abreast of my activities periodically and will be happy to address any questions you might have - just use the link at the bottom of the page to contact me.
Love and snausages,
Edgar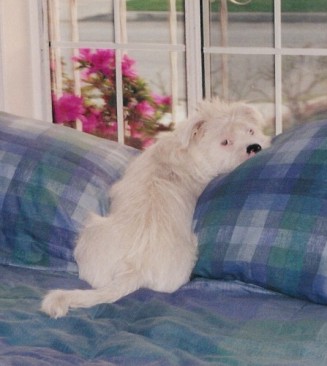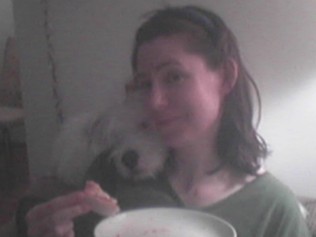 Read about how Ape Culture "got" Edgar on Animal Planet's Who Gets the Dog?
Read our response to criticism that the show is cruel to dogs.
Check out the official Who Gets the Dog? website including the follow-up on Edgar
Read Edgar's 2nd newsletter - HugsGram II
Leave your fan letters for Edgar here.
Ape Culture and all associated pages are
ŠApe Culture 1998-2007 and evermore.