Ape Culture Gets The Dog!
Nerdia and I may write about reality shows but we never thought we'd actually be on one. Since Ape Culture mascot Helga passed away in May 2004, we had been mourning and missing the dog presence in the house that we share. Late in the summer, I got hooked on petfinder.com and found myself repeatedly moved by the sad stories of the shelter and rescue dogs available on the site. But it was a busy time for us Ape editors, with relaunching this site and promoting our book St. Lou Haiku, and it seemed to make more sense to wait until late in the year to get a new dog, after a promotional trip to St. Louis.
Our friend Shelby forwarded an ad from Craigslist - a casting call for people who wanted to adopt a dog to appear on a new Animal Planet show called "Who Gets the Dog?", promoting shelter adoptions. I was surprised that Nerdia wanted to apply for the show. While I've auditioned unsuccessfully for multiple game shows in the past, Nerdia was never interested in garnering 15 minutes of fame that way. But her desire for a dog overcame her desire to remain anonymous. I visited the website and filled out the online application to be on the show.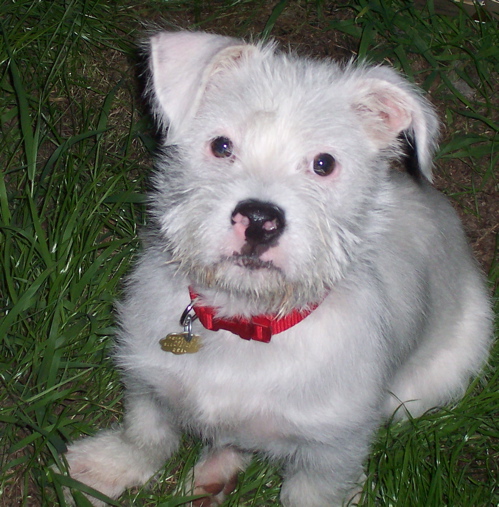 A casting director called us and asked us to come in for an interview. We drove to their office in the valley, and I was expecting our story to end here. The casting director videotaped us while he interviewed us about our lives, jobs, interests, and what we were looking for in a dog. He explained the premise of the show - a shelter dog would spend 24 hours in three different homes. Experts would watch the footage and decide on the best home for the dog. He indicated our interview had gone well, but I was still doubtful. A couple of days later, he emailed this picture of a plaintive white terrier pup and asked if we'd be interested in competing for him. We both thought he was adorable and responded with enthusiasm. He then called and said they wanted us to be on the show and would be coming to our house to tape in a few days!!
Some nerves set in as we wondered what the show would require of us and how invasive the experience would be. We reminded ourselves that it was just an Animal Planet show, not exactly Survivor. Members of the crew trickled in on the morning of taping. The producer and director asked for a tour of our house and yard and were very complimentary. They were particularly enchanted by our treehouse and vowed to film something up there. Two cameramen, a gofer, and another producer showed up later, but no Hugs yet. The producers explained how the day would go and made us sign long, convoluted agreements (of which we never received copies) certifying that we would not divulge the results of the show before it aired or appear on another game show for a set period of time.
The director first wanted to film us "at work". Although we both have office jobs, they wanted to focus on our non-paying job of running Ape Culture, which was fine with us as we hoped to get some publicity for "the little zine that could" out of this experience. They filmed us in our office and made us manufacture some drama. Typing on a laptop isn't very filmic, so this is where the first breaks from reality were staged. It was suggested that we pass a photo back and forth and then scan the photo. I'm sure that made for exciting TV. While we were taping the office stuff, we were told Hugs had arrived but was being sequestered outside by his handler, Christen. They wanted our reaction to meeting him to be real. The show's host, Dorothea Coelho, arrived and she was very friendly, funny, and down-to-earth. They filmed some shots of Dorothea bringing Hugs to our door and knocking but kept us in the office so we couldn't see him.
Next we got to meet Hugs on tape. We greeted him with enthusiasm and he gave us some love. He was adorable! He sniffed around to get the lay of the land. The welcome had to be filmed a couple of times, so we acted our reaction again and again. I don't know about other reality shows, but reality game shows apparently require multiple takes. The producer told us our first task would be to go in our backyard and teach Hugs a trick. We were glad to film there as we knew our lovely fenced in yard with fruit trees and treehouse would be one of our selling points to the judges - hopefully enough to counterbalance the fact that we're just roommates and work full time so couldn't be home all day with the dog. We were told to make our arms into a hoop and get him to jump through it. Much comedy ensued as we squatted and cajoled Hugs to jump through our arms. Eventually we got him to walk through once and that was deemed to be a "good college try." He seemed more interested in digging up the yard, as terriers are wont to do.
We taped an interview in the treehouse with Dorothea and she asked about our St. Lou Haiku book and encouraged us to make up haikus about Hugs. Oh, the pressure! We came through with a not particularly inspired but syllablicly accurate verse. It was then time for a lunch break, and we were excited to get free lunch from Baja Fresh, fetched by the production assistant. Crew members lounged around our living room, reading our magazines, making fun of my snowglobe collection. It's very odd to have 8 strangers in your house for 8 hours. We felt like he had all of a sudden turned our home into a Generation X shelter. Hugs didn't take a nap but continued to bounce around the room looking for playmates.
After lunch, we were given a grooming task. They let Hugs get a face full of dirt from digging in the backyard and asked us to wash his face. This was easy as pie. He was a trooper and not bothered by the washcloth. We then got free time with Hugs, so we took him on a walk. More interview footage was taped and finally the crew began to gather their things to leave. We were eager to get some private time with Hugs and to get our house back. They left us with an IAMS tote bag full of goodies - dog food, leash, bowl, a frisbee, and a towel. They also left us with a camcorder to record more nighttime footage with Hugs and a bottle of Resolve, a sponsor of the show. We were instructed to clean up any accidents with the Resolve and to be sure and get it on tape.
We were exhausted from the day's activities, but Hugs was still raring to go. We taped him running around the house in circles and playing. As the night progressed and we got more slap-happy, we filmed each other dancing with Hugs to some of our favorites such as Cher, Kiss, and Nelly. We had to test his tolerance for the music he'd be hearing in our house. He seemed unphased by it all. An accident occurred and we took the Resolve to it, making sure to get it on tape. We went to sleep very early and Hugs put himself to bed under my bed. I worried that might be a bad sign, like he was hiding from us, but it seemed like he just felt secure in the enclosed space.
The next morning, the producer, Dorothea and one cameraman returned to tape our goodbye. We were sorry to see Hugs go but fearful of getting too attached. After multiple takes of the goodbye, we saw his little white butt walk down our driveway and wondered if that would be the last time he'd do that.
A week would pass before we would tape the finale. The next day we were both very sore as if we'd been exercising for the Olympics. It must have been all the squatting to tend to the dog and the exhausting hoop-arm game. We spent the week trying not to think about Hugs and convincing ourselves that we would lose.
We went to a park in Chatsworth to tape the finale. There we met our competition - an engaged couple and a couple with an adorable 4-year old daughter. As soon as we saw the little girl, we were sure we had lost. Who would take a puppy from a little kid? I almost felt relieved at this point, feeling the outcome was assured, although I was definitely disappointed. We were positioned in front of a tree with Dorothea and Hugs standing opposite us. It took forever for her to go through her introductions and award speech. She kept getting to say "...and Hugs has chosen..." but couldn't finish the sentence. A strange windstorm kicked up, making filming difficult, and several planes also caused delays. The sound guy put wind shields on Nerdia's and my microphones but not on anyone else's. This was the first time I suspected we might actually win.
Dorothea announced, "Hugs has chosen...Mary and Julie." We jumped for joy and Hugs ran over to us. Of course, it helped that his handler, Christen, was standing behind a tree directly behind us and jiggling treats. We were ecstatic and so surprised. It was a bit awkward to be with the others who didn't get the dog although they were very nice and congratulatory. Fortunately, the little girl was not present for this part. After another brief interview, we learned that the family had been the easiest for the judges to eliminate because the little girl was afraid of Hugs. He nips a lot, as puppies do, and jumps up on people, and that had startled her. It was close between us and the engaged couple, but the judges decided they were too busy preparing for their wedding. Finally not having a life has come in handy for something! We are sure our competitors will make great dog parents, and it is great to know that the show's producers and Christen would work with them to find them the perfect dog after the show is over.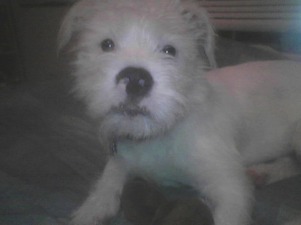 We were awarded a $250 gift card for Petsmart and coupons for a year's worth of IAMS dog food. Oh, and the dog. He was ours to take home directly from the park. We took him to Petsmart that night and went on a crazy spending spree - $40 bed, tons of treats and toys, $17 rhinestone-studded collar (when the clerk thought he was a girl due to the collar, I informed her he was a metrosexual). We both felt the name "Hugs" had to go. Nerdia favored calling him "Thugs", but since he's officially my dog, I got the final say and opted for Edgar, or formally, The Edgar Winter Dog (after the albino 70s rocker that he resembles).
We had some initial difficulties with housebreaking and dealing with Edgar's endless puppy energies, but we loved him from the get go. He's a diva, but he's earned it - after all he's a TV star. We realize it may be hard now to know who our real friends are and who just wants to get to Hugs through us. Being on reality TV definitely was stressful at times but we're both glad we went through it. We think Edgar is glad too.
Read our response to criticism that the show is cruel to dogs
Read the HugsGram - Edgar's personal newsletter for his fans
Check out the official "Who Gets the Dog" website
Have you been on a reality show? Tell us about your experience.

Ape Culture and all associated pages are
ŠApe Culture 1998-2007 and evermore.