CherCon2000, part two
At the end of the last day of the convention when I was in a quandary about what to do with a beautiful European print of Tea With Mussolini that I had just overpaid for (I rationalized overpaying in the spirit of charity, but really it was in the spirit of my unhealthy, heart-pounding, blood-pumping competitiveness during bidding wars), I met a very accomplished Cher critic and fan. In the course of our conversation, this very smart Cher fan made his own differentiation between types of Cher fans. His point was that the CherCon crowd, basically comprised of the Egroups mailing list "club," was somehow different from the NYC/CT/Official Cher fan club, who would never be interested in any fan event unless Cher herself, was guaranteed to be involved. So consequently, we were a better breed of fans. But, I wondered afterward, how could he tell? I had already spoke with a few fans who were at CherCon partly for the possibility of Cher. And in that case, maybe these fans were all the more desperate, to spend so much money, time and energy for a possibility.
And what about the pure Cher fan socialites or those on staff who where simply devoted to launching something big, something comparable to other fan conventions that are popping up all over the world? In this light, the convention did a good job. They finagled press attention and managed to raise $21,000 for Cher's favorite charity, the Children's Craniofacial Association. In fact, CherCon did so well, the CCA is trying to get organizers to put on a convention every year! Every year? Hey, how about some moderation, even for the Cher obsessed! Four to five hundred dollars every ten years, that's an acceptably eccentric event. But every year? Listen, you have to be obsessed to buy an airline ticket in a season of high airfares, rent a high-priced room in a nice hotel off Michigan Avenue and Grant Park for a ten dollar convention and two ho-hum, sit-down, banquet-quality dinners. Who could or should try to do that every year? Any convention would lose its punch in the overkill. Planners and fans wouldn't be able to swing it, no one would be able to afford it. Hell, no identity should afford it. But the sad thing is, the CCA needs it. They're running on fumes. The desperate are tugging the desperate into a desperate swirl. So back up a minute: Is this about Cher? Is this about charity? Is this about me?
More quicksand!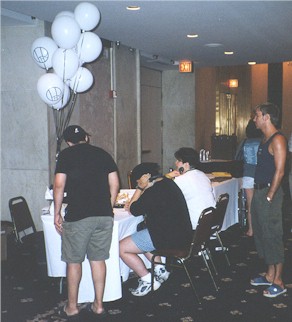 I ran the Name That Tune Booth and sold my Zine at this table.
I also ran the Cher Bingo game. The card quality was poor and
hardly anybody could recognize the pictures but everyone who played
won an "I won at Cher Bingo" ribbon and thus, they were appeased.
I was supposed to run Cher Trivia too but due to the fact
that the convention started an hour late (it was hard to
wake up and start setting up Saturday morning after
Friday night's party) and Trivia was scraped for Cher Karaoke.
A partnership between CherCon and the CCA was formed to give the convention a boost of credibility, to serve as a dramatic thank you gesture to Cher (thanks for giving us so much to obsess over!) and to perform a good deed, all in one. It worked on everyone like an identity salve. The staff really became committed to the cause. It became the primary raison d'être for the convention, but not for the whole congregation, some whom were willing enough to donate but were really there because they adore Cher and would have been there if all the money went to Castro in Cuba. Although the sweet sum of $21,000 was raised, a small minority of the convention attendees were indeed aggrieved when Cher did not show. Many came, not to support a charity, not to have a love-in, and not to thank Cher. They wanted a response from Cher. The eyes of Cher, that was what they wanted. So omnipresent were the eyes of Cher in the minds of many that rumors of her ultimate presence quickly spread: she didn't make a showing in the Gold Room but she was really watching from the window up on the balcony; she was up in a hotel room afraid to come down; or she had indeed been in town.
Quicksand: the undeniable, unrelentingly chilly underbelly of it all.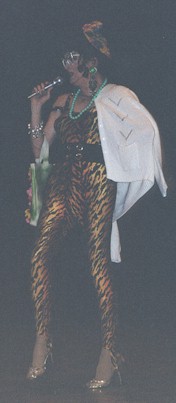 Wayne, doing crowd control as Laverne after Cher Karaoke.
Wayne used to work for Bob Mackie. Wayne did bead work
on the fringe of Cher's 1987 Oscar dress. Wayne gave a
seminar on Cher Fashion during the convention.
Other seminars included one on Cher's Career given by
Boston Q., a veritable Cher database, and another on
Cher collectibles by Ward Lamb who has written Cher
articles for Goldmine (a very Cher-serious resource)
and liner notes for the latest Sonny & Cher re-releases.
I hate to say that, like I said. I hate to say anything that would deflate the buzz about the convention and the hard work of the staff, the good intentions, no matter what the impetus (and all good deeds have a selfish imp). I'm probably just suffering some burn out with my pop obsession. I hate to exhibit antipathy toward my own creations (from my zine of witty reviews, if I don't say so myself, to my fandom itself), but my creation does look a little lackluster to me now. It's constructed from a kind of pop-sampling, fandom recycling, obsession rationalizing. You can turn the soup can into art but it's still advertising. You've still bought the brand and for that there's no real redemption.
So back to John Seabrook and his book Nobrow which made me very testy about having a celebrity obsession in the first place and possibly this would explain my train of thought, my curt desire to extricate myself, to rescue my identity from the quicksand of fandom, an allegiance to a celebrity brand. Lucky for me, the Cher camp has never been organized enough to be a brand.
I try to differentiate art in two ways: art by ideas (the most brilliant art because it's planned, controlled) and art by accident. I've always considered Cher's as art by accident.* Try everything, don't suffer over your art, do the minimum required. It's good enough. Cher works hard, there's no doubt about it. She struggles for acceptance, this is true. But she doesn't study. She doesn't research her movie characters. She's been called an instinctual actress, as if that's the nicest way to put it. She hates doing excessive takes in the recording studio or for films. She doesn't normally write her own songs. For years, she didn't even pick her own songs. There are vocal imperfections on most of her recordings and her performances are sometimes unbefitting a diva. But she has a high-profile life to live, after all. And amazingly, almost ingeniously, in spite of her sometimes seemingly superficial attitude about her art, she still manages a Stars once in a while. She still manages to bump into art, some real sublime accomplishments. And maybe that's infuriating to some people who work meticulously hard. Imperfections and all, I often wonder what she could have done with her raw abilities if she had sacrificed more for music.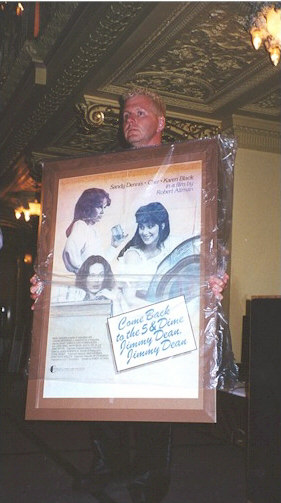 I coveted this poster. But I has already overpaid for my
framed Tea with Mussolini poster so I took this picture
instead. The action items were mostly vinyl items and movie
posters. One Atlantic City specialty poker chip
signed by Cher sold for over $3,000.
So, this is why I'm a fan. This is why I became involved in the first Cher convention anyway. I remember a staff member posting a mention of it on a Cher mailing list back in 1999. I remember sending my verbose review of all the conventions I had ever been to. Then next thing I knew, I was on the staff, in charge of games. But I ended up feeling more like a volunteer, a helper. And I tried to be very helpful. I did a lot of work, but nowhere near the amount of work the organizers did, but real solid months of work. It takes an unbelievable amount of work to put on a fan convention. This staff worked extremely hard and were very resourceful and creative.
And whether you think they should have or not, they did make contact with the Cher camp. I don't know how they came across (as needy or professional) or how they were treated (with kindness or indifference), but up to the end, they did think she might show and when she didn't, they didn't seem to know why. And as it will happen, when fans make a big statement, all eyes then go to the celebrity of honor. How will she react? Who knows? I don't know. But I do know that the reaction of Cher is completely irrelevant. The event was structured as a gift and charitable act. That kind of statement forces you, by its sheer declaration of pure intent, to take the high road, to keep a stiff-upper-lip. Because if you're really doing it for the kids or to show appreciation, no strings attached, how can you possibly expect more? Unless you're trying to snag a celebrity reaction, save up all your tears.
Sure, a smooth political move would have been a suitably distant "you're welcome" video message from Cher, one that would encourage love and understanding and charity and at the same time discourage celebrity-reaction-baiting-in-the-name-of-
love-and-understanding-and-charity. But Cher is, has never been, and will never be a good politician and that's supposedly what we think is so groovy about her in the first place.
At the end of the convention, the 80s-Cher impersonator had become almost the surrogate Cher, the next best thing posing for pictures, signing autographs, (truthfully, this was as close to mingling with Cher as these fans were ever gonna get) and comforting a few disappointed fans who were considering abandoning their fandom. I think Wayne Smith, being a good Cher-surrogate, successfully talked them out of this.
Personally, I've been a fan for a long time, not emotionally but materialistically. Maybe I'm more realistic; maybe I'm somewhat distant, but it's still a dehumanizing game all the way around. I can even see myself going again. Is that crazy-talk? I'd like to try it on the bemused fringe next time. It's a safer spot. I hate to say anything. I'd hate to put a negative spin on a naively imperfect but partly good-intentioned act that produced positive, charitable results. It was a really good party. I had a really good time. And yet, not saying anything makes me feel like a liar. Don't you sometimes wish your heart was a heart of stone?
At the end of the day, celebrities do what they do for money. It's never really all about the fans. Even for the fans, as it turns out. When I came home from CherCon, I honestly felt like I had made a whole bunch of new friends. And then it occurred to me that I had actually made a peculiar kind of friend: like if you threw a Cher party, they'd be there for you.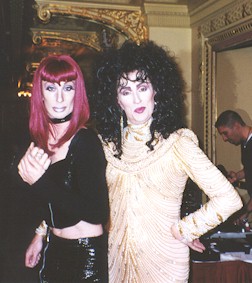 Mingling Chers,
Jeffrey and Wayne.
I just wanted to indulge in my celebrity obsession like a true hedonist, pull out all the stops, drink a shot of foolish life experience, chased by the lemon of identity-validation, which turned out to be a very sour lemon, indeed. I didn't like the identity I validated. Oh well. The proverbial beat goes on. I can always recycle the whole encounter into an Ape Culture essay.
*I've changed my mind. All art is art by accident. What was I thinking? I must have been on crack.

Buy a Cher Zine
When Celebrity Obsessions Attack I
Read about Beatlefest and Kiss Expo
Post a comment about celebrity obsessions, fanfests or CherCon.
Ape Culture and all associated pages are
ŠApe Culture 1998-2007 and evermore.



Click here to learn about
the Ape editors' book
Check out the Ape Blog for the latest Ape Culture News and Reviews