Knights In Satan's Service vs. Helter Skelter
John, Paul, George, Ringo, Gene, Paul, Ace, Peter, and the People Who Love Them:
Ape Culture visits the fan conventions
KISS Expo, April 25, 1999, Rothman Center, Hackensack, NJ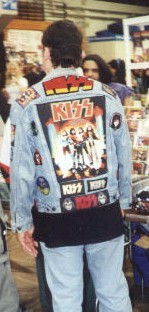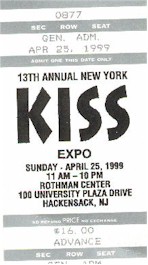 NY Metro's Beatlefest '99, March 26, NJ Crowne Plaza Meadowlands
Offhand, I thought that the Bealtefest would be more of a think-tank than it turned out to be...especially in light of my desire to verify my new Beatle Theory of Personality . I missed that kind of more theoretical Beatlizing: the discourse, the controversy, the CROSSFIRE! The event was mostly fun, fun, fun and not a whole lot of burnin' learnin'.
Sad things about Beatlefest:
1. The drunk mother and daughter duo running the Video-Tape-Yourself-Beatle-karaokeing booth.
2. Rotund parental units dragging their kids to Beatlefest.
Sad things about the KISS Expo:
1. Breast-implanted women like Stacey Walker, former KISS company secretary (promoting her appearance at the KISS Expo with a pin-up shot), groupies to a lesser God.
2. Rotund parental units dragging their kids to KISS Expo.
Cool things about Beatlefest:
1. Collectors who brought in their newspaper clipping collections and memorabilia collections.
2. The sing-in
Cool things about KISS Expo:
1. No clip collections but a KISS pin-ball machine. KISS wine.
2. Dee Snider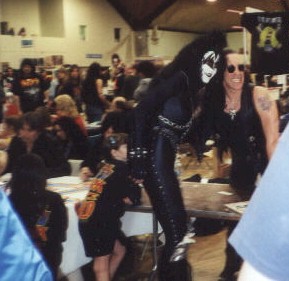 Kiss Pinball! Dee Snider and a female Gene!
The music at Beatlefest was better...in general Beatle music is more subtle, has more depth to it and less of a one-note piano pony ("Beth" notwithstanding). The dress-up of fans was better at KISS Expo. There was less memorabilia for sale at KISS Expo but there was more disturbing memorabilia.
Surprises:
Beatlefest: John Lennon art
KISS Expo: Mark St. John, guest interview (the organizers threw the serious fans a bone), the KISS cover band was actually good, and it was actually more FUN of the two...probably due to the lesser amount of paisley t-shirts.
To cultivate an obsession, start here:
I Am the Beatles
KISS Asylum
I've never been a Beatles fan. I know they're brilliant and all that. I'm just not grabbed by their music. I don't even own the White Album or Sgt. Pepper. I wouldn't have gone to a Beatles convention on my own, but when an obsessive Beatlehead friend invited us to go and suggested it would make a good feature for Ape Culture, I allowed myself to be coerced.
We only went to the Friday night convention kick-off, but the thing was programmed to last an entire weekend. They had taken over a hotel at the Meadowlands and Beatles crap was shoved into every possible convention room and maid's closet. The program was pretty extensive, but we didn't see much that was impressive. I guess my favorite part was the Hall of Vendors, because I liked looking at all the old memorabilia. I also liked the exhibition of fan art, although the stained glass image of St. Linda McCartney disturbed me. One room contained some of John Lennon's naughty drawings, all of which were simple and sexually explicit. They remind me of something a child who had been molested might draw. I think he should have stuck to songwriting and left the visual art to, uh, Ringo. We didn't see any celebrity panels, but I don't think we missed much. According to the program, the celebs were definitely second string, like George Harrison's sister.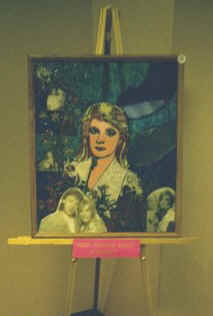 Fan Stained Glass Linda McCartney Art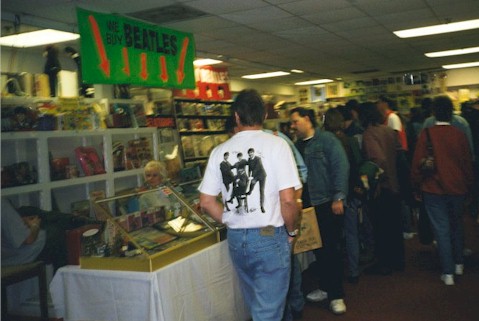 Beatles Vendors
Although I was underwelmed, it was neat to see others who were inspired, like the hippies in the corner jamming on their guitars and the impromptu dance party that broke out in a hallway. Everybody queued up to enter the ballroom for the opening night party. Refreshments consisted of cake and free soda. It was disappointing to see few entrants in the Beatle look-alike contest, only one guy in the collarless black suit and moptop, and a very cool couple dressed as John and Yoko. There were a lot of ugly people there, so to pass the time we played The "There's Your Boyfriend" Game. There were so many freaks, in fact, I felt like I was at a Star Trek or "Magic: the Gathering" convention, instead of a convention honoring the greatest rock band of all time.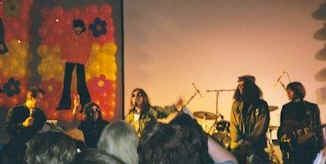 Beatle Lookalikes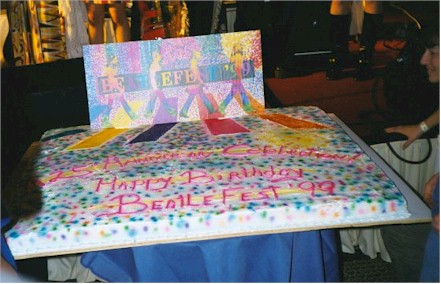 I spent most of my time at the party observing a family who were really having fun. Dad was wearing a wig and granny glasses and Mom had on a sixties ensemble and their two kids were also dressed in hippie garb. They danced and had a blast. I found myself wishing my parents had been obsessive about something and dragged me along to indulgent conventions. But mostly I was just bored.
Beatlefest was the first fan convention I'd attended, and it made me want to attend one where I actually liked the convention's focus. So I went home and scanned the internet and was excited to see that the 13th Annual New York Area KISS and Hard Rock Convention would be held in a few weeks. What timing! Surely it was meant to be. I called for tickets and didn't mind that they were $16--$4 more than Beatlefest.
The KISS convention was a one-day event held in a college gymnasium in Hackensack, NJ. Upon entering the gym, we passed the booths of KISS album cover artist Dennis Woloch and the silicone-enhanced former KISS secretary and Fantasy cover model Stacey Walker, who was wearing an outfit that she may have bought secondhand with the tag "as worn in Conan the Barbarian." I wanted to ask her how she got the job as KISS's secretary. Was it through Kelly Services? I could picture the temp placement officer's chirpy voice: "I've got a job for you. You'll be working with Gene Simmons. Your measurements fit the job requirements and no, you don't need to know shorthand or Windows 95."
We attended the Q&A session with Mark St. John, guitarist on the Animalize album. His tenure in the band was brief, because after recording the album he was diagnosed with a rare form of arthritis and he was unable to tour. So they replaced him with Bruce Kulick. Mark was very honest but seemed pretty out of it. When asked which songs on the album were his favorites, he couldn't really remember any. Fans had to yell out titles to help him out. He described some heavy-duty dysfunctionality, with Paul recording in one studio and Gene recording in another crosstown. He said he was shuttled between the two of them. He also said that Peter Criss lived with him for a year after his wife kicked him out and they planned to record together before they had a falling out. The rabid fans were hanging on his every word, and I have to admit it was pretty interesting to hear an insider's viewpoint, even if he is a minor player in KISStory.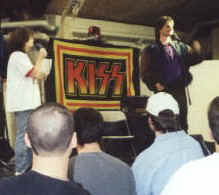 Mark St. John interviewed!
Dee Snider had a booth at the show. I'm not sure what he had to do with KISS, but the convention was called the KISS and Hard Rock convention, so I guess that's how he got in. There are certain similarities between Dee and KISS. He wore dumb makeup when he fronted Twisted Sister. He overacted as a villain in the movie Strangeland, just like Gene overacted in Runaway.
I liked looking at all the memorabilia and coveting things like the KISS pinball machine, lunchbox, original dolls. I bought a few issues of Circus and Hit Parader from the 80s, for old times sake and a bootleg Ozzy Osbourne concert video. I also bought a Gene Simmons coaster.
There was more live entertainment at the KISS convention than Beatlefest--four bands. Three out of four were depressing. Twisted & Nasty played first, featuring Eddie Ojeda, formerly of Twisted Sister. They played one song I didn't recognize and three Twisted Sister songs. I felt sorry for Eddie. He's not even famous like Dee, yet the only thing people want to hear from him is "We're Not Gonna Take It." The singer in this band looked and acted straight outta Spinal Tap. At one point, he railed against alternative music and even smashed a CD to show his distaste. People in the crowd cheered, but I just felt sad. I mean, these guys are so out of it, they don't even realize that alternative music is fading out as a genre, that grunge is no longer all the rage. Hell, they probably don't even know that Ozzfest has been one of the biggest grossing tours the past few years. Motley Crue, the Scorpions, and Ratt are all heading out for shed tours this summer. There's still an audience for metal.
The second band was a "surprise jam" featuring Michael Bruce, guitarist with the original Alice Cooper Band, and Richie Scarlet, who played in Frehley's Comet. They were pretty bad. Bruce sang "No More Mr. Nice Guy" and "School's Out for Summer," again relying on the old standards. Then came Young and Fabulous, a glam band, with a female singer. They were sort of amusing, like a cross between Poison and The B-52s.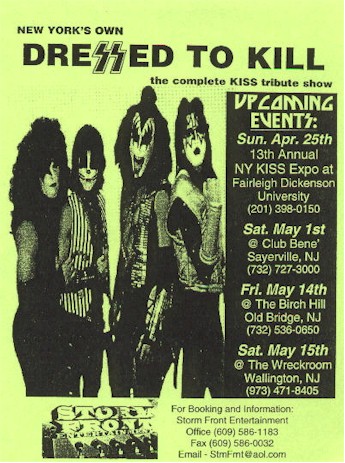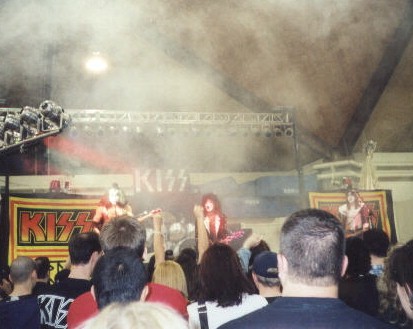 Dressed to Kill, the KISS Cover Band
The highlight of the show was the last band to take the stage, a KISS tribute band called Dressed to Kill. They were great. They had the voices and stage movements down, and they even had special effects like smoke, fire-breathing, and a drum kit that rose into the air. They played all the hits and the fans, most of whom looked stuck in the 70s or 80s, really got into it. I saw a three year old kid on his dad's shoulders, banging his head and trying to mold his tiny fingers into the devil-horn-sign-of- heavy-metal approval. The fake Gene stuck out his tongue and the fake Starchild told us, "I'm just trying to be the best Paul I can be." In traditional KISS fashion, they closed the show with "Rock and Roll All Night" and we were forced to exit the gym, back to the 90s.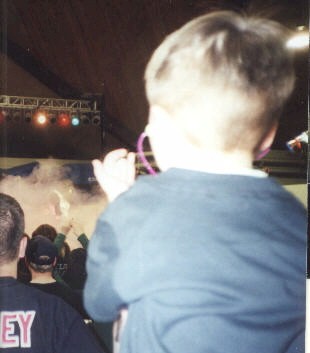 A kid getting into the spirit
Post a comment about fanfests, KISS Expo or Beatlefest.
Ape Culture and all associated pages are
ŠApe Culture 1998-2007 and evermore.