SOME PEOPLE CALL IT A ONE NIGHT STAND, BUT WE COULD CALL IT PARADISE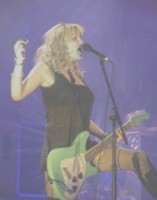 It's a great line, isn't it. You fall for it, and you fall hard for Simon. Too bad he soon tires of you and you're not invited along for the "Seven and the Ragged Tiger" tour. You're just a careless memory. Simon falls for a model named Yasmin and they marry and have kids and he keeps singing "Hungry Like The Wolf" into his middle age years. You come undone. You spend the rest of your life wandering around Birmingham, dressed like a New Romantic, asking people to address you as Mrs. Le Bon.

THE END

Back to the Beginning of the Story
Ape Culture and all associated pages are
ŠApe Culture 1998-2007 and evermore.



Click here to learn about
the Ape editors' book
Check out the Ape Blog for the latest Ape Culture News and Reviews