DEMON SEED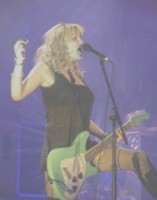 Well, what did you expect? Next time you'll know better than to use heroin whilst pregnant. Except there isn't going to be a next time. You and Kurt try to love your two-headed baby. Kurt copes by shooting up more than ever. David Lynch films a documentary about your baby: Eraserhead II. You slowly go insane and you're put in a rubber room where you whisper over and over: "Is she pretty on the inside?"
THE END

Back to the Beginning of the Story
Ape Culture and all associated pages are
ŠApe Culture 1998-2007 and evermore.



Click here to learn about
the Ape editors' book
Check out the Ape Blog for the latest Ape Culture News and Reviews