ALL YOU SAW WAS THE TOP OF THAT MOUNTAIN--THERE WAS NO ONE TO TELL YOU ABOUT THE VALLEY OF THE DOLLS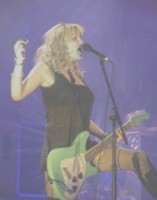 You're not from New England and you're not naive like Anne Welles, but you did fall for the wrong Mr. Right. Rozz is no good. He strings you along, takes the drugs and money you offer. But he's got a "nice girl" girlfriend and he won't dump her for you. He'll only see you if you keep it quiet. You hate being #2. When Rozz leaves you alone on Valentine's Day, you put on black lingerie and a Theater of Sheep T-shirt and slash your wrists. As you watch your blood flow over the bathroom tiles, you wonder if it would have been more appropriate to overdose on dolls...and then you feel nothing...

THE END

Back to the Beginning of the Story
Ape Culture and all associated pages are
ŠApe Culture 1998-2007 and evermore.



Click here to learn about
the Ape editors' book
Check out the Ape Blog for the latest Ape Culture News and Reviews