The Mother of All Road Trips
I recently moved from Queens, New York to Los Angeles. While movers hauled all my earthly possessions in their 18-wheeler, my best friend and fellow Ape Culture correspondent Christine Horace and I made the cross-country drive. Our chariot was my 1992 Toyota Corolla, possessing poorly functioning air conditioning and 140,000 miles, and affectionately known as "Faded Red" due to being many shades of red from sun exposure and having several panels replaced due to various wrecks. Here's the story of our journey.
Sunday, May 25, 2003
After packing my car, I said goodbye to my apartment in Woodside, Queens and drove into Manhattan to pick up Christine. We embarked on our trip at 11:30 PM, right after she got off work. Since we had already driven between New York and our hometown, St. Louis, many times, we decided we would drive straight through the night to get there. That way we could spend more time in St. Louis and in states we hadn't visited. As we got into New Jersey, it began to pour, so we hydroplaned our way into western Pennsylvania. Fortunately, there were few other idiots on the road.
Monday, May 26
We stopped for breakfast at a Flying J truckstop somewhere in Ohio. I ordered an orange juice and was informed by our waitress, Jo, that they were out of orange juice. Out of orange juice? at breakfast?? in a truck stop??? We helped ourselves to the buffet, clogging our arteries with country gravy and impacting our colons with grease. We believe the constipation we experienced on the rest of the trip was directly attributable to this breakfast. After stopping for lunch with a friend in Indianapolis, we continued on to St. Louis, arriving around 6:00 PM, where we ordered beloved St. Louis-style Imo's pizza and then crashed.

Thursday, May 29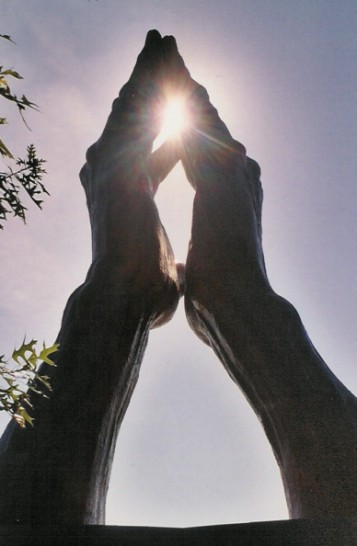 After spending two days visiting family and friends in St. Louis, we headed West. Driving through Missouri on Interstate 44, we passed many billboards for Meramec Caverns - one of many reputed hideouts of Jesse James. We also noticed that every adult video store had a huge anti-porn billboard next to it with slogans like "Porn Destroys Families" sponsored by some religious organization. As we approached the Branson area, we exited at Carthage, MO to visit one of the seven wonders of Roadside America, the Precious Moments Chapel. Pastel billboards directed us through a farming area to the huge complex. We parked in the Six Flags-sized parking lot and approached the center, passing a fountain populated with stone, big-headed, teardrop-eyed Precious Moments children. Inside the visitors center, we met a greeter who wanted to know how much time we'd have to spend there and what we would like to see. As we were on a tight schedule, we decided to concentrate on the chapel tour and the gift shop. We would have to leave the dancing waters show, Princess Di memorial exhibit, and tour of the wedding island (what self-respecting man would ever allow himself to get hitched at the Precious Moments Chapel?) for another visit. Of course it was necessary to walk through the gift shop to get to the chapel. A short walk through some gardens and past a koi pond led us to the chapel, which appeared normal from a distance. The bas relief sculptures on both sides of the door depicted more encephalitic kids, as did the carved wood doors. Nothing could prepare us for the spectacle inside the chapel. Biblical scenes starring teardrop-eyed children adorned the walls of the chapel, and a huge mural in the front depicted various children in heaven. The ceiling was also painted with big-headed cherubs. There were large stained glass windows with Precious Moments on them in other biblical scenes. We listened to the tour guide tell us all about the chapel and explain the vision of Samuel Butcher, the creator of Precious Moments and artist-in-residence. At the end of the tour, she asked that we leave a donation because Mr. Butcher wanted to keep the chapel free. I couldn't feel compelled to leave a donation, given that the whole creation of the chapel seemed to me to be a ploy to get people to turn off the highway and visit the large gift shop. I mean, does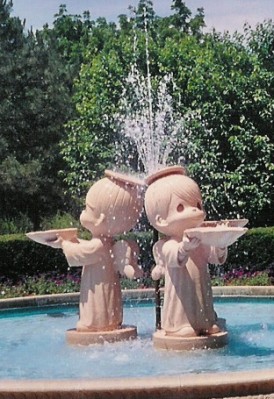 Anheuser Busch ask for a donation when they give free tours of their brewery? However, I did spend a little money on postcards and a book about the chapel in that very gift shop, so I guess I did leave a donation. We drove on to Vinita, Oklahoma and stopped at the world's largest McDonalds, located on a highway overpass. We continued on to Tulsa, where we toured Oral Roberts University. I had been longing to see the giant praying hands for years, and they didn't disappoint. The detail in the nails and veins were impressive. We drove around the space-age campus looking for the gift shop and wandered into a student center that had a "no weapons" sticker on the door. We found the prayer tower, which was impressive with its crown of thorns effect and had a nice garden area around it. Christine and I agreed we would be glad to study in the garden if we were ORU students. Unfortunately, we arrived after closing time, so we couldn't ascend to the top of the tower to see where Oral prayed and waited for his followers to donate enough cash to keep God from taking him. We drove on to Oklahoma City and stopped at the Oklahoma City Memorial, which was quite moving and well worth a stop. We then stopped for the night at Motel 6 just west of Oklahoma City and had dinner at a rib joint named Shorty Smalls.
(see below: anti-porn billboard, big McDonald's, Oklahoma City Memorial)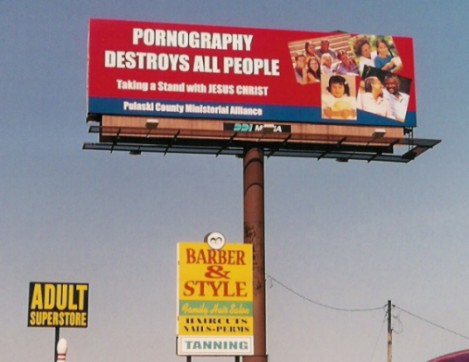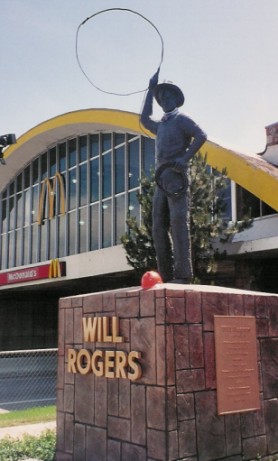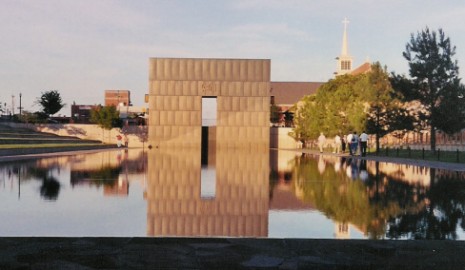 Friday, May 30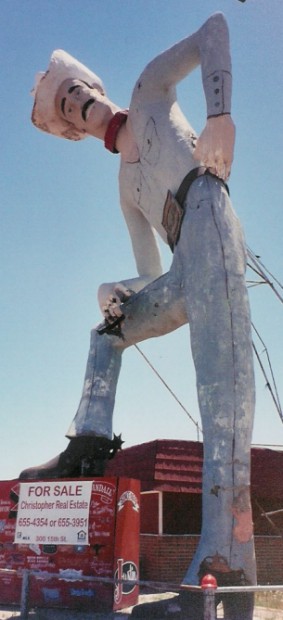 We drove toward western Oklahoma and stopped for breakfast at the Flamingo diner in Elk City. Here we noticed the restaurant had crossed "French" off the menu in French fries, French dip, but not French toast. The French would say, "Typical lazy American workmanship!" We stopped off the highway in Clinton to view a Best Western where Elvis had slept. A plaque identified the King's room which looked to be several levels down in luxury from his Las Vegas Hilton suite. We drove into the Texas panhandle, enduring extreme heat which caused Faded Red to run hot so we had to shut off the air conditioning. In Amarillo, we detoured to view Tex Randall, Biggest Texan, who was "for sale" and had fallen into a sad state of disrepair. We also stopped at the famed Cadillac Ranch, a Stonehenge-esque display of old Cadillacs half-buried in a dirt field by Highway 40. As we drove through dusty, hot New Mexico, we devised a game where the passenger had to play DJ using her CDs and the Discman. Whenever Christine was DJing, Lou Rawls found himself in heavy rotation for the first time since the 70s. I favored Nelly's "Hot in Herre" as it described the condition in the car. After a long day of driving and DJing, we stopped for the night in Moriarty, New Mexico, about 40 miles west of Albuquerque. We had dinner at a good Mexican restaurant where an elderly gentleman entertained us on guitar. Having a room with a view of the indoor pool proved detrimental when we were awakened after midnight by hooligans splashing around and breaking Motel 6 pool curfew. A call to the front desk brought out the security guards to bust some heads and restore peace and quiet.

Saturday, May 31
Embarking on another long day of driving, we stopped for breakfast at the Uranium Cafe in Grants, NM. A sign in the parking lot indicated "horse parking." This was a very welcoming place with great food. The proprietor brought around a guestbook for visitors to sign. One of the booths was made of half of a 1950's car. Gospel music played loudly, but something from Buddy Holly or the Beach Boys would have seemed more appropriate. We drove on through New Mexico into Arizona, where we stopped to visit the Petrified Forest National Park. We took a self-guided driving tour of the park, which covered about 15 miles and stopped along the way to admire the painted desert and the long and giant logs. An instructional video at the visitors center had warned against wood theft, a serious problem in the park. The video claimed you could get arrested for stealing petrified wood and that people who stole wood often felt guilty when they got home and mailed the wood back to the park. I was tempted to ask strangers: "Is that petrified wood in your pants or are you just happy to see me?" While Ape Culture co-editor Nerdia and film critic Art Haarper had both warned us the park was boring and just a collection of strewn wood, we found the park to be quite scenic and well worth a detour. Our mood was also improved by the elderly man we met in the park who asked if we were in college and when we told him no, but we had graduated about 10 years ago, he replied, "Well, you sure look smart." On our way back to the highway, we stopped in Holbrook, a well-preserved Route 66 town where we saw the Wigwam Motel.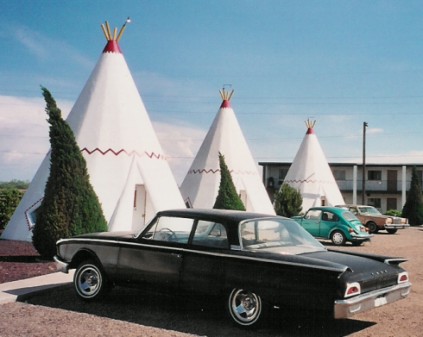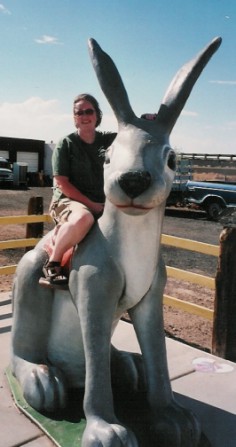 I really wished it would have been more convenient for us to stay there, but as we were focusing on the Grand Canyon, we needed to press on. We stopped at the Jackrabbit trading post and posed for photos on the large bunny. Next we visited the Meteor Crater, a privately owned attraction that is really just a big hole in the ground. Although it's interesting and the owners have created a nice museum and visitors center, we felt the Crater was overpriced at $12 per person, especially because you can't walk into the crater. You can only admire it from viewing points above it. We continued to Williams, a popular base camp for Grand Canyon visitors, where we checked in the Holiday Inn. Williams is another nicely preserved Route 66 town, and we enjoyed dinner al fresco at Cruisers Cafe, a diner in an old gas station. After buying 3 for $10 Route 66 T-shirts from a woman with a femmullet who lived in the back of her store, we retired to watch Cybil Shepherd overact as Martha Stewart in a repeat of the TV movie.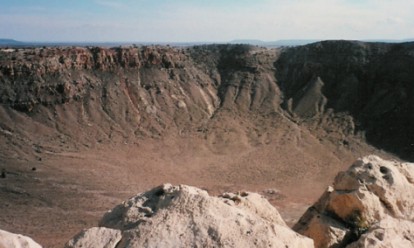 Meteor Crater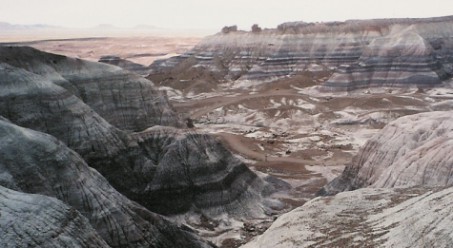 Painted Desert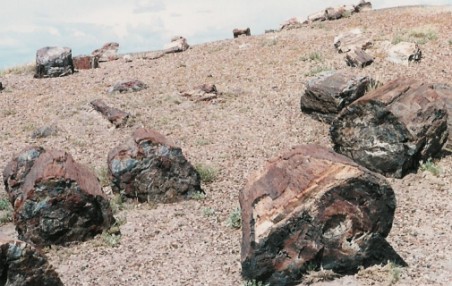 Petrified Forest
Sunday, June 1
After breakfast at an overpriced Route 66 diner in Williams, we drove 50 miles to the Grand Canyon. Before entering the park, we stopped to watch the IMAX movie to orient ourselves. The movie only made us wish we had more time and had planned ahead so we could be taking a helicopter ride or white water rafting in the canyon instead of just gawking at it. We drove into the park and visited the bookstore and visitors center. We decided to do the rim walk and spent the day going from point to point, taking in the awesome views and trying to capture the splendor on film. Toward the end of the day, I started to get tired and convinced my much more fit travel companion Christine that we should avail ourselves of the free shuttle bus that stopped at all the points along the rim. Our first shuttle bus driver, Judy N., was extremely enthusiastic and rattled off descriptions of each viewpoint in a singsong voice. Judy N. recommended we view the sunset at Hopi Point, which she informed us was not only her choice for best sunset viewing point but had also been sanctioned thusly by the Kodak corporation. That was all the assurance we needed, so we disembarked and found places along the edge and watched the sunset amid many others who trust the Kodak name. None of my sunset pictures turned out, but I don't blame Judy N. or Kodak.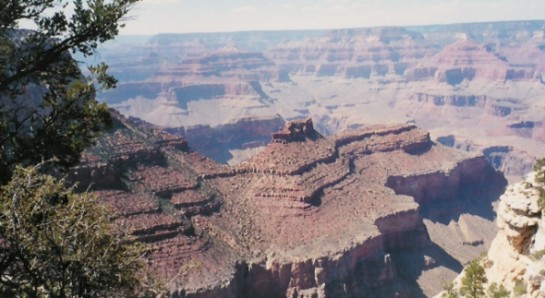 By the time we got back to our car, it was fully dark and as we drove from the park, hundreds of moths kamikazed into our windshield. The road was littered with their corpses and my car resembled a Jackson Pollack painting. Christine commented that it seemed to be snowing moths, while I recalled biblical plagues. The night will forever be known as Moth Massacre, and the sickening sound of splattering moths will haunt us forever.
Monday, June 2
After an early breakfast, we drove back to the Canyon and decided to do a "short but difficult" hike into the canyon, following the Kaibab Trail to "Ooh Ahh Point." We began our descent mid-morning. I quickly realized that as easy as the descent was, the ascent would be hellish. But the view from the trail provided us with a different perspective on the Grand Canyon, and the suffering was definitely worth it. "Ooh Ahh Point" did not fail to elicit its titular gasp from us. The climb up was slow and required many breaks for salty snacks, water, and picture taking. We also paused to break out the video camera and reenact the Brady Bunch Grand Canyon episode's terrifying sequence when Bobby and Cindy are lost. We reenacted it by zooming in and out and calling "Bobby?!" and "Cindy!?!" over and over. The mules in the mule train that passed us by did not seem amused by our antics, but maybe that's because they were lugging obese Midwesterners up the trail for the umpteenth time in their miserable lives (isn't it about time for PETA to step in?). In the early afternoon, we left the Grand Canyon and continued West through more Arizona desert. We stopped for dinner at Denny's in Lake Havasu, so that we could take a look at London Bridge. Apparently some eccentric millionaire bought London Bridge and had it dismantled and shipped across the ocean, brick by brick. He then had the bridge rebuilt in Lake Havasu where its majesty now connects a subdivision to a strip mall. You will notice an orange hard hat in the London Bridge photo and the Tex Randall photo. The hard hat's name is Mike Murphy and we brought him along on our trip. He proved to be a delightful travel companion. For Murph's full story, visit uglyamericanentertainment.com.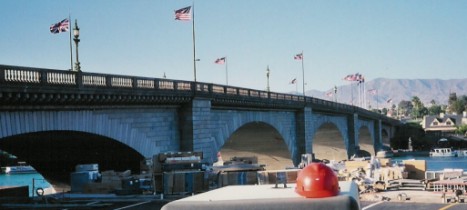 We drove on into the night, passed inspection to enter California, and checked in to Motel 6 in Twentynine Palms.
Tuesday, June 3
We got donuts for breakfast and hit the visitor center at Joshua Tree National Park. Christine, a rabid U2 fan, had dreamed of visiting Joshua Tree for years. Personally, I would have rather visited in the Spring or Fall to avoid the over 100 degree Summer temperatures. We drove through the park, stopping along the way at numerous viewing points. Christine chastised me for driving too fast because I made a road runner run off. Well, that's what road runners do, pretty much, run around and foil coyotes who try to blow things up with Acme products. The stark desert scenery was quite beautiful, and we saw many lizards, cacti, and lots of Joshua Trees. We spent the afternoon relaxing at the posh Motel 6 pool, until a group of unsupervised kids showed up and began a splashing contest. When the Motel 6 clerk kicked them out of the pool area, they amused themselves by throwing shoes from the third floor balcony. We returned to the park, where we clambered up on some rocks in the Jumbo Rocks area to watch the sunset.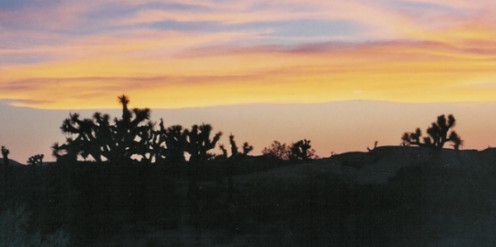 Wednesday, June 4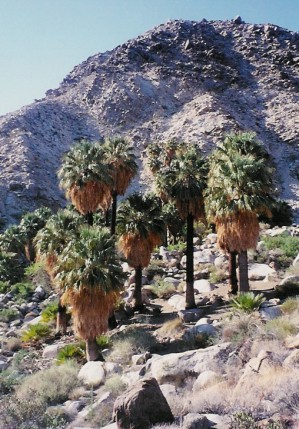 We woke up at 7:00 AM to return to the park and take a 2.5 mile hike to the 49 Palms Oasis. I insisted we do this early in the morning to avoid the heat. It was a strenuous, hilly climb, but the oasis was really amazing. It was really odd to emerge from barren desert into a semi-lush area with tall palm trees and a couple of pools of stagnant water. Bighorn sheep are known to graze in the area, but we didn't see any. Later we questioned a ranger and he said he hadn't seen any all year. We explored the oasis and soaked up the shade. It felt like we had stepped into an episode of Land of the Lost, however Chaka was as scarce as the bighorn sheep. After hiking out of the park, we continued on the last leg of our journey. We stopped for lunch at the Wheel Inn, on the outskirts of Palm Springs, noted for homemade pies and giant concrete dinosaurs in the parking lot. We entered the brontosaurus and visited the gift shop housed in his belly. Two hours later, we passed downtown LA, saw the Hollywood sign, and reached our final destination - Nerdia's residence in Marina Del Ray. I had a blast on this road trip and recommend that everyone drive across the USA sometime to truly appreciate the changing landscape and natural and roadside wonders that America offers. Unfortunately, I had time constraints for this trip, with a job waiting for me in LA, but I would love to do this drive again at a slower pace and see as much of Route 66 as still exists. Happy Motoring!
Read other Apes Abroad travel stories
Did we miss anything good? Tell us about your best road trips.
Ape Culture and all associated pages are
ŠApe Culture 1998-2007 and evermore.



Click here to learn about
the Ape editors' book
Check out the Ape Blog for the latest Ape Culture News and Reviews