Don't Molest the Amish!
and other tips for exploring
Lancaster County and Philadelphia, PA
Page 2 - Philadelphia
Crappy Collectables
Ever wanted to order Andy Griffith collectable plates from the Franklin Mint but were always worried about the nosey postal service? Then stop off at The Franklin Mint Museum, US Route 1, Franklin Center, PA, 610-459-6168 while driving from Lancaster to Philadelphia. According to the brochure, this museum "celebrates the pleasure that collecting imprints on the human experience." Yes, the miniature cars, eggs, and Marilyn Monroe statues you associate with Franklin Mint are all on display. There's even a Star Trek room dedicated to their Star Trek collectibles and a Princess Diana room featuring one of her actual dresses. And, of course there's a gift shop in case you really like this stuff.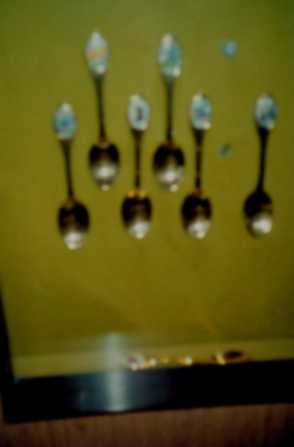 A collectable spoon exhibit that has seen better days.
Note the poor spoon that plunged to its death.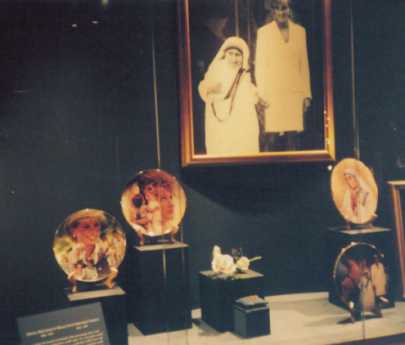 Fine Diana collectibles
A nice companion to the Franklin Mint Museum is the QVC studio tour in Westchester, PA, 800-600-9900, where you can actually tour the studio and watch live tapings of home shopping shows. We passed on this activity, thinking that if there would be anything more boring than watching home shopping at home it would be watching it live.
History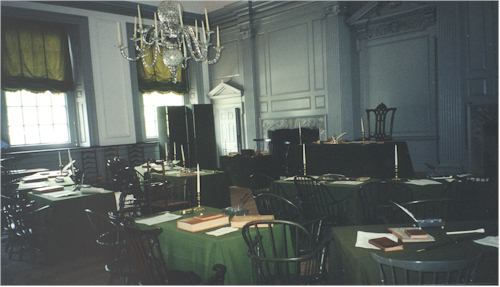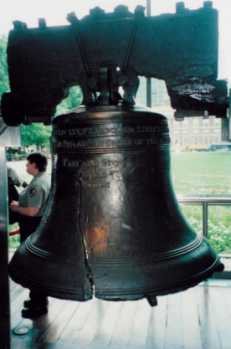 There's a lot of history to soak up in Philadelphia and most of it is incorporated in Independence National Historic Park downtown. Pick up a map at the vistors center and navigate your way through the many historical buildings, including the must-sees, Independence Hall and the Liberty Bell. Historical Trivia we learned at Independence Hall: unlike our founding fathers Thomas Jefferson and George Washington, Benjamin Franklin was actually not a contemporary, but more of a founding Grandfather. He was so old by the time the Declaration of Independence was drafted, they had to wheel him into the room in a wheelchair. Take the tour: it's full of amazing, inspiring facts about how precarious the beginning of our unity was back in the day. If you're lucky, you'll probably see that Ben Franklin guy from the commercials wandering around posing for photos with tourists.
Downtown Philly features some unusual public art such as Rauschenberg's giant clothes pin and largescale pieces from classic games like Sorry! and Monopoly.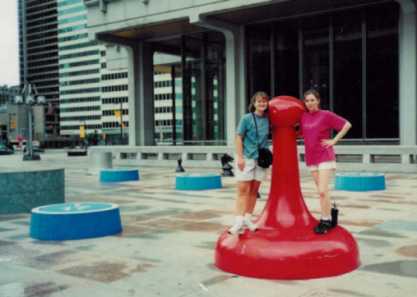 It's Poe Time!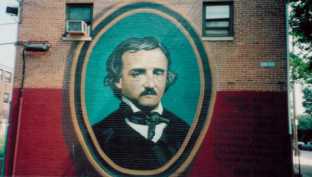 For some literary history, venture into the ghetto to visit the Edgar Allan Poe national historic site, at 7th and Spring Garden streets, 215-597-8780.The museum incorporates the house where Poe lived with his wife and mother-in-law from 1842-44. Except for the cool and out of place gigantic Poe mural painted on one of the nearby government housing projects, there's not much to see here. The house was entirely devoid of furniture due to renovations and the fact that nobody really knows much about Poe's taste in furnishings. We had a collegiate ranger dressed like a hippie who claimed she had "uniform issues" and spoke with inappropriate slang, i.e., "Poe's mother-in-law was, like, totally spazz about cleaning." She didn't seem to know all that much about Poe. For example, when Mary mentioned hearing somewhere that voting fraud played a role in Poe's mysterious death, the guide looked at Mary as if she had two heads. On the way out we picked up the museum's own brochure which mentioned the voting fraud scandal! We suppose the guide had brochure-reading issues as well. Unless you're Poe-obsessed, give it a miss.
The highpoint of our visit to Philadelphia was the Mutter Museum at The College of Physicians of Philadelphia, 19 South 22nd Street, 215-563-3737, ext 242. Covering the history of medicine, the museum particularly focuses on diseases and abnormalities. The collection includes "The Soap Lady" an obese woman whose body turned to soap after she died, plaster casts of Cheng and Eng, the famous siamese twins, a jaw tumor removed from President Grover Cleveland in 1893, and a giant colon.
If by some chance you have an appetite after visiting the Mutter Museum, you'll be wanting a cheesesteak. There are many options in Philadelphia but the 3 who vied for the title of originator and master of the whiz are Pat's, Jim's and Geno's. Julie enjoyed a whiz-laden cheesesteak at Jim's Steaks, which has several locations including 4th and South St, in the heart of the city's funky shopping district. We didn't visit Geno's Steaks, a cheesesteak fan favorite located at 9th St.and Passyunk, but did stop across the street at Pat's Steaks for a delectably greasy sandwich. For more on the great cheesesteak debate, visit this extensive website on Philly and cheesesteaks of Philly and across the USA. Veggie Mary passed on the chessesteaks, citing deference to cows and real cheese.
Go back to Page 1 to read about Lancaster County
Read more travelogues in our Apes Abroad section
Tell us about your trip to South/Central Pennsylvania in the Ape Culture forum.

Ape Culture and all associated pages are
ŠApe Culture 1998-2007 and evermore.



Click here to learn about
the Ape editors' book
Check out the Ape Blog for the latest Ape Culture News and Reviews