Ape Culture Visits Boston and the World Headquarters of Thanksgiving, Plymouth, Massachusetts - Part 2
Harvard Square and Newbury Comics
If you decide to drive through the huge edifices along Harvard's streets, make sure to stop at Newbury Comics, a kewl record store full of pop culture crap. A little dose of modernism will do you good about now.
The Henry Wadsworth Longfellow's House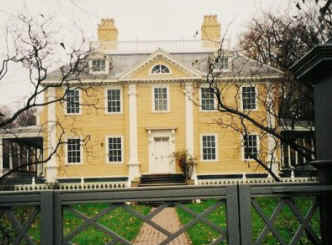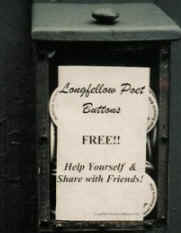 Longfellow's was closed but we helped ourselves to buttons and shared them with our friends, as instructed.
Closed for renovation!!! This is what we found when we tried to visit Henry Wadsworth Longfellow's House, famous poet of "The Song of Hiawatha","The Courtship of Miles Standish" and "Paul Revere's Ride". We were pretty bummed! We were slightly appeased by a box of free buttons offered at the gate. The button featured a drawing of Longfellow along with the humorous saying "I'm a poet too!" Julie actually took this button seriously this year and deviated from her career writing fiction to get a book of poetry published with Mary. "St. Lou Haiku".

Lexington & Concord, Massachusetts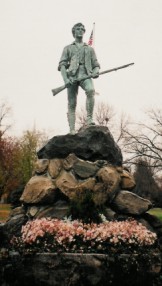 Take a 30 minute drive west to find the neighboring towns of Concord and Lexington, the site of many incidents that inaugurated the Revolutionary War, and Concord, filled with writers' homes, shops and historical sites.
Buchman's Tavern
Start at Buckman's Tavern. Here you will learn lots of early tavern history in case you have an interest in the hospitality service. This will help you imagine the evolution of hospitality as it evolved from tavern to inn to Motel 6 and back to hostel, which is very tavern-like with it's room sharing.
Walden Pond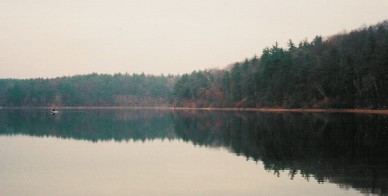 It's a pond all right. This is where Henry David Thoreau came to get away from it all. He lived in these woods when they were empty of encroaching condos and shopping malls. Come visit and see what Don Henley's making such a fuss about. There's a good gift shop here too, full of ironic things like a magnet that says "Our life is frittered away by detail. Simplicity, simplicity." Mary bought this magnet and it's cluttering up her life even as we speak. Don't miss the ersatz cabin.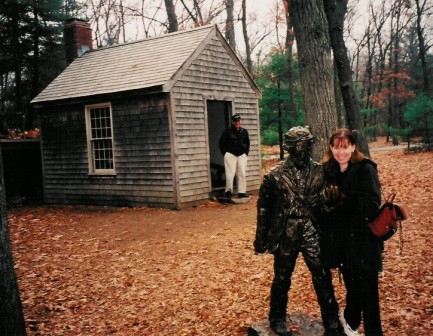 Mary gets a little too intimate with Henry David.
The Louisa Mae Alcott House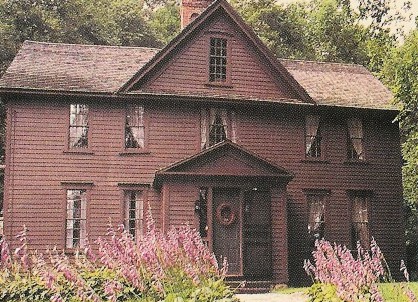 One of most frustrating things about Concord, a town filled to the brim with writer's homes, is that they all close for the fall and winter months when a large bulk of tourists actually visit New England! One of the only open museums was The Alcott House. Luckily, this one was a treat. Here was a woman with a point of view back when women were encouraged not to have one of those. Louisa Mae Alcott is most famous for writing Little Women. She was also a member of the intellectual/literary group of New England Reformers. Hers was an eccentric little family full of nutty ideas…our kinda people. We loved their gift shop which prompted us to wistfully fantasize about our own writers' museums that would be made out of our own childhood homes. We wondered if there would be enough parking available in the 'burbs and where would the gift shops go?
You'll have to come back in the summer to see Nathaniel Hawthorne's two houses, Emerson's house….and other sites. But you can always check out the Sleepy Hollow cemetery to see their final resting places.
Old North Bridge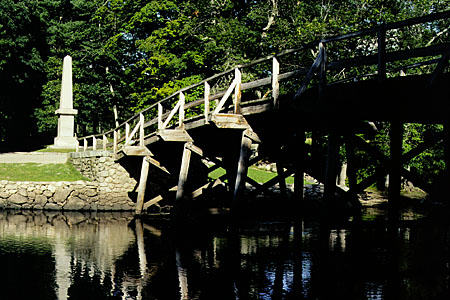 Jim Steinhart photo
This is the bridge where the the Brits were turned back (where we first started whompin' some ass, so to speak). Walk around, press a button on the trailside educational signs and listen to audio re-enactments blast thru the trees toward the Hawthorne house.

While in the woods of Massachusetts, you have two great historic dining options:
The Colonial Inn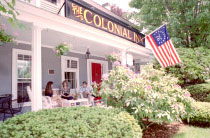 In the quaint downtown city of Lexington, visit this historic colonial inn for good New England colonial vittles and atmosphere. View the menu.
Longfellow's Wayside Inn
Even more traditional that the Colonial Inn, this quaint historical spot in the middle of the Sudbury woods will give you the complete feel of colonial living with some history and literature thrown in. Longfellow slept here and then wrote "Tales of a Wayside Inn" which you can purchase at the Inn's gift shop. View the menu.
MOBA - The Museum of Bad Art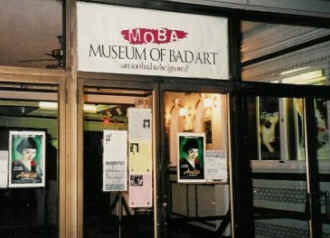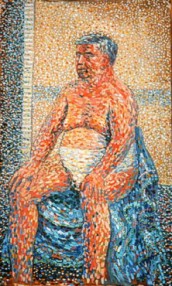 Julie forced us to detour into Dedham, MA to visit this attraction. The Museum of Bad Art used to be in its curator's home, but the collection is now housed in the basement of an independent movie theater. We enjoyed looking at the thrift store and garage sale finds on display and reading their accompanying plaques which parodied the most pompous museum wall blurbs. The museum also has a small gift shop offering postcards, posters, and T-shirts emblazoned with images like the one above - "Sunday on the Pot with George."
Salem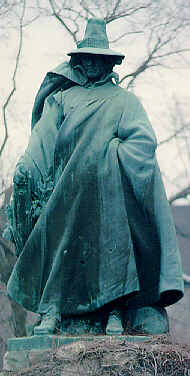 As a proud descendent of a wrongly accused Salem witch, Mary would recommend Salem, the famous spot for the Salem Witch Trials of 1692. Guides there try to debunk many myths about the Salem Witch Scandals and throw in some very interesting day-to-day history as well. Start with the Witch House, home of a magistrate during the witchcraft hysteria and where some of the trials were conducted. This is the only remaining building standing related to the witch trials. When Julie visited Salem, she enjoyed the recreation of the witch trial at the Witch Dungeon Museum which featured impassioned overacting. She also liked the Salem Wax Museum which had as gory a chamber of horrors as one would expect, given its location.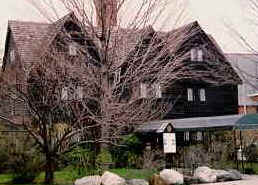 Witch house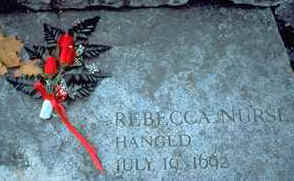 grave of Mary's foremother
Cape Cod
The Cape is a good summer destination for good fishing and even better seafood. (For the rustic fishing village experience, try Gloucester or Salem). Beware, the Cape gets crowded on the weekends. So many cars pile on that little strip of sand, Mary often wondered why it didn't sink into the ocean. Try to get off the beaten path. Provincetown is a destination for many tourists and art enthusiasts…but check out the elbow for some quaintness. Mary's father and brother do a great deal of fishing off Cape Cod. Visit her father's website for tips on fishing in the area.
Martha's Vineyard
Day trip! You drive to take a bus to catch a ferry to get on yet another little trolley to get to and around Martha's Vineyard. Rent a bike and eat some ice cream while you're there, do some quaint store shopping. By the way, roadside ice cream is a must-do thing while in Massachusetts. They eat more ice cream in New England than the rest of us combined….it must be the happy dairy cows they have up there.
Nantucket
Nantucket is less touristy, known for private weddings of rich folk and Kennedy people. It's much harder to get to than the Vineyard and that's exactly how they like it there. Private. But rent a boat and sneak over for some lunch.
Cape Ann
Cape Ann is like a non-sexy Cape Cod. It's like a ye olde fishing village. The big attraction here is whale watching, and several companies offer tours. Whether or not you want to spend several hours heading out to sea in hopes of seeing humpbacks, you can have a relaxing weekend here and enjoy some great seafood. For Whale watching info, click here.
Stow
Mary has spent a lot of time in Stow (almost due west, on the inside of I-495) where her brother lives. Most of Stow has been spared development by conservation efforts and so many of the stone walls and forests remain intact. It's got the nice feel of old rural New England. New England is known for its fall foliage, but the drive from Mary's brother's house (near 117 and 62), to the Mass Firefighting Academy (State Road) where Mary worked as a temp for three months before going to grad school in Bronxville, NY, is a lovely drive in the spring.
Take a small drive from Stow to Maynard and grab some delish New England clam chowder in a bread bowl at a little pub called Amory's.
Read Part 1 of our tour of Boston: Thanksgiving in Plymouth
and take The Freedom Trail
Click here for more Ape Culture travelogues
Post your travel comments about Boston?
Ape Culture and all associated pages are
ŠApe Culture 1998-2007 and evermore.