Growing Up Gotti Episodes We'd Like to See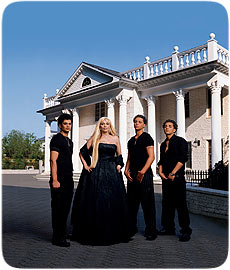 Growing Up Gotti is our guilty pleasure. It's bad reality TV at its most delicious - with Victoria's wooden voiceover narration, the brooding, mumbling boys, and the wacky supporting cast of incompetent staff.
As over-the-top as the show can be, we can't help thinking of even more outrageous episodes we'd like to see.

"Make a Wish, John"
Pitch
Sorting through Victoria's mail, Robert finds an unusual request. The mother of a dying girl says the girl's last wish is to have her ashes rubbed all over John's body. Enclosed is a photo of an adorable girl, but as cute as she is, Victoria must say no. John is disturbed by the plea too, although he pauses a moment when Carmine tells him that ashes make an excellent exfoliant. Imagine everyone's surprise when a woman shows up at the gate bearing an urn. Luigi tries to prevent her from approaching the house, but she persists. Victoria is skeptical, as the woman looks very young. In the foyer, looking out the window, Victoria compares the photo of the girl and the woman standing outside and realizes something is wrong – the woman outside looks like an older version of the girl – they're one and the same – and Victoria sees the woman's friends hiding behind the bushes!
Preview
The woman and her friends ambush John, Carmine, and Frankie as the guys arrive home in a car and head for the front door. The women chase the guys across the property. The guys manage to evade them with the aid of their mini-bikes.
Voiceover
Victoria: "I always knew my boys were irresistible. But I'm starting to realize they might be bigger than the Beatles."

"The Assistant Strikes Back"
Pitch
Jen, Victoria's former assistant, lands a seven-figure book deal with Random House for her tell-all memoir - The Devil Wears White Half-Shirts. Victoria hits the roof!
Preview
Luigi quips, "What is she gonna write about, Victoria? It's not like you have a lot of lovers!" While Luigi cracks himself up, Victoria fumes. "It's not like you're exactly dating anyone either, Luigi." Robert joins the fray, insulting Luigi, and the fun begins.
Voiceover
Victoria: "It happens all the time - just look at Working Girl - a powerful woman is kind enough to show her assistant the ropes, and the assistant walks all over her. Some people don't care who they step on while they claw their way to the top. Well, I've got news for Jen - my claws are as sharp as hers!"


"Carmine Meets Women, Hears Them Roar"
Pitch
The spring semester is starting. Carmine learns at the last minute that his sociology class is cancelled, and he only has a few minutes to decide on a replacement to fit his schedule. He chooses a course called Introduction to Women's Studies, not knowing anything about the course. Wearing his "I Like Girls Who Like Girls" tee shirt to the first class, he sits in the front row of a large stadium-style lecture hall. All hell breaks loose when the instructor, an old school radical feminist, sees Carmine's shirt.
Preview
A shot of the instructor aggressively mocking Carmine's tee shirt, and a shot of Carmine's startled, puzzled face. A brief scene with Victoria talking to Angel and Robert. Putting down the phone, Victoria says, "You're not going to believe this."
Voiceover
Victoria: "For the first time in his life, my handsome son Carmine found himself in a room full of women who weren't slobbering all over in him - in fact, a few of them were even spitting at him. Just because that teacher probably hasn't gotten any in a while and has her mind in the gutter, doesn't mean she needed to take our her frustrations on my son. I'm not thrilled about all this…what mother wants her firstborn son banned from the anthropology department? But Carmine isn't going to be an anthropologist anyway… he's got much bigger things than that in his future."

"A Gotti and a Scholar?"

Pitch
John is also beginning his second semester at the college on Long Island that he is going to because Victoria put the brakes on Northeastern. At the top of his class again, he learns that he is in line for a Rhodes scholarship that would take him to Oxford for a year. Victoria, Angel, Robert, Pete, and Luigi confer. Victoria wants to stage an intervention to convince John to stay in Long Island and pass up the year abroad. Luigi pushes to let him go. Pete finds himself caught up in the middle. Angel and Robert agree with whatever Victoria says.
Preview
Victoria, Angel, Robert, Luigi, and Pete are sitting in the living room. So are John, Carmine, Frankie, and several of their friends. John looks furious and Victoria looks intense, but tries to remain calm as she says, "Remember how bored you were in Italy? England is going to be even more boring!"
John gets up angrily. "Ma! England isn't Italy!" He heads for the door.
"Where are you going?" Victoria asks.
"I'm going to the tattoo parlor!" John says.
Will John go to England, or will he get a tattoo of England?
Voiceover
Victoria: "I've always known John could be the next President, and his being offered a Rhodes scholarship like Bill Clinton proves he's well on his way. But a single mother doesn't want to think about having her son an ocean away. So I pulled my trump card - I told him that all the English girls have bad teeth. I showed him a picture of Princess Margaret and told him that was what he'd be looking forward to over there. I have a feeling he'll decide the education opportunities on Long Island are much more attractive!"

"Frankie in Love"

Pitch
Word is out... a beautiful, nineteen-year-old pre-med student Frankie met at Gotti Tans has been pursuing him. Being as shy as he is, Frankie doesn't know what to do. He is intimidated by the girl's intellectual abilities, but she is very down to earth and is also an old fashioned good girl. His friends tease him and don't understand his hesitancy to get involved.
Preview
Victoria decides to head the girl off the next time she shows up at Gotti Tans. When the confrontation happens, we see Victoria facing a younger version of herself... the girl has waist-length light blond hair with bangs, and is wearing an all-white outfit.

Voiceover
Robert: "For once in her life, Victoria was speechless."

November 20, 2005


Read other Ape Culture television stories
Read the ApeBlog for episode reviews of Growing Up Gotti
Add your own Growing Up Gotti pitches here.
Ape Culture and all associated pages are
ŠApe Culture 1998-2007 and evermore.