U2 Haiku Review 2
The Vertigo Tour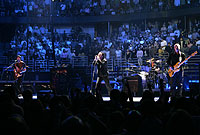 In 2004, U2 released How to Dismantle an Atomic Bomb, and in 2005 began their sold-out Vertigo Tour. As Nerdia assembles this ku page for Ape Culture, she wished she had gone to see these early April LA and Anaheim shows with Coolia and Christine, who gives us a haiku review by following their set list.
As the end of the first leg of the U2 Vertigo Tour comes to an end, so does the second set of U2 Concert Review Haikus. These haiku cover events from early shows in Anaheim 4/2 (the day the Pope died), Los Angeles 4/5 and 4/6, and near the end in East Rutherford NJ on 5/17. I am grateful to have seen them 4 times on this first leg of the tour and would like to briefly digress responding to Larry Mullen Jr.'s concerns about ticketing.
In the May 1, 2005, Chicago Sun Times interview with Jim DeRogatis, Larry Mullen Jr. commented on U2's ticketing: "The reason we charge $165 [for some seats] is so that we can also sell a ticket for $49.50 [for general admission on the floor]—that's the point. We're selling the best seats in the house to those who can probably afford them, and those who sit in those seats subsidize the others. I think that's fair and the way it should be." Apparently, Larry has never tried to get tickets to one of his own shows. I'd like to invite him, or any other member of the band to sit with me as my anxiety peaks every few years when trying to purchase U2 tickets, my hands shaking on the mouse, my heart pounding in my chest, waiting for Ticketmaster to respond to my request- usually with disappointment. There is no justice in the ticket pricing, and the bottom line is I will pay to see them. And I have yet to score the tickets that are in my price range. I'd like to see the band take action on tickets that are being sold on eBay for thousands of dollars.
The Vertigo Tour showcased a range from U2's body of work. Songs from All That You Can't Leave Behind and Achtung Baby brought back memories of those tours. Performances of "Sunday Bloody Sunday," "Running to Stand Still," and "Bullet the Blue Sky" all seem to have new meaning in our post 9/11 world. "One" and "Where the Streets Have No Name" are preformed in the context of Bono's participation in The One Campaign to end extreme global poverty and AIDS, especially in Africa. For more information on this worthwhile effort, go to www.one.org.
Special thanks to Julie, Vincent, Louise, and Catherine for their assistance in getting tickets.
Appearing on stage
in darkness, four lights, a voice
exclaims, "everyone!"


Love and Peace or Else
At tip of ellipse
Bono and Larry share tasks
They preach love and peace


Vertigo
There's a place where I
can go; Red lights on beaded
curtain…Vertigo


Elevation
Elevate my soul
Taking me back four years to
A brightly lit stage



Cry/Electric Co.
Not too familiar
with Boy. Vertigo opens
my world to classics



An Cat Dubh
I wait for you to
whisper "she cat." Instead you
claw and prowl, catlike



Into the Heart
(Anaheim night 2/LA night 1)
Pulled up on the stage
Into the heart of a child
The luckiest kids



City of Blinding Lights
Confetti blessings
Oh, you look so beautiful
An instant classic


Beautiful Day
After the flood all
the colors came out. Vibrant
Blue, yellow, green, pink


Miracle Drug
(Anaheim night 2/LA Night 2)
Performed the day the Pope
died. Bono recalls trade: fly
shades for rosary



Sometimes You Can't Make it on Your Own
Rock star steps aside
A simple man bears his soul
When you sing, I hear.



New Year's Day
The Edge's keyboards
i gnite crowd for socially
conscious part of set


Sunday Bloody Sunday
More bloody Sundays
until we coexist. All
sons of Abraham


Bullet the Blue Sky
(LA night 2)
Terror. Religions.
War. Song evokes sorrow, pain.
Peace for Daniel Pearl.


Running to Stand Still
For troops. Human rights
for everyone applauded.
Even Iraqis?


Zoo Station
Lights the color of
TV static. I'm ready.
Achtung trilogy



The Fly
It's your world you can
change it. Everything you know
Is wrong. Fly returns.


Mysterious Ways
(LA night 2)
Uninvited tramp
Interrupts girl's dream come true.
Bono scared, they run.


Pride
In the name of love
Sunday obligation met
Pride, a dream for all



Where the Streets Have No Name
(A two part ku)

Flags of Africa
give new meaning to this song.
Let's make history

Starts with everyone
Everyone, EVERYONE! One
Campaign effects change.



One
photos of fans, small
and large make up Bono's picture
one but not the same.



All Because of You
May I ask, What's an
intellectual tortoise
other than contrived rhyme?

Band's anthem to crowd:
All because of you I am
I say, "Back at you!"


Yahweh

My love for U2…
like a drop in the ocean
immeasurable.

Larry misses cue
mesmerized by profound words
making his soul sing


40
Until next time lads
changing instruments, leaving
stage one at a time.


Vertigo
(NJ night 1)
Unexpected treat
Hello, hello! Song brings down
house a second time
Read Christine's first batch of U2 Kus from the Elevation Tour.
For more information about U2, check out U2.com
Ape Culture and all associated pages are
ŠApe Culture 1998-2007 and evermore.



Click here to learn about
the Ape editors' book
Check out the Ape Blog for the latest Ape Culture News and Reviews