WOODSTOCK '99
Day Two
FROM ALTMAN TO ALTAMONT
You just can't sleep in when you're camping. The sun poured through the windows of the tent and the humidity made my 90210 sleeping bag adhere to my flesh. Dylan and Brandon always made me sweat, so that was nothing new. We woke up before 9:00 AM and considering showering, until we saw the line (see photo).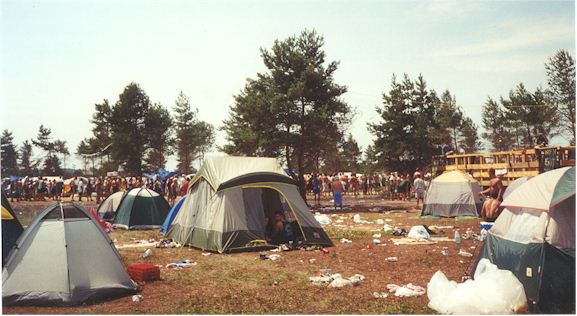 We'd just be dirty and like it. There were no bands we wanted to see early in the day, so we decided to go to the movie hangar, brought to you by the Independent Film Channel. We had to wait in line to get in--apparently, we weren't the only ones drawn to the rare enclave of shade--en route to the hangar I saw a guy sitting under a tree holding a sign: "Shade $5." Once inside, we flopped near the front of the hangar, as Robert Altman's Nashville played to a listless crowd. Lots of people were sprawled out, catching up on sleep they'd sacrificed to dance at the all-night rave where Moby had DJ'd or to party in their tent circles. At the end of the movie, the heroine, a sainted country singer named Barbara Jean is shot by a crazed fan. People cheered. Poor Barbara Jean was bleeding all over her lily white dress and the bloodthirsty audience was whooping it up. This was just a preview of coming attractions.
Next, we watched Trainspotting. I remember wanting to retch the first time I saw "the worst toilet in Scotland" scene. This time, that toilet looked pretty good compared to some of the overflowing porta-potties I'd seen that morning. People who had pitched their tents close to certain banks of toilets woke up surrounded by muck. One would like to hope it was just muddy water from the water fountains by the toilets that was flooding them out. One would have to tell oneself that anyway, but it sure did stink.
We left the dark comforts of the movie hangar to head out to the main stage. The plan was to keep a vigil for Metallica, who would close the evening's entertainment. As each band ended, we would gradually move up so that we could be close enough to get spit on by James Hetfield. We caught the end of Wyclef Jean's set. He played the Star Spangled Banner and lit his guitar on fire. Ho-hum. Would this Woodstock simply repeat the magic moments of its namesake? Surely, we could do better. Next came the Counting Crows, a band that's never turned me on. Adam Duritz, enough with the dreads already. The boy could use an E! makeover by Joan Rivers and Emme. Their set was pleasant and I have to admit to getting caught up and singing along with "Round Here" and my favorite, "Long December."
I noticed the spaces on the lawn near me were being filled by people in well-washed Lacrosse caps and Abercrombie & Fitch T-shirts. This could mean only one thing--Dave Matthews would perform next. If not for my desire to protect my turf for the bands to come like Rage and Metallica, I would have fled the lawn to escape Dave's shrill voice. "Don't Drink the Water," Dave sang, although nobody accused him of inciting the crowd toward heat exhaustion the way Fred Durst of Limp Bizkit would be blamed for saying "Smash stuff." I wasn't very impressed by Dave, but he does have a talented band including a heckuva fiddle player. They only played for a little over an hour and his fans didn't seem to be in their usual state of rapture. Maybe he was feeling sick from the heat. God knows the rest of us were.
After Dave left the stage, a lot of the crowd retreated for water and dinner. We moved up to a spot to the left of the main control tower that was located smack dab in the center of the stage, impeding the view of everyone who had to stand behind it. Alanis Morissette played next--one of the few "girl power" acts. She prowled the stage. Long strands of her dark hair hung by her face, refusing to conform to the braids. Guys threw plastic bottles at Alanis and called for her to get off the stage and clear the way for Limp Bizkit, but girls applauded and waved their hands in the air and shouted the lyrics to "You Oughta Know" and "Uninvited."
A lot of angry young men pushed their way past us, toward the mosh pit, after Alanis waved goodbye. It got very crowded, but we tried to maintain our position. Vern "Mini-Me" Troyer introduced the next band in the traditional way: "You wanted the worst, you got the worst!" Limp Bizkit kicked off their set with furious energy and the mosh pit boiled over like a lobster pot. More and more sweaty, shirtless guys pushed past us to get up front. I had seen this band at Ozzfest '98 and been underwelmed. In the past year, I'd watched them grow into a phenomenon and I still didn't really get it, although I thought "Nookie" and their cover of "Faith" were solid. Frontman Fred Durst, who had predicted he'd make history at this Woodstock, paused to say, "They're telling us to get you motherfuckers to mellow out. I say Alanis already did that." The crowd roared. "I don't want anybody to get hurt, but I don't think you should mellow out either. Break some shit." Puff Daddy and Kid Rock watched and cheered from the wings. The band launched into "Break Stuff" and the crowd, hearing its master's voice, did as they were told. When the band began their set, some guys had climbed up on the protective plywood wall around the control tower in order to get a better view, but security had pushed them down. Now the mob converged on the wall and began to pry it loose. They vaulted from each other's shoulders and got in the face of the poor girl working the pay-per-view camera. They were storming the Bastille like Jean Valjean, except he did it to gain independence and their act showed their pure, unquestioning allegiance to Fred. The mob rules.
We got scared and moved back. Briefly, they stopped the music and the video screen went dark. Then Fred came back to narrate his tale of doing it all for the nookie. People started surfing the crowd on the hunks of plywood they'd torn from the wall. Fred decided he wanted to come out into the crowd on one. He didn't make it very far. The set ended pretty abruptly and one of the emcees came out and warned that people were seriously hurt and laying under the besieged control tower. He asked that the mosh pit part and allow medical personnel to get to the wounded. The emcee threatened to take Metallica away. That got everyone's attention. After some grumbling, the kids did get out of the way and the bruised and battered were taken to safety. I pictured Fred grinning backstage, giving less than two shits for his audience, with visions of MTV News coverage dancing in his head.
During the long intermission while bodies were carried to triage (Saving Private Ryan again comes to mind), an impromptu beauty contest occurred. Girls were raised up on the plywood planks and proceeded to strip as the crowd cheered (unless it was a fat chick, then they booed). The biggest cheers came for two girls who started making out. Howard Stern would be so proud. The Woodstock ambience was a lot like Stern's favorite strip bar, Scores, with constant ogling, unending cries of "SHOW ME YOUR TITS" verbalized or written on cardboard p izza-box signs, testosterone bubbling over due to thumping beats. I'm disturbed but not surprised to hear the reports of rapes that have surfaced since the concert, even a rape in the mosh pit. This festival was more about stolen love than free love.
Rage Against the Machine came out and tore shit up musically. Lead Singer Zach de la Rocha sang his songs without happy talk or window-dressing, not even a "SHOW ME YOUR TITS." He only paused once to tell the Leonard Peltier story. Rage was definitely one of the highlights of Woodstock. The crowd was into it but not too into it, without the singer egging them on. They closed their set by burning an American flag, pissing off the Harley types while delighting the teen anarchists. I found the gesture to be tired and unnecessary, as much as I dug their music.
The crowd had chilled out by the time Metallica took the stage at 11:15 PM. The men in black were hyped and they got the crowd into it by playing recent hits like "Fuel" and "King Nothing." They played songs from their entire catalogue, like "Master of Puppets" and "One" and "Nothing Else Matters" and their recent covers of "Die, Die, Die, My Darling" and "Turn the Page" from Garage, Inc. Lars assaulted his drums. Kirk and Jason played furiously. James growled the lyrics. "Abso-fuckin'-lutely," said James, in between several thrashers. The guys surrounding us, and the crowd toward the front was 3/4 male, knew all the words. They yelled requests during pauses. "Fade to Black!" "Creeping Death!" Metallica left everybody satisfied, with three encores, including "Enter Sandman." Kid Rock came onstage and he and Lars sat on the edge of the drumkit and stared out at the mob, whispering to each other and laughing. I wondered if they'd jam together and create a Woodstock memory, but no such luck. James promised they'd play the next Woodstock, as they ended their set around 1:30 AM. Exhausted, we filed off the field, past the jampacked rave hangar, where Fatboy Slim was holding court. The refrain "Fatboy Slim is fucking in heaven" played over and over as we walked back to our tent, and, as drained as I was, I felt like I was fucking in heaven too. Metallica rules, man. Abso-fuckin'-lutely.
Back at the tent, I couldn't fall asleep but had no energy to move. Maybe some drugs would have helped. I was completely sober for all of Woodstock, mostly because it was too hot to drink, and partially because I didn't want to blow all my money on $5 Budweisers and be forced to wait in the long-ass ATM lines (14 ATMs for 200,000 people? And they knew they'd be charging $12 for small pizzas and $4 for Cokes ahead of time?) So, I probably didn't have as much fun as some folks, but then I didn't puke either. My desire for sleep was further inhibited by our neighbors in the shanty town who yelled at each other for most of the night. It was actually pretty entertaining. They were very nationalistic--Canadians insulting Americans and vice versa--very South Park. I learned a new epithet: "Shit nugget." I guess I probably drifted off to sleep sometime after 5:00 AM.
I was glad the Peace Wall had been torn down... otherwise, 150,000 people might be scrambling for two exits, if things got worse.

The Peace Wall comes down and is used for kindling.
Woodstock Day Three: What's So Fiery 'Bout Peace, Love, and Understanding?
Ape Culture and all associated pages are
ŠApe Culture 1998-2007 and evermore.



Click here to learn about
the Ape editors' book
Check out the Ape Blog for the latest Ape Culture News and Reviews