KISS Psycho Circus Live
Madison Square Garden
New York, NY
November 23, 1998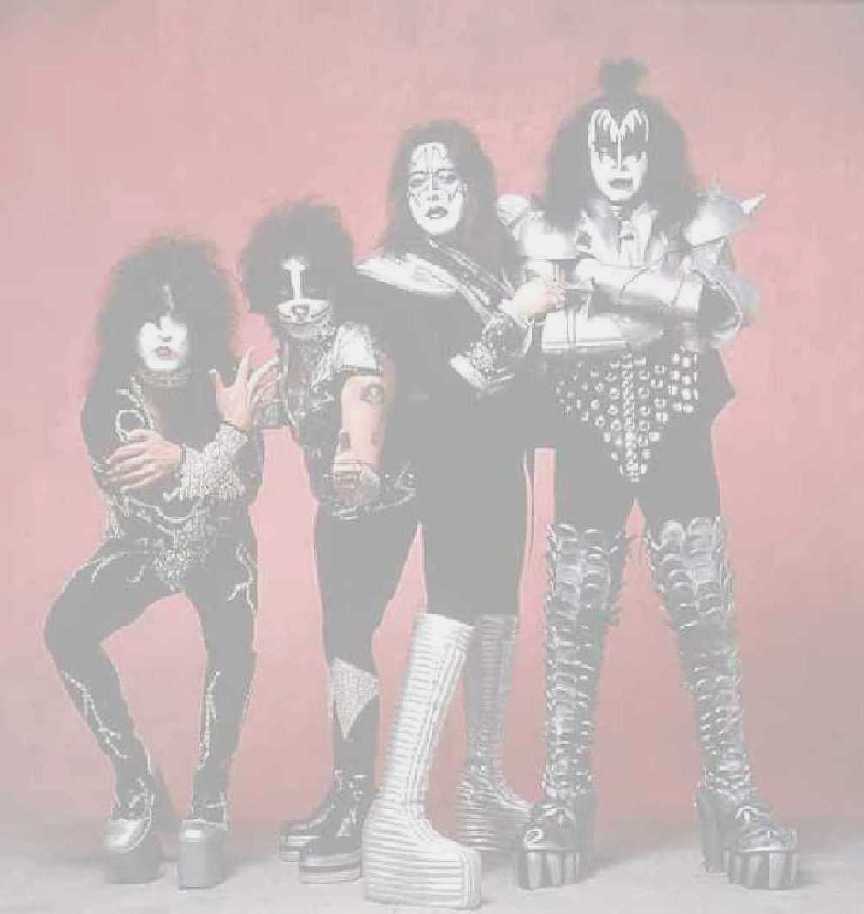 Allow me to preface this review with a little of my own personal KISStory. In 1977, I was the only kindergartner at Our Lady of Good Counsel school who carried a KISS lunchbox. I had a Paul doll, a Destroyer jigsaw puzzle, and a shoebox full of trading cards. I watched KISS Meets the Phantom of the Park on TV and snuck over to the neighbor kid's house to listen to Alive. For some reason, my parents would buy me KISS toys but wouldn't let me listen to KISS music. They'd probably heard the rumors about KISS being an acronym for "Knights in Satan's Service." Perhaps they feared there would be backmasking on the albums that would penetrate my subconscious and drive me to do bad things. I didn't mind too much, because I was more interested in the whole horror side-show of KISS than the tunes.
By the time KISS unmasked themselves in the 1980s, I had stopped caring. Already, I had sold my KISS crap at garage sales. I paused only to reflect that they looked a lot better with the makeup on. At that stage, I was listening to new wave, not metal. I noticed when the lineup changed (Gene and Paul stuck around), and as it continued to change (new drummer Eric Carr died of cancer). I admired Gene Simmons' wicked acting as the villain who launched the spider robots on Tom Selleck in the sci-fi flick, Runaway. But I didn't listen to the music, and there was no new merchandise to buy. KISS kept recording and touring, but nobody paid much attention.
Then, in 1995, all four original KISS members regrouped for a press conference on the U.S.S. Intrepid to announce that they would embark on a historic reunion tour. They would put the makeup and the platform boots back on and play the classic hits. Retro-mania was running wild, and KISS couldn't have picked a better time to capitalize on Gen X nostalgia. They toured throughout 1996 and 1997, selling out arenas and becoming one of the top-grossing live acts. I caught the Alive Worldwide tour in St. Louis and it was everything I'd dreamed it would be. After the show, I cruised on a KISS high. I bought Alive and Double Platinum and even Gene Simmons' solo CD featuring his tender rendition of "When You Wish Upon a Star." At age 24, I went to Kay-Bee toys and bought the new KISS action figures with the letter stands made by McFarlane Toys. I didn't even lie to the clerk--the dolls were for me. I would shout it out loud. I had re-upped for another tour of duty with the KISS Army.
Now, it's 1998, and the Psycho Circus is coming to town. What kid doesn't want to run away from home and join the Psycho Circus? I bought tickets for the Madison Square Garden show and then bought the Psycho Circus CD to prepare. I love the CD. It sounds like vintage KISS, straight outta the 70s, with songs like "I Pledge Allegiance to the State of Rock & Roll" and "Raise your Glasses." Paul kicks things off with the title track that was obviously made to be a show-opener: "You're in the psycho circus and I say welcome to the show." Ace proves he can still play guitar on "Into the Void" and Gene sounds particularly menancing on my favorite track, "Within." And for the mushy chicks like me, there's even a new Peter Criss ballad, "I Finally Found my Way," in the "Beth" tradition. The four of them banter playfully, trading lines on "You Wanted the Best" and revealing their motivation: "The fans wanted us to play. We hear and we obey." Oh yeah, and we figured we could make a few bucks off it, too. With new Psycho Circus action figures, comic books, and a whole boutique at your local Spencer Gifts store, there's more merchandise available now than ever. KISS has even become an internet provider, so if you've dreamed of having an email address like "beth@kissonline.net", your dream can now be a reality. Or maybe you just want KISS toy cars. Or a Gene Simmons teddy bear. Or slippers that look like KISS boots. You wanted the kitsch, you got the kitsch.
I was feeling a little annoyed at the commercialism, probably because I can't afford most of the cool KISS stuff at Spencer's ($70 for KISS pajamas? $30 for those goofy slippers?). I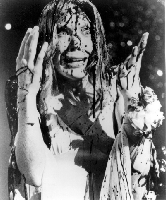 was starting to think there was just a glut of stuff on the market, that KISS had only regrouped to exploit the fans. Then I went to the show at the Garden and remembered that KISS is all about celebrating excess, and it's worth the money. A KISS concert really is the greatest show on earth. I wasn't sorry I spent $50 on a ticket. I only wished I'd spent $85 so I could have gotten close enough to feel the heat from Gene's firebreathing or be splattered with globs of his fake blood. I swear, whoever was standing underneath Gene when he was up in the rafters spitting blood must have ended up looking like Carrie.
The opening act, Econoline Crush, was decent but failed to interest the sellout crowd. As the singer introduced and explained one of the songs, a guy behind me yelled, "Who the fuck cares?" Even when the singer donned a Rangers' jersey in a pathetic attempt to generate applause, the crowd remained quiet. Small pockets of cheering emerged around the arena, as fans in costume and makeup roamed and played the part of kabuki cheerleaders. A PA announcement told us that the large video screen behind the stage would instruct us as to when to put on our KISS 3D glasses, since portions of the evening's entertainment would be presented in 3D.
A little after 9PM, the lights went out and the familiar, slightly shrill voice of Paul Stanley recited the usual greeting, accompanied by the fans: "New York City, you wanted the best, you got the best, the hottest band in the world, KISS!" The guys came onstage wearing their Destroyer-era costumes and launched into "Psycho Circus." From there, they went straight into "Shout it Out Loud" and "Deuce" and the crowd went ballistic. Then the video screen flashed a warning that we should put on our 3D glasses. Portions of the 3D video were prerecorded, and then portions were live. I thought the 3D gimmick was very cool and effective. Peter threw a drumstick, and I ducked. Paul and Ace thrusted the shafts of their guitars right at me. Gene stuck out his tongue and wiggled it around and I thought I was in for the soul kiss of my life.
Although this is the Psycho Circus tour, the band only played a few songs off the new album. They stuck to the usual setlist of greatest hits, and used the same live theatrics they'd been doing for years. They played "Firehouse," and at the end Gene did the firebreathing schtick. For his signature song, "God of Thunder," Gene was hoisted up to the lighting rig where he played the song while spitting blood. During "Love Gun," Paul put on a harness and flew through the crowd to a small platform where he played the song amid the spastic fans. During his guitar solo, Ace shot fireballs out of the end of his guitar (one of them hit a light and knocked it down...that was unexpected). They've been doing the same stuff for years, yet the fans still go crazy for it. Often, they were reciting the song introductions along with Paul, because they knew the routines by heart.
The setlist of favorites included "Cold Gin," "Let Me Go Rock N' Roll", and "Makin' Love" which gave Paul a chance to really gyrate and excite the crowd, since that song isn't usually part of the set. The guys seemed to be having a good time up there. Ace acted a little out of it, as always, but he sounded fine. Gene liked to get in Ace's face and stick his tongue in his ear, while Ace did his best to ignore the Demon. Peter looked a little tired. His drum solo was uninspired, but he seemed happy to be playing in New York. Paul took his shirt off after the second song, and he's still in terrific shape. No grey chest hairs were visible. I love it when Ace, Gene, and Paul try to move and play in unison, even though one of them is usually a little off. It's just so "KISS."
KISS threw us a curve by playing "Rock and Roll All Nite" as the final song of the set, instead of saving it for the final encore as usual. Confetti rained from the rafters and explosions went off all over the place, and it made for a thrilling conclusion. After a brief rest, Peter came onstage by himself, tossing roses into the crowd and singing "Beth." Then the president of Mercury Records came out on stage and presented the guys with gold records for Psycho Circus. He said it was KISS' 30th gold album, tying them with the Beatles. Then I had to picture Gene sticking his tongue in John Lennon's ear. They finished off the show with "Detroit Rock City" and "Black Diamond."
The KISS concert was 2 1/2 hours of well-rehearsed mayhem. Even though I saw a lot of the same things I saw on the reunion tour, I didn't mind. It all seemed more thrilling inside Madison Square Garden, and I think the guys turn it up a notch for the hometown crowd. The old and new songs both sound excellent. I wish KISS would trust its audience a little more and vary the setlist and lose some of the tired schtick, but I'm still satisfied. There were a lot of little kids at the show, second generation KISS fans escorted by their parents, and it was all new to them. Young and old left the show saying it was one of the best they'd ever seen and I have to agree. I just wish I still had my lunchbox.
Visit the KISS Asylum for the latest news and heaps more info, photos, etc.
Visit Ebay and buy Julie a KISS lunchbox just like the one she sold at a garage sale in the late 70s. You can spare $200, can't you? And she won't mind getting one that's a little rusty.
Post a comment about KISS shows you've been to.
Ape Culture and all associated pages are
ŠApe Culture 1998-2007 and evermore.



Click here to learn about
the Ape editors' book
Check out the Ape Blog for the latest Ape Culture News and Reviews