Hole
Western Connecticut State University
Danbury, CT
December 4, 1998
What if Hole played your prom? That's what this gig felt like. I saw Hole in a college gymnasium, surrounded by teenagers. It might have been Homecoming, except nobody had rented tuxedos or gone to the tanning salon months in advance for this occasion. But the kids had done their homework, bought Celebrity Skin, knew all the words.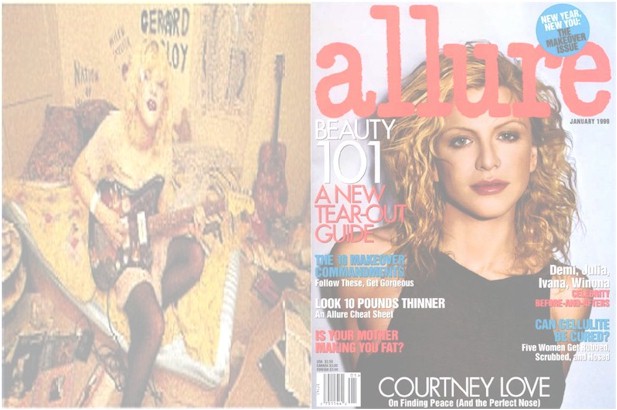 Let me say up front, I'm a Hole fan and an unapologetic Courtney Love supporter. I believe that neither Courtney nor a grassy knoll were involved in Kurt's death. I thought The Academy gypped Courtney out of a nomination for The People Vs. Larry Flynt. But things have changed--I saw the New Courtney at this show. In the past, I had been utterly transfixed by the Courtney-Outta-Hell, but this time I could only bop along with Fit-n-Trim Pop Courtney.
I first saw Hole in 1994 at a St. Louis club called Mississippi Nights. It was winter, and they were touring in support of the brilliant Live Through This album. They were late. Courtney rushed through the crowd to get backstage, carrying a blase Frances Bean. Mother and daughter wore ratty fur coats. When she finally emerged onstage, Courtney complained of having a cold, and she trashed my hometown with comments like, "I can see why T. S. Eliot left." She led the band through a blistering, feral hour-long set. Eric's riffs and Courtney's primal screams rang in my ears for days afterwards.
Live through this with me, I swear, and I will die for you.
The following summer, I saw Hole on the Lollapalooza tour at St. Louis' sterile Riverport Amphitheater. They were still angry, still potent and far from easy listening. Sweaty Courtney wore a raggedy baby doll dress and propped one leg up on her amp while fondling her guitar like a rough, drunken lover. Eric sneered as then-girlfriend Drew Barrymore filmed him with her camcorder from the wings. Melissa and Patty did their thing in the eye of the storm, oblivious to the chaos of Courtney. The moshing crowd kicked up dust on the lawn. Courtney made snide remarks to fuel her feud with headliners Sonic Youth before spewing a stream-of-consciousness rant about Kurt, for Kurt, at Kurt. "Fuck you," she said, "Fuck you all." She broke down and cried while cursing and ranting. Fans made the devil-horn sign of rock approval and begged for more rock, less talk. But I was mesmerized by this woman who seemed to be imploding in front of me.
Go on take everything, take everything, I want you too.
A few years have passed, and the Courtney I saw in Danbury was a new woman, fit and toned and wearing a black midriff shirt and leather pants, instead of a thrift store dress. She'd taken some time off, made a few movies, attended awards shows in Versace gowns. Her band had just released a new album, Celebrity Skin, devoid of screaming rants and full of catchy riffs supplied or enhanced by a new collaborator, Billy Corgan of The Smashing Pumpkins. The lyrics speak to her transformation and her ambivalence about it, and the music reveals a new pop sensibility.
Miles and miles of perfect skin, I swear I do, I fit right in.
To warm up for a European tour, Hole played a few radio station Christmas festival shows and a few random shows, including this one in the aforementioned college gymnasium. I was shocked that Courtney had no harsh comments for the anti-glitzy venue or the boring suburban town, considering the way she'd dissed St. Louis the first time I saw her. But this is the New Courtney and she's much nicer. She also warned us that she was trying to do a "no talking" show to see if she could do it, because I guess her bandmates and critics had complained that she talked too much during concerts. I was disappointed, because I love her bitchy rants and I love it when she criticizes people in the audience. She did do a little of that, telling one guy, "Lose the flannel, this is 1998."
Hole played for only about an hour, just like the other two times I'd seen them. They kicked things off with the title track of the new album, "Celebrity Skin." Next came "Awful" and the biggest hit from the last album, "Miss World." Courtney said she wouldn't be stage-diving anymore and she also begged our forgiveness for her "leather pants phase" and promised it would be brief, all the while posing and seeming to enjoy her gym body and sex appeal.
The set continued with "Reasons to be Beautiful," "Dying," "Use Once and Destroy," and a Bob Dylan cover. Courtney played guitar on a few songs, and Eric and Melissa sounded great. Patty Schemel has left the band, but the new "temp" drummer did just fine. As promised, Courtney kept her stage patter to a minimum and I had trouble hearing her when she did talk, due to the gym acoustics. "That chick just showed me her tits," Courtney laughed, after a girl got on her boyfriend's shoulders and flashed her. Courtney and Eric hit and teased each other constantly. Although the set was heavily weighted with songs from the new album, Hole did play "Pretty On the Inside," the title track of their first album, which required Courtney to channel her old screeching self and yell some prophetic lyrics.
Is she rotten on the inside, ugly from the back? There is no power like my pretty power.
They wrapped up a 45 minute set with two more songs off the new album, "Heaven Tonight" and "Boys on the Radio." Then they came back to play four more songs for an encore. First, they played "Northern Star," a reflective ballad from Celebrity Skin. Next came a powerful doubleheader from Live Through This: "Doll Parts" and the abrasively beautiful "Violet" which allowed Courtney to prove that she can still at least "act" angry. Then she went back to being cute for the final song, a cover of the Lemonheads' "Into your Arms," which she prefaced by saying, "Here's a song by a boy who Melissa and I both kissed." Yes, girls, that Evan Dando sure is dreamy.
Overall, this wasn't the best concert and it lacked the fire of the other Hole shows I've seen. I think the band's low-octane performance could be attributed to the fact that this concert was part of a warm-up tour, and people who attend shows on the new Hole/Marilyn Manson tour will probably see tighter performances. I also think maybe I just need to move on and accept the New Courtney and her band. The new album is damn good, just different. I shouldn't be like those Metallica fans who can't listen to the band's new albums because the guys cut their hair. I should stop being nostalgic for dysfunction and be happy for her. At long last, she's achieved credit in the straight world, something she could only sing about with disdain (or was it just jealousy?) on Live Through This.
Go for credit in the straight world, you will die....Lots of credit in the real world gets you high.
Read more of Ape Culture's concert reviews.
Ape Culture and all associated pages are
ŠApe Culture 1998-2007 and evermore.



Click here to learn about
the Ape editors' book
Check out the Ape Blog for the latest Ape Culture News and Reviews