Elvis The Concert
Radio City Music Hall
New York, NY
March 20, 1998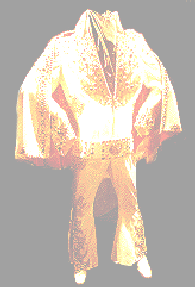 Ape Culture co-editors Mary and Julie attended this spectacle. Afterwards, they had an e-mail conversation to process the many feelings they had about seeing Virtual Elvis.
Julie's review:
I saw ELVIS!!!!!
There were more young, hip people there than I expected, but also a lot of old jersey-looking women and men with sideburns--the typical Graceland crowd.
We were in the second to last row, center, in Radio City Music Hall. It did not matter and I would advise getting the cheap seats because Elvis is on a giant video screen anyway and who needs to see the TCB (named for Elvis' motto "Taking Care of Business in a Flash") band and the Stamps up close? I was hoping for a hologram Elvis, something like the projected Princess Leia that spewed from R2-D2 and said, "Help me Obi Wan Kenobi, you're my only hope", but it was just big ol' 2-D Elvis on TV.
Before the show started, large Graceland gates were on stage. The gates opened and the theater went dark and they played the 2001 music while blue spotlights went around the theater. People were screaming and clapping. Then the band came on stage -- the original TCB band, conductor, backup chyx The Sweet Inspirations, and backup dudes J.D. Sumner and the Stamps. They played that Elvis theme music (da da da -- da da da) and then the video screens came down, one big one and two smaller ones on either side. Elvis came on the screen via footage from the Hawaii concert. He sang on the center screen and most of the time they showed the band on the sides.
They showed crowd shots from the old concerts--all those swooning women. At one point, video Elvis said, "you all been watching me all night, now I want to see what you look like" and they lit the audience and people were screaming. Then they showed current shots of our audience -- not at all hysterical, looking more like people watching TV because, after all, that's what we were doing.
They showed old clips of the band members in sync with shots of the live band and that was pretty neat, though it must be depressing for the band members like the backup chyx who were all skinny with huge afros in the 70s and now resemble Nell Carter, Toni Morrison, and Della Reese.
Besides the Hawaii footage, they showed clips from other concerts including some Vegas shows. The first half was all 70s Elvis. Songs included "Hunk of Burnin' Love", "Polk Salad Annie", "Never Been to Spain", "Bridge Over Troubled Water", "Can't Help Loving You", "Proud Mary", "In the Ghetto" (complete with still photos of young Elvis and parents looking po), "How Great Thou Art", and many many more.
At the interval, I bought a program for $10 and a plastic mug for $7. I hated to give the money to Lisa Marie's Scientology fund, but I wanted some souvenirs. The program is very detailed and has the set list and also says that more dates may be added later in the year -- and, in fact, a recent check of the Graceland website proves that Elvis has a grueling schedule this summer.
As the theater went dark for the second half, people screamed out "We love you Elvis." I was like "I don't think he can hear you." Then a giant red neon E L V I S came down from the sky to recreate the backdrop of Elvis' 68 Comeback special (the leather motorcycle suit show) and Elvis came onscreen singing "If you're lookin' for trouble, you came to the right place." They played some more songs from that special and then went back to 70s concert footage for the 50s songs that don't interest me--"Heartbreak Hotel", "Don't Be Cruel", etc. The best part of this section was "Love Me Tender" which featured clips of Elvis kissing women in the audience and women rushing on stage and molesting Elvis.
Then we got back to the good 70s stuff with "My Way", "Suspicious Minds" (complete with zooming camera effects to the beat of the song), "The Wonder of You", and many many more. The show wrapped up with "American Trilogy" and "I Can't Help Falling in Love with You." Then the band exited and a disembodied voice declared: "Ladies and Gentlemen, Elvis has left the building" (was he ever in the building?).
People were lining up to buy souvenirs after the show and everyone seemed overwhelmed by the experience. I went in expecting a big rip-off but I have to say it was a very entertaining two-and-a-half-hours. It was sort of like live pay-per-view.
Mary replies:
I must say, Julie, I did not go to this show as one of the converted in a cult of Elvis -- I come from Protestants, for God's sake. Sideburns can rattle us. And when you told me about this idea of a virtual concert -- well I was seeing nostalgia all run amok! But even if I disapproved on an intellectual, pseudo-spiritual level (the dearth of culture and whut-not), I still wanted to be a part of it. And it was Cool. It was Bizarre. It was Eerie.
I too was half-hoping for a hologram Elvis. But instead we got ELVIS up on a gigantic screen, on some kind of stage in space; but then I'd see the real stage below so suspiciously absent of a star. Kind of like the band had locked him away in a time machine of some sort. Conspiracy theories in large proportions, I'm sure, (aliens, the government, take your pick) were all alive and well in the room. I see now how an average Jane Doe such as myself can be turned into an Elvizoid.
But the show was still an objective thrill, conspiracy notwithstanding. A better than average concert even, just for the fact that Elvis was a better than average thriller. Update the instrumentals and apparently he still is. He has a charisma that is the difference between a life lived in mono and one in stereo, don't you think?
That Elvis theme! Damn it, I can't stop humming it. In the bathroom. Spreading peanut-butter over my bagel. Typing away at work. This is simply the best Elvisism musically. If I'm ever disoriented some day in time travel, I'll hear that theme and know, by golly, I'm at an Elvis concert.
After that, the first song I remember was "Steamroller Baby" because I remember thinking -- what the hell was he singing? I'm telling you, it sounded like "I'm a napalm bomb, baby." What's that all about? I was frightened.
And I agree, those were beautifully coifed afros on slender yellow-polyestered chyx and swell shots of the band via then and now. I swear I thought I saw my grandpa up there but I coulda just been blinded by all the glare off the back of his head.
Julie wrote:
Elvis did in fact sing "I'm a napalm bomb baby." I don't think napalm had the same stigma in the late 60s that is has today. I guess napalm was even sexy. As for the meaning of "Steamroller"--see the "Love Me Tender" clips. It's Elvis' rampant sexuality steamrolling every heterosexual woman in sight. When confronted with a hip-swiveling, lip-curled crooner in a tight jumpsuit, who could resist?
As for the vacant, starless stage...I read in The New York Times review of the concert something about a plan to clone Elvis' DNA and create an Elvis clone to do this tour next time around. I hope the reporter was kidding. But I would not be surprised if he weren't. It's a plan Elvis' shifty manager Col. Tom Parker would have loved. If he'd had an Elvis clone back in the day he could have booked the king at twice as many gigs. After Elvis died, some reporter asked the Colonel what he was going to do with a dead Elvis on his hands and the Colonel said something to the effect of "I guess I'll just keep marketing him." The Colonel pushed Elvis to tour continuously in the 70s, plus Elvis himself needed the money because he kept spending everything he made on rings and Cadillacs for his friends and women.
Mary wrote:
Elvis Fashion: Oooh, I hate sideburns. Elvis had Velcro sideburns, attachable to hat flaps. And Elvis is the only one I know who wore bellbottom SHIRTS.
And yes, I remember reading about the sort of gift-giver Elvis was and I wonder about that diamondesque ring, some ornate weapon, I would imagine. Later on I saw on the screen of Now, one of the back-up singers with the same ring on or its clone. Maybe this is the living representation of Elvis as a human trinket shop. I wonder if he ever gave away any of his sequined jumpsuits... hmmm... speaking of sequins... considering Elvis was Sequin King and maybe even Cover King as well... I have this... ummm... theory that Cher could be an Elvi counterpart in some ways. This'll probably will undoubtedly meet with some resistance at first but they do have the same sequined physicality (Cher hasn't lost that Vegas gesturing in her live act, I would even say Elvis made more costume changes in this show than the this-is-what-she's-famous-for Cher), both had/have a propensity to Cover and both emote that very unique drawl-sing. In fact, I think Cher should do a cover of "Suspicious Minds," maybe with a Nat King Cole kind of Elvis sampling in duet. Post-Sonny, he's the only one left big enough to duet with her, dead or alive. I think Cher may as well (now that she's burned through Oscar legitimacy) go in the larger-than-life Elvis direction. Not the sweaty fat Elvis direction. The Sparkley direction!
Julie responds:
Well, when it comes to home furnishings, Cher's pseudo-medieval spiked maces on the walls and chainmail window treatments aesthetic is certainly equal in inspired tackiness to the wall-to-wall-to-ceiling shag and lighting bolt murals that Elvis installed in Graceland. But I have to nix the virtual duet idea. Elvis worked alone. If Cher wants to sing with him, she'll have to stop working out at Vic Tanny, gain 100 pounds and wedge herself into the Sweet Inspirations back-up line. She won't get to share the spotlight. And I don't think Cher really requires such a legendary duet partner--I mean, Peter Cetera sufficed for "After All." Has she come so far in ten years that she's worthy of The King?
Mary replies:
Just wait til she's dead.
Julie replies:
Can two dead celebs sing together? Perhaps they can. Let's get Elvis Presley Enterprises working on it.
Post a comment about virtual concerts or Elvis.
Ape Culture and all associated pages are
ŠApe Culture 1998-2007 and evermore.