Deconstructing Cash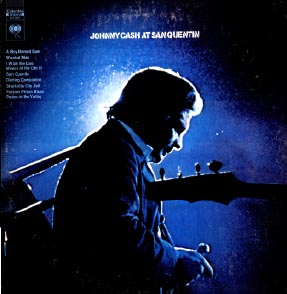 Just because Johnny Cash is such a legend, a giant figure in American pop culture, does not make him some vague magical indescribable mist. So personally, I can't understand why no interesting assessments of his life and career have been made at his passing. Granted, there's always that standard element of mystery when trying to deconstruct a person. Getting to the bottom of anyone is an impossible task. Fine.
But he's much more interesting than anything anyone has been saying. Fresh after the bland and meaningless Katharine Hepburn tributes, the last thing we needed was another pitiful slew of clichéd accolades, sound bites and flaccid Larry King round-table conversations. They didn't explain anything. They missed the Elvis in front of them to describe some fried peanut-butter and banana sandwich. Most chalked Cash up, albeit reverently, as some elusive all-American legend with more than his share of genuine integrity. And much was made over the Man in Black persona, like he was some Clint Eastwood character in a stock western. But don't we all agree that he was just a lot bigger than that?
U2 front man Bono was right at the ready with blurbs for Cash's passing. Some were better than others. In Time Magazine he called Cash "an oak tree in a garden full of weeds" – this exemplifies the tripping over one another celebrities can do in an effort to spirit out the best, most quintessentially poetic accolade. It sounds awfully good, but what does it actually mean?
Maybe somewhere out there is a piece on Johnny Cash I missed. As it is, I must create the thing I can't find. Once I started breaking it down, I realized, there was a lot to deconstruct: his sound, his look, his mythmaking, his final living-message and the themes he kept driving home.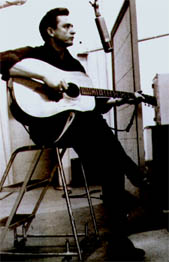 The Simple Sound of Cash
The Cash sound is simple and deep, characteristics not as opposed as you might think. Depth need not be complicated. Think of a simple but penetrating dagger.
Starting out accompanied only by what came to be known as the Tennessee Two – Luther Perkins (on electric guitar) and Marshall Grant (on bass) – Cash's signature sound was like a low, metrical, western plucking, a "dark driving rhythm" as Marty Stuart described it in the liner notes of Cash's Columbia Records 1958-1986. Some early songs seemed to have nothing more than drums, bass and a singer. ("Oh, What a Dream", "Pickin Time", "Don't Take Your Guns To Town"). Later, we hear bass echo effects and back-up singers enter the picture ("Two Feet High and Risin"). However, nothing, not even the thrilling "Folsom Prison Blues" guitar solos or the sweet Mexican horns in "Ring of Fire", competes with his voice, a mean and low thunder.
In simply arranged songs, the depth comes from his rumbling voice, which exudes its own mystery, in contrast to the lyrics from "I Walk the Line": "I find it very, very easy to be true."
On the Johnny Cash in San Quentin live album, "Wanted Man" is another example of simplicity, a list song with an unadorned western sound contrasting with the rumble of Cash's voice driving through. Take out the Cash voice and you'd have something pleasant enough, but nothing nearly as striking or resonant. Possibly it is the same contrast of simple arrangement to deep resonant voice working similarly for Norah Jones. Cash's final album, American IV: The Man Comes Around ,returns to this simplicity, a stark pre-death quietness. He lingers over his words, unnecessary instrumentation is stripped out, and the result is both haunting and comforting. The instantly recognizable sound of Cash has force, a true less is more.
The Myths of Cash
The prevailing myth of Cash goes like this: a conflicted every-man struggles with the dark side, weathers a brutal storm and returns from the fire to tell us about it. Again, more contrasts are at work here:
The wild man who takes a walk on the dark side and yet also seeks redemption
The repentant survivor who speaks of the dangers of the dark side and yet speaks with reverence and respect for that dark side
Cash's biography tells of a wild youth, with its own brushes with lawlessness and substance abuse. However extreme it was or wasn't, Cash earned the respect of the men he played for in prison. Merle Haggard was one believer: "He was a mean mother from the South" (Rolling Stone). Kris Kristofferson adds, "The power of his performance came from the tension between this man who was deeply spiritual and also a real wild man" (Rolling Stone). Time Magazine remarked that Cash had "been to that inside war of souls," walked the line, no doubt, and became a kind of "gunman turned Pentecostal preacher." Bono told Rolling Stone, "You had the sense that he had spent his time in the desert…It gave his songs some dust."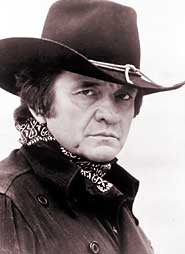 His songs' subjects are full characters on the edge, beaten down, mean gangsters, some who repent and some who don't. Thus, his own myth is energized by these characters. His life is almost blurred into their stories; and visa versa - his life's struggles give credibility to his characterizations, serve as the actual skeleton his stories are formed on. He is them and they are he. This adds, subliminally, a layer of myth to the truth: we DO see him as the embodiment of these characters he was not. He was not a gunslinger and yet we believe his is the soul of a gunslinger.
At its core, Cash's moral isn't a simple one. He didn't preach with that kind of certitude. He preached with wariness. His outcomes and conclusions were often conflicted. He missed what he feared. He was not an anti-drug espouser with stern platitudes. His life without drugs was, by his own words, sometimes hard and painful. And yet he felt, again by his own words, intense affection for his reformed afterlife. This made him authentically believable and trustworthy. No absolutist, but a tough realist.
The Myths of Cash II: His Message
At the core of the Cash Myth and Persona are consistent messages and themes delivered in songs and interviews: a man is only as good as his integrity, support the lost cause, persevere through hardship, have faith, be a compassionate challenger to trials of the world, and be proud of where you come from. These are not uncommon themes in country and western, or rock n roll for that matter. But Cash, again, filled his catalogue with them. They became pillars of his mythical and real self. His message was a simple challenge, a challenge against ignorance, against doubt, against oppression and hopelessness.
Bob Dylan said, "He used the gift to express all the various lost causes of the human soul" (Rolling Stone). He was a champion to the underdog, stood in an awesome spotlight and challenged anyone who would ignore the downtrodden.
Louisa Young interviewed Cash in the early 90s. She kept a flower he gave her, which turned into dried daffodils on her desk. She writes of them in The Guardian: "a little dried-up papery ghost of a thing – reminding me that that's what integrity means: being what you are." Being what you are, unashamed. Along this vein Cash was a challenge to anyone who tried to contain him in any one genre of pop culture, and likewise any record executive who maintains popular music is only about youth. Cash was a challenge to fashion and impermanence.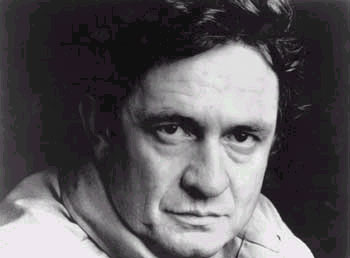 The Myths of Cash II: His Physicality
Johnny Cash looked like he might have had the strength of a giant. He had a very imposing presence: big boned, broad shouldered, solid square head. Time Magazine said he had craggy good looks, an imperfect grandeur. His solidness was accented with that haggard cowboy element: haunted looking eyes, a few lines and scars on his face. Even his mouth had a stern look to it.
These features added up to something hauntingly somber, ultimately arresting in its powerful sobriety. The Los Angeles Times called it a "gothic aura." Then, suddenly, a charming smile would cut through his serious face. Again, the contrast packed a powerful punch.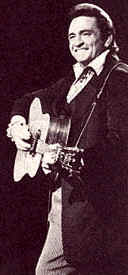 His imposing physical stature made him seem indestructible, as solid as the earth. When Louisa Young interviewed Cash, she reported:
"He smiles at me. It's kind of like being smiled at by Monument Valley, or the Hoover Dam."
Likewise, in the Los Angeles Times, music critic Robert Hillburn proclaimed that Cash "seemed as indestructible as a national monument." As regal as a monument, yet unpretentious in his demeanor. Bono told Rolling Stone "To be that extraordinary and that ordinary was his real gift."
Cash's physicality was a large part of his showmanship, which was practically old school in its subtlety. Cash was not awkward, stiff or rehearsed onstage. But then again he didn't "let it all hang out" either. He was particular in his movements, a kind of neat roughness. The way he always introduced himself ("Hello, I'm Johnny Cash"), the way he sat or swiveled on his stool. He definitely perfected his own kind of delivery, a backwoods version of Motown's girl-group preciseness extremely toned down and countrified. Which is all to say he never looked raw or amateurish. His movements were stage-savvy and professional. At the end of the day he was a performer -- an artfully seamless one if he could make us forget this important point. As rough as he appeared, he was smooth; he knew when to throw his head back to punctuate his lines, he knew exactly when to look steely-eyed into the camera, and exactly when to smile to himself knowingly. He used his face to tell a story and his posture to denote the unforgettable humanity and dignity we attribute to Cash. He had a small but potent little bag of tricks.
The Myths of Cash III: His Voice
And finally, there was this voice, this thundering instrument deep with pauses and crescendos, the rumbling rhythm of a preacher. The Los Angeles Times called it "locomotive." It was a sound so profound that it gave credence to his characters and morals. His credibility would not have been possible without it. It was the foundation for his whole catalogue and myth.
Because of his voice's limited range, he was forced to pick appropriate material or make certain material "his own." And by this I mean something beyond what Paula Abdul means when she says it to some American Idol contestant. Cash put his unmistakable stamp on a long list of famous songs he covered. As many have said, you could instantly recognize a Johnny Cash song. Cash could digest a song and spit it out with an entirely new sound. He could even do this with material he himself had already covered. Compare "Streets of Laredo" from Mean as Hell to his American IV: The Man Comes Around version. Old man Cash took the song from a young Cash and "made it his own" again. Cash had a legitimate "his own," a singular personality, a place to take material, a place carved out of necessity -- his own vocal strengths and limitations.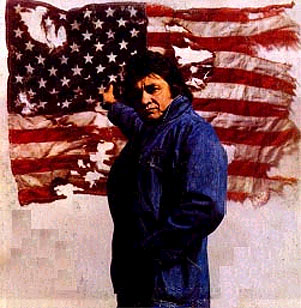 The Cash Appeal
Because of his own history, politics and the characters in his material, Cash is embraced by many who see him as a rebel: rock stars, rap stars, and some of his country-star compadres respond to this. Others interpret him as a kind of American Brand, a Nashville-styled product of Americana. Some Cash pundits have even gone so far as to say he is an American Hero, an American Legend. The Los Angeles Times called him "Lincolnesque." All labels so historically big they almost rob him of his every-man quality. He definitely has a legendary appeal and broke out of his country-western genre in ways contemporaries Marty Robbins, Merle Haggard, or even Kris Kristofferson have not. Beyond even what Jerry Lee Lewis and Willie Nelson have been able to.
Maybe this has something to do with the fact that Cash, of all of them, is the most convincing preacher, the best, most dramatic storyteller. This is undeniably the key to Johnny Cash's biggest hit, "A Boy Name Sue." In The Guardian, Joe Dennis says this song "demonstrates Cash's rapport with his audience, his great timing and storytelling skill."
Who wouldn't be hooked after the tense, escalating lines of "My name is Sue. How do you do? Now you gonna die!"? Cash unfurls a range of emotions in the song, surprising us at every turn, from his ability to deliver scene-setting lines like "well, it was Gatlinburg in mid-July/And I just hit town and my throat was dry" to the particular violence of "he come up with a knife and cut off a piece of my ear" followed by the beautiful alliteration of "kicking and a' gouging in the mud and the blood and the beer" to the quirky humor of "I threw down my gun and I called him my pa, and he called me his son" to the final punchline. A well-crafted song by Shel Silverstein to be sure, but a piece only a master could bring to life, full-bodied and believable.
The Closing Video
In Johnny Cash's last great performance, his video covering Nine Inch Nails' song "Hurt", we see how neat art and life can sometimes come together. The retrospective video movingly brings home everybody's patriarch, again with that particular Cash brand of simplicity and conviction. We love and respond to that believable conviction like we would respond to water in the middle of a desert. I guess that metaphor is just as weak and pathetic as Bono's bit about the weeds. At the end of the day, you just can't neatly summarize this monument called Cash. Which makes closing the book on him a particularly difficult matter unless you can accept watered-down, meaningless metaphors and accolades. Well, sonofabitch.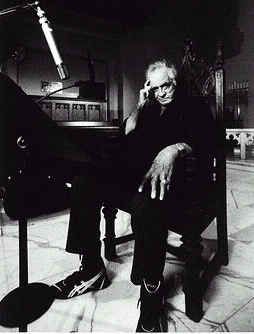 For more Cash Deconstruction: Mary talks to her Dad about being a fan in the 1950s.
Read Mary's childhood memories of the Mean As Hell album.
Johnny Cash on the net:
Man In Black
Johnny Cash.com
Do you have any comments about the accuracy of this Cash Deconstruction?

Ape Culture and all associated pages are
ŠApe Culture 1998-2007 and evermore.