Jimmy Buffett and the Coral Reefer Band
Live on Today - Rockefeller Plaza
New York, NY
May 28, 1999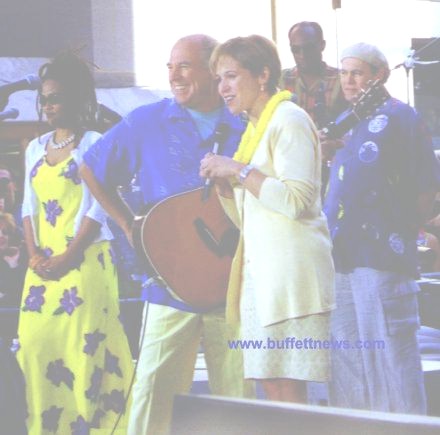 Us parrotheads don't typically rise with the birds. We like to have our cages covered until at least 10:00 AM. It's true that a free Jimmy Buffett concert provides an unusual incentive, but when my alarm squawked at 3:30 AM, I wasn't feeling too chipper. I snoozed til 4:30 AM, got ready fast, and drove down to Manhattan.
As I approached Rockefeller Center, I could hear Jimmy singing "Pacing the Cage," a ballad off his new album, Beach House on the Moon. It wasn't even 6:00 AM, but the band was already doing sound check. I found a spot facing the stage, probably 50 yards from Jimmy. A decent-sized crowd had gathered, and most folks were wearing hawaiian garb. One person in a full-length parrot suit looked like some demented DisneyWorld character. In addition to the crowds of Buffett fans and tourists with "Hello, Springfield" signs in front of and behind the stage, there was a group gathered around a circular area that had been blockaded for an on-air cooking demonstration. This group was wearing "I'm with Ed" T-shirts and carrying signs picturing a smiling bald guy (Ed later told Katie he was there to kick-off a cross-country motorcycle caravan for charity and he didn't even stay for Jimmy's show!).
I'd missed "Margaritaville", the first song Buffett played, but that's okay because I'm pretty familiar with that tune and he played it two more times during the sound check. He also played "Volcano" and "Come Monday" twice. During Volcano he ad-libbed: "Where I go I hope there's rum...around 9:30 I might have me some" and the crowd cheered. Buffett also played another new song "I Will Play for Gumbo" which mentions Krispy Kreme donuts, and he threw some of the renowned glazed donuts to the crowd. He had to lick the sugar glaze off his fingers before playing another song. Something went wrong during this song, and they stopped about halfway through. Jimmy seemed amused and blamed it on the early hour. It was about 6:30 AM at this point. Jimmy told us he had to go "feed the band" and they left the stage.
So then we had to endure hearing/watching snippets of Today for the next hour and a half. Buffett wasn't scheduled to play til the last half hour. I'm not a Matt Lauer groupie, so I didn't swoon when he entered the mob. Al Roker seemed jolly, but Katie Couric looked like walking through the crowd wasn't exactly her favorite part of the job. They all had a heckuva lot of pancake makeup on their faces.
The Today personalities (?) seemed amused by the parrothead garb and impressed by the size of the crowd, but they are so hopelessly square. At one point, Katie borrowed a goofy parrot visor from a fan and she wore it on camera whilst engaging in happy talk with Matt. After about 30 seconds, she took it off and stated, "I think I look pretty silly in this." This gesture was met with a chorus of boos from the offended phlock. She seemed surprised and muttered apologies, but the damage was done. I don't think anyone will be inviting her to tailgate with them in the pre-concert parking lot anytime soon. But then, I don't think Katie is the kind of girl who'd let someone lick salt off her to do a body shot anyway.
Preferring Howard Stern in the A.M., I have to say it's been years since I watched Today. And I won't watch again anytime soon. Still, it was nice to catch up on current events, and I was a little sorry I couldn't see Bobby Flay's demonstration of summer grilling techniques--the food smelled fantastic. But I'll live.
Finally, 8:30 AM rolled around and the Coral Reefers took the stage. They played "Margaritaville" and Jimmy ad-libbed, "And I know this is Katie Couric's fault." The wooden Katie, Matt, and Ann danced when the camera was on them. The crowd went nuts. I've seen Buffett in concert five times, but usually from the lawn, so it was cool to be so close. After a short interview, which we couldn't really hear, Buffett played the contemplative "Pacing the Cage," a song that tackles bigger issues than cocktail selection and sunburn pain, as do many of the less well-known Buffett songs. It was nice to see this tune get national exposure. To close out the televised portion of the concert, Buffett played "Volcano" and ad-libbed, "No time to count what I'm worth. That's Warren Buffett."
At this point, the credits were rolling, but Jimmy was fully awake and happy to keep playing for the hyped-up crowd. He played "Come Monday," and "I Will Play for Gumbo" again. Then, after conferring with the band, he concluded with the ever-popular "Cheeseburger in Paradise." Now I was craving rum and a cheeseburger, and it was only 9:00 A.M. Before leaving the stage, Jimmy assured us he'd see us soon, which I hope means he's going to add a Jones Beach show to his tour. If you're reading this, Jimmy, puhleeeeeze! I'm wearing a parrot visor as I beg--I don't give a shit if I look silly.
Feeding Frenzy site for the latest Buffett news and more pics from this Today appearance
Read more of Ape Culture's concert reviews
Post a comment about Jimmy Buffett.

Ape Culture and all associated pages are
ŠApe Culture 1998-2007 and evermore.



Click here to learn about
the Ape editors' book
Check out the Ape Blog for the latest Ape Culture News and Reviews