WHEN CELEBRITY OBSESSIONS ATTACK! - continued
Mood Swings and Golf Swings
I go away to college. There is no Jack Nicholson Fan Club on campus. My film major provides me the opportunity to watch Chinatown and The Shining for college credit. I spend my first semester of junior year in London. Around November, giant posters of Jack in a Marine uniform show up in all the tube stations. When I come home, I get the rare chance to see two Jack movies in the theater at the same time: Hoffa and A Few Good Men. Jack gets good reviews for both and an Oscar nomination for his role as sadistic Colonel Nathan Jessup. Cries of "You can't handle the truth" echo around the world. It's cool to be a Jack fan during this Nicholson renaissance. Of course the good times don't last for long--Jack's next movie is the atrocious Man Trouble, a romantic comedy that is neither romantic nor a comedy. Not only does he overact, he sports an ugly moustache. My Jack highs are always short-lived.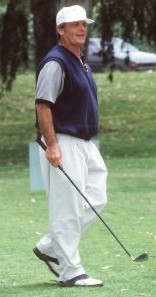 I'm an adult now, but I'm still buying Batman trading cards and posters from all of his movies. I get a big confidence boost that I've chosen a worthy obsession when the American Film Institute names Jack the youngest recipient of its Lifetime Achievement award. This supports a thesis I'd been advancing for years--that Jack is our greatest actor. But as with most good Jack news, a scandal quickly follows. A week before the ceremony, Jack has an episode of road rage and attacks a Mercedes with a golf club.
The driver of the Mercedes cut him off, you see. What else could he do? It's hard to defend this act and I still cringe when comedians mention it. Jack settles out of court. The AFI tribute is an amazing night. Jack sits at the head table surrounded by an adoring harem of his female co-stars. They all sing his praises. Rebecca, now the mother of two of his illegitimate children, accompanies him although they're on-again-off-again. Jack gives a gracious, tearful speech and promises "You ain't seen nothing yet." I'm verklempt.
The Age of Reflection
Jack gives good performances in two small films that nobody but me goes to see: The Crossing Guard and Blood and Wine. I highly recommend you rent these. I'm pleased that he is still making some gutsy choices to accompany commercial drivel like Mars Attacks. I inflict a Jack Nicholson Celebrity Obsession Party on my friends. For this night, I spend several weeks compiling a 5-hour video of highlights from all 58 of Jack's movies from the Roger Corman days to the present along with various clips of interviews about Jack and Inside Edition and Entertainment Tonight stories I've taped over the years. I prepare dishes from Tommy Baratta's Cooking for Jack. Tommy is Jack's personal chef who he has called upon to help him slim down over the years. I wear my faded Joker T-shirt. Everyone seems to have a good time but I feel emotionally exhausted by the end of the night from having to defend not only Jack's personal bad behavior but also my friends' belief that he plays the same role in every film. I counter this by asserting that we only want Jack to play the libertine, psycho roles. When he makes movies like The Crossing Guard and Ironweed and The King of Marvin Gardens, nobody goes to see them. It's not Jack's fault. He tries! My friends don't listen to me and they talk amongst themselves during clips of Jack playing these varied roles. I don't win any converts to the cult of Jack, although the Nicholson lasagne is a hit.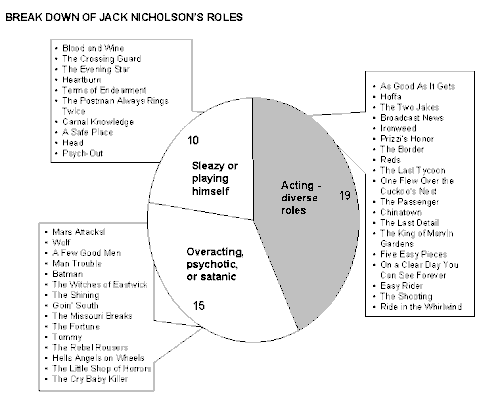 Dirty Old Man
Jack plays Melvin Udall in As Good As It Gets. Once again he's America's favorite scamp. He shows a vulnerable side for a change and even cries. The movie is a smash hit and Jack wins his third Oscar--putting him second to Katherine Hepburn and for most wins and third in nominations.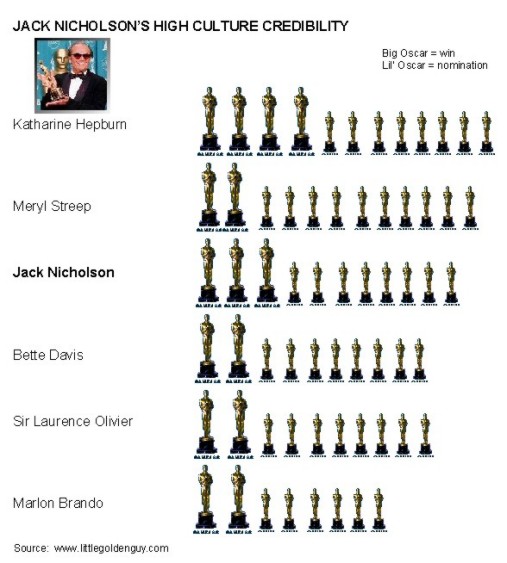 He falters a bit--appearing drunk/high and incoherent at the Golden Globes, but manages to pull himself together and give good speech at the Oscars. My friends who hate Jack like this movie. Nobody bad-mouths Jack again and he stays out of the tabloids until he has a car accident and a woman flees the scene. That woman is soon revealed to be Lara Flynn Boyle.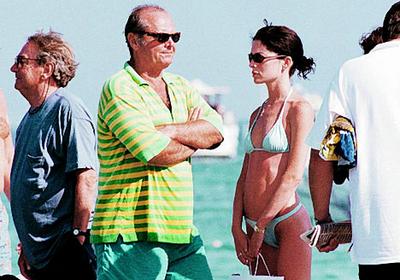 The two are dating despite a 30 year age difference and Jack being in the heavyweight class while Lara is a featherweight. Before long, he's accompanying her to the Emmys, looking lecherous and libertine. This May-December thing is nothing new for Jack, but there's something more desperate about this relationship. He's 62 now. He should be a bit more mature. I mean, even his good buddy Warren Beatty has settled down.
The Age of Apocalypse
This brings me to the present crisis. Jack's being sued again. A woman named Catherine Sheehan claims that Jack assaulted her after a threesome went awry in 1996. She said she and a friend were offered $1000 by Jack to do the nasty. They got it on but he then refused to pay the money and started beating Catherine, slamming her head on the ground and threatening to throw her over Mulholland Drive. He said he would kill her and threw her over a hedge on his property. She managed to escape. At that time, she sued Jack and settled out of court for $32,500 and the provision that she keep quiet about the story. This story didn't hit my Jack radar in 1996 and I had no idea. I'd read about him being a Heidi Fleiss client and other stories about him hiring prostitutes (and giving them golden showers), but nothing this awful. Now Ms. Sheehan is suing him again because she says she has central nervous system damage from the attack and needs further surgery. She's been suffering from vertigo and migraines. Jack hasn't commented. This behavior is beyond libertine.
Ballbusters on Parade
Suddenly being a Jack fan is akin to being a Tommy Lee or Axl Rose fan. Can I be a feminist and obsess over a star who beats women? I was already feeling a little uneasy about him since he showed up at the Oscars with the moustache again (the only good thing he ever did while mustachioed was Reds) and looking like he was approaching The Two Jakes weight. Yet, by its very nature, a celebrity obsession isn't something you can just turn off. Just ask John Hinckley, Jr. Sure, celebrity obsessions sometimes burn bright and then burn out...like my brief flings with Vanilla Ice and Brian "The Boz" Bosworth. But this is my primary celebrity obsession--the one that has outlived all others. What's that saying? After a nuclear war, the only things that will remain are cockroaches, Cher, and my obsession with Jack. I guess at this point I could continue to admire Jack's movies and not Jack himself. Carnal Knowledge has always been one of my favorite Jack movies. Jack said that when he made that movie he knew that women wouldn't like him for a while because he plays such a womanizing asshole. He got nominated for Best Actor for that movie but maybe he was just playing himself. Perhaps Carnal Knowledge should be re-titled Being Jack Nicholson. I can picture him sitting by himself in his house atop Mullholland Drive watching a slide show called "Ballbusters on Parade" just as he did in the movie. It makes me sad. I'm sympathetic toward him-to a fault? Let's not forget--he grew up believing his mother was his sister and his grandmother was his mother. They took this secret to their graves. A journalist told him the truth. Maybe he can't handle the truth. This is the sort of deep betrayal you don't get over--it cuts to the bone. Yet, that doesn't give you a license to go around beating prostitutes.
I guess I'll wait and see what the judge decides--maybe this woman of ill repute is lying. But she's probably telling the truth. It's not an unbelievable tale. It's all too believable. But I'm not ready to auction my Jack collection on Ebay just yet. In fact, I just won a bid on a "Quack Nicholson" beanie baby. It's a little duck with sunglasses, crazy eyebrows, and an axe. I'm not telling you how much I paid.
Click here to go back to the first page of this story
Ape Culture's guide to throwing your own Celebrity Obsession party
Visit and enlist in The Jack Nicholson Army, a club for Jack that Julie founded on Yahoo! Clubs
Was Jack born to play the devil or were his eyebrows born to play the devil? Discuss.

Ape Culture and all associated pages are
ŠApe Culture 1998-2007 and evermore.