The Heat of the Moment
(How the band Asia foretold my high school reunion)
I grew up in St. Louis, Missouri…two decades ago. Last weekend I forced my boyfriend of two years back there for a tour of me which included my 20th high school reunion party as a finale. Yes, it's been 20 freakin' years since I said adiu to Parkway North Senior High School – although you never once heard "Go Vikings!" uttered from these lips.
Well, until just now.
These days, I don't find many opportunities to return to my hometown. My brothers and parents left years ago to various cities of the eastern seaboard. I did however return last summer for a funeral and before that in 2004 to promote St. Lou Haiku at readings in Central West End, the Loop, and at the first St. Louis book festival in Forest Park. Co-author Julie Wiskirchen and I made the news during our first reading; it was the beginning of an ultimately disappointing Cardinal baseball world series against the Boston Red Sox. Local news wanted to know what in the heck people of St. Louis were doing if not reverently watching baseball? Well, listening to haikus I guess. This anti-sports spin rankled the haunches of Julie who was about to launch her new cardinal blog on MLB.com. Who says love of baseball and poetry are incompatible? Bull Durham anyone?
But despite these trips back, I'd never gone back to my old neighborhood.
This trip I did and a few of my old assumptions ruptured immediately. I remembered so much more open space! I felt downright claustrophobic driving down Olive Boulevard toward Creve Coeur Mill Road. I spent years at Yonkers Contracting Company bragging about the wide suburban parking spaces of the Midwest. But when we pulled into our hotel, I could see the spaces were just as tight. The doors of my rental car would undoubtedly be pinged. Meanwhile, in Los Angeles we usually speculate there must be no traffic anywhere else in the world, surely not in our comfortable hometowns. But it's simply not true. Construction traffic, congestion traffic – we found this all over St. Louis, too.
And then there was my high school reunion. For a long time, all I could envision was a scene straight out of Romy and Michelle which, quite honestly, followed pretty faithfully my own geekish teen plot – everything but the back brace. Which is all to say I scrapped by – experienced my share of bitter sadness and merciful camaraderie. If you even knew me, you either really liked me or you really didn't.
Do you remember when we used to dance? And incidents arose from circumstance.
At my reunion I was faced with more of those faces who either didn't know me or care for me and too few of those faces who did. That said, I had many pleasant conversations with people I barely knew and two of my former close friends did show up. Yes, I said two. Two! And both of them I've happily become reacquainted with recently via email.
I have three other high school friends I keep in regular contact with. None of them came to this reunion, despite my many proddings. Some four or five other high school friends are simply lost souls. They've disappeared into the mist. I was in two of their weddings (one as a maid of honor) and was hoping they'd take the 20th reunion as cause to re-emerge. Sadly, they chose to remain lost. They didn't even contribute to the What-are-you-up-to-now memory book; they don't email; they never call.
No reconciliations, no catching up, no showing off – all the things a juicy reunion is good for. And that ultimately disappointed me.
For chrissake, I wore their bridesmaids dresses (which now collect dust in my closets), they visited me twice in the 90s in New York and in Boston. Maybe we drifted apart when families started and careers took off. Maybe we had small falling-outs over the merits of the Broadway musical Rent; okay, we grew apart as our lives timelines diverged. But to not check back in after 20 years! I felt abandoned at a party of mild acquaintances. It's not right.
Which is not to say this reunion didn't bring happy surprises: the old adage that St. Louisans never leave home turned out not to be true. Quite a few had picked up stakes to greener pastures and even countries. A few had gained weight but everyone looked pretty good. Some had swaned even. Some were much friendlier than they were 20 years ago. Some had the same chips on shoulders. At one point in the evening I pulled my boyfriend over to meet a long lost junior high chum (memories involving junior high slumber parties and talent follies) and I found myself suddenly in a swarm of old adversaries.
But one of them was very friendly, another became guardedly friendlier as chit chat wore on, and one…well, she hadn't changed much. Imagine my surprise later when I perused the What-are-you-up-to-now book and discovered we a few things in common. Oh, how sadly amusing.
One of my two friends who did attend told me there had been a famous catfight at the 10th reunion. What could I make of that but more sadness? What could we possibly be fighting about still?
My class: so full of fire but so little coal underneath.
I heard some old classmates call us an awesome class. Were we awesome? I'm not so sure. Were we just normal? I'm not so sure about that either. We burned our wick through a twisted culture – a decade of high consumerism and an irrational yearning for perfection. I worked really hard not to break a nail in chemistry class.
Who the hell was I?
What were those things you wanted for yourself?
When I was in real young, my oldest brother was a Senior in high school. During his varsity football games I used to loiter, bored and alone, around the high school's outdoor smoking lounge wondering what life in high school would be like for me someday. Would it be like more like Grease or Fast Times? By the time I arrived, the smoking lounge was full of people I already knew. I never returned there. I had somehow envisioned being in high school with brand new people; not the same haunted kids I went to grade school with, kids in smoking lounges I wasn't friends with.
So if I was looking for new strangers, why is it so alarming to me to discover I'd became a stranger to my former self?
And a stranger is exactly what I found when I read the back chapter of the What-am-I-up-to-now memory book. There sat my young statement of my predicted future so vastly unreconciled to my what-am-I-up-to-now.
There sat a girl so solely hoping for marriage and kids. There wasn't even a single hobby tucked in there…but reading. It was awful to see. There was nothing about writing, nothing about travel, nothing about exploring life in any shape or form. Not a hint of anything recognizable to myself today. Not a single feather of a clue that I would, within two years, take off on a crazy journey as a single artist in NYC and LA.
* When was I taken over by the person I now am?
* Where did that other girl go?
* Has she fallen into the mist like the other lost souls I used to know?
I have a high school friend I keep in touch with who lives out west. She has maintained her ambitions solidly. Once in a while, I compare our vastly different life paths over the last 20 years. She hasn't changed, is almost undeterred by life itself. Me? I've changed completely. I completely bailed on my old ambition of homemaking. Both of us seem a bit extreme for comfort. I wanted to believe we all evolved slowly into our present selves like swans unfurling our wings over the years. I wanted to look back at my comments 20 years ago and find a secret hint as to who I finally became.
I was nothing but a table rosa. I had no idea what I was to find behind the door of my independence. How could I know? For 20 years I watched my brother and his first wife, high school sweethearts, evolve into very separate and irreconcilable selves. I was lucky I didn't lock into what I wanted before I knew what I wanted
My siblings also started families very late into their lives. I'm at the cusp of 40 now and as I continue to explore the world, I ask myself what I want from life. I like how it is. That's always how it comes out. I consider having children, checking in with my thoughts once in a while. There has been a stranded day here and there when I was sure I was ready. I almost told my guy about it. However, the next day I always changed my mind. I figure my body is already shifting, changing, struggling with what was once so easy. Although I've learned to say Who knows about my whims. Life is such a surprising ride. How will I know where I will end up?
But still…no mention of writing, moving to a new town? I said I wanted two big dogs? I like terriers! What the F?
Telling me what your heart meant
After the party, some people posted a few heartfelt recollections on the reunion message board. Maybe this becomes our real Memory Book. Turns out many of us had bad experiences to get over, vague and nagging confidence issues from our pasts.
Does everybody need therapy or just my senior class?
The best thing I ever learned in therapy was detachment, mostly to use against my family, but it comes in handy everywhere. Time also helps a bit with the rough social spots. You're like a boat: the bigger you get, the easier it is to roll over the waves.
As if a nod from the 80s, Kevin Nealon Asia sucks flew on our plane home to Los Angeles, walking up and down the airplane aisle with his new baby. He claimed his own dirty luggage before a fan approached him (something you actually don't see in LA as everyone wants to be famous, not mingle with the famous).
I'm very glad I reconnected with two of my old friends. I hope I can maintain friendships with them. The easiest friends to keep are those you can plan ahead with. After a while, it's hard to keep looking back. After cruising the sunset strip or trolling down Manhattan in a cab – it's hard to recall northwest plaza cruising too fondly.
My boyfriend John, who is not into recollection or sentimentality, found it hard to sympathize with my ennui over lost souls. I still can't help but be disappointed over my own lost self and my lost friends. Where are they now? I figure either they didn't care enough to give a howdy ho or they cared a bit too much. My heart aches either way.
It's just one of those things that goes unresolved. One of those imperfections you must come to love about life. After 20 years, its now time to say goodbye to those old friends, those old ideas and old traumas, time to breathe it out and let them go.
---
You catch the pearl and ride the dragon's wings
(Trip photos)
John and I visited his hometown of Kansas City for the first time last spring. He hadn't been back in five years, growing up wanting nothing more than to escape his city. He told me he found his first appreciation of the place as seen through my eyes. Likewise, the best part my trip home was seeing St. Louis through John's, my kidnapped tourist.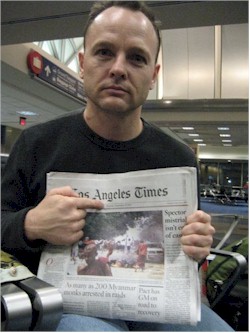 First thing, John received a tour of my old subdivision Old Farm, (subdivision is St. Louis-speak for neighborhood). I became lost in the newly carved-up road around Creve Coeur park. John was once really into French (he majored in it). He said it hurt to pronounce Creve Cour the wrong way. We drove by my old house which prompted too many descriptions of my dad painted that, built that, planted that.
John didn't want to visit the Arch; felt it would be like the Statue of Liberty – a crowded walk up to an ultimately brief view. But this was the ultimate symbol of manifest destiny, the theme of my graduate writing thesis. But at the top he was able to watch the river barges. He was once really into river culture.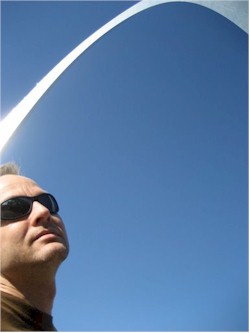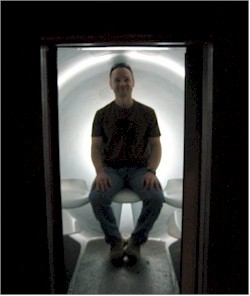 The arch pod.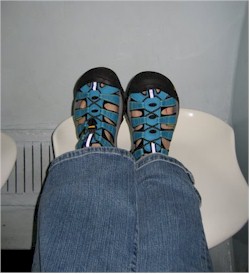 My new keens in the arch pod.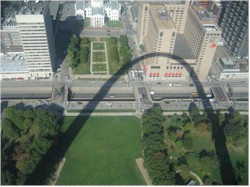 View from the top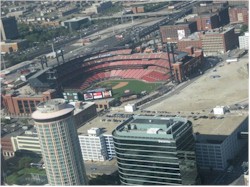 I had a hotel party in that skinny-scraper once.
St. Lou Haiku co-author and Ape Culture editor Julie Wiskirchen chided me for making John tour the museum of westward expansion as well with its new Animatronic bots. But he didn't suffer. It was a history museum with re-enactors walking around. He's very into both the history channel and kitschy re-enactments.
John believed we might need to borrow some children in order to tour the most fabulous City Museum? Luckily, we discovered some inner-children. John is wearing his cow shirt from Topo Ranch on Abbot Kinney in Venice, CA.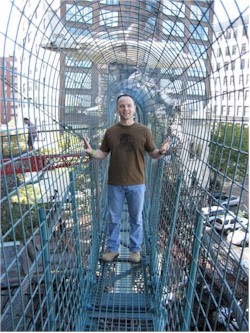 John is trying to get us to that plane in the upper background.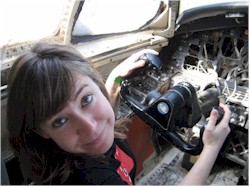 I caught up with a high school friend who chose not to come to the reunion for the journey to Cahokia Mounts (but hey…at least she writes!). John requested this excursion. You guessed it: he was once very into mounds. He said it was a lifelong dream to finally see this major US prehistoric site. In front of the Interpretive Center, we saw a prairie in progress and I asked him if it made him homesick.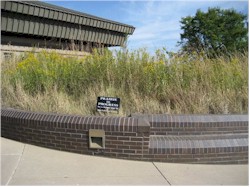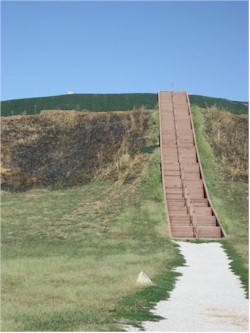 The top level of the mound, like much of St. Louis, was under construction. Cohokia even has a woodhenge. Can you tell what time it is?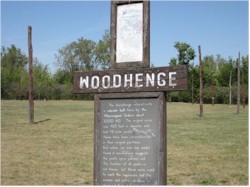 No St. Louis tour would have been complete without a taste of St. Louis style pizza. The original Imo's Pizza was very close to our hotel. This is what double cheese looks like.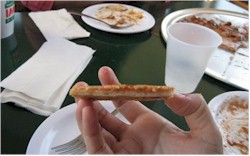 Speaking of our hotel, it was deliciously funny.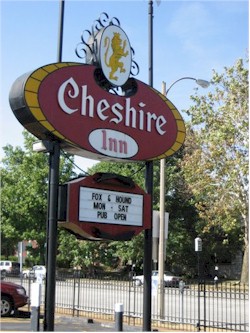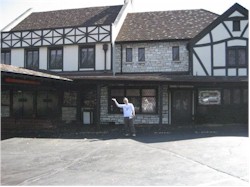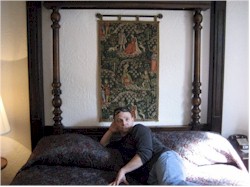 As you can see, they stayed true to its campy British theme.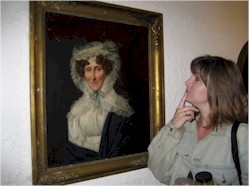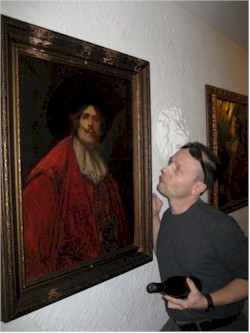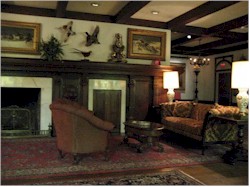 After the reunion party, John and I had a drink at our hotel pub, The Fox and Hound. He walked me through some chess pieces. Hs mother often tells me that at age five, John was very into chess. We went home the next morning.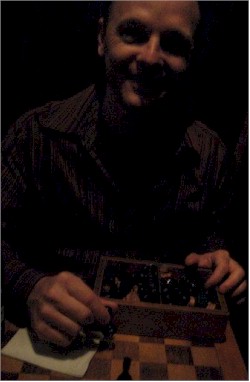 If you liked this story you might like:
I Was a Teenage Barry Manilow Fan
A Haiku Memoir of a St. Louis Cardinal Fan
How did your high school reunion go?.
Ape Culture and all associated pages are
ŠApe Culture 1998-2007 and evermore.