TIMBERLINE PRESS


announces the publication of

ST. LOU HAIKU

By Mary Elizabeth Ladd and Julie Wiskirchen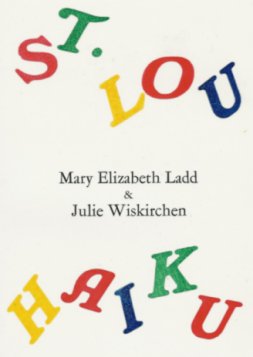 Read Reviews from The Riverfront Times and St. Louis Magazine!
ISBN 0-944048-32-3 29 pages: 107 haiku/4 illustrations 5.5x8.5/letterpress $10.00
St. Louis expats, Mary Ladd and Julie Wiskirchen, met in graduate school at Sarah Lawrence College in 1995. While there, they came across a haiku about the Gateway Arch, written by a grade school student, and they were inspired to try the art form themselves. Some of these haiku are biting, but Mary and Julie wrote them with genuine love for their hometown.
This first edition of St. Lou Haiku was handcrafted. The 12 pt. Garamond Old Style type (with 14 & 18 pt. for display & Post wooden type for cover) was handset. Printing was done on a 6 X 10 C&P handpress. The paper is Wausau Royal Linen with Royal Silk scarlet endpaper. The cover and title page use some Post (as in Saturday Evening Post) italic wooden type the publisher was given by the son of a deceased printer from Collinsville, Illinois.
The zinc-cuts from Clarence Wolfshohl's 4 original St. Louis illustrations were made by the Augustine Company of Marshalltown, Iowa.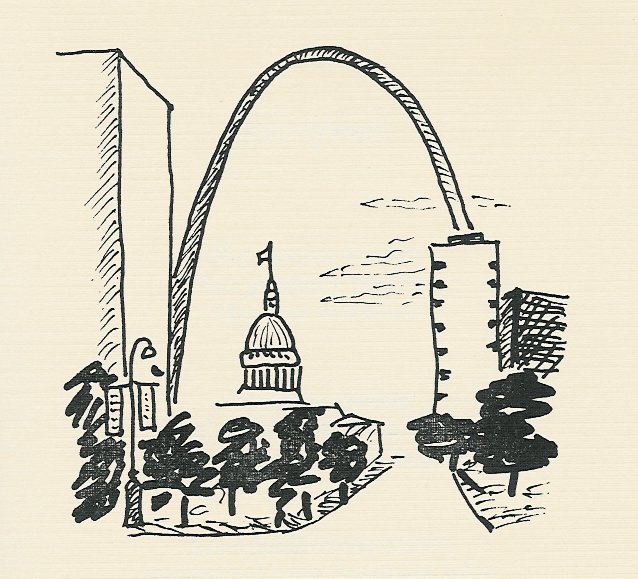 All design, artwork, printing and binding were done by Clarence Wolfshohl during spring and early summer of 2004 at Timberline Press, Fulton, Missouri.

Order from Timberline Press
To order, send $10.00 for each book plus $2.00 for postage to
TIMBERLINE PRESS 6281 RED BUD FULTON, MO 65251

I enclose $____ for ______ copies of Ladd & Wiskirchen's St. Lou Haiku and postage.
Please send the books to the address below.

___________________________________________(name)
_________________________________________(address)
_________________________________________________
Book Excerpts / Haikus from You / St. Louis / Appearances / The Poets / Reviews
Visit the authors' other project,
the web humor magazine, Ape Culture.