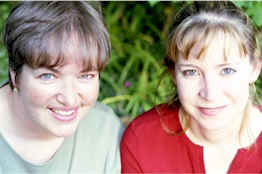 Julie Wiskirchen and Mary Elizabeth Ladd
Born and raised in North St. Louis County, Julie Wiskirchen earned a Bachelors degree with a double major in English and Film Studies at the University of Notre Dame. Before heading off to graduate school at Sarah Lawrence College, Julie temped at Anheuser Busch, National Supermarkets, Contico, Whirlpool, Brod Dugan, Monsanto, and many other St. Louis corporations. After earning her MFA in Fiction Writing in 1998, Julie worked as an executive assistant at McKinsey & Company in New York and Sydney, Australia. In 2003, she moved to Los Angeles where she began working as a department coordinator at LRN. She is the co-editor of Ape Culture, a pop culture humor webzine, and she is actively seeking a publisher for her darkly comic first novel, Earth City, which follows the year in the life of a girl who graduates from college, moves back home to St. Louis, temps, sings karaoke and dates a Steve Perry impersonator in a Journey cover band. Julie has published television reviews in Time Out New York and essays in Hermenaut and Temp4-7.com.
Mary Elizabeth Ladd (Mary McCray) was born in Albuquerque, New Mexico, and raised in St. Louis, Missouri. She earned her B.A. in English from the University of Missouri - St. Louis and her M.F.A. in Poetry from Sarah Lawrence College in Bronxville, New York. Her published poems include "Why Photographers Commit Suicide," which appeared in the premier issue of the University of Missouri - St. Louis literary journal Natural Bridge; and "All of a Sudden" which appeared in the defunct St. Louis-based online poetry journal Tintern Abbey. "The Helga Trilogy," "Things My Astronaut is Afraid Of," and "Things My Inner Astronaut is Afraid Of" all appeared in the second issue of the online journal Eye Dialect. Her pop culture poems include, "Orgasmic Orange," which appeared in the prose poem issue of Switched-on Gutenberg; and "Taco Bell Love Triangle," which appeared in the April 1999 issue of Literal Latté. Mary has published essays in Ape Culture and Hermenaut, and she is the editor of CherScholar.com and two Cher zines, Superpak Vol. 1 and Golden Greats.
Contact the authors at apemail@apeculture.com